Playing Mafia Definitive Edition in virtual reality feels like time travel
VR eyes guy, huh?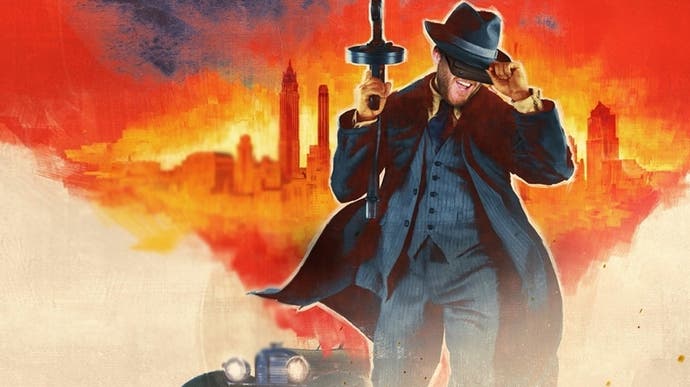 Luke Ross, the mastermind modder behind the impressive GTA V and Red Dead Redemption 2 R.E.A.L. VR mods released a new mod this week that brings virtual reality to the world of Mafia: Definitive Edition.
For those of you who don't know, Mafia: Definitive Edition is a faithful recreation of the 2002 original. It came with an expanded story, gameplay and a complete graphical overhaul that breathed a whole new lease of life into everyone's favourite Mafioso-based GTA-clone. Overall it's a really impressive remake and the new-look Lost Heaven is gorgeous. But with the added immersion offered by Luke's new mod, at times, it almost feel like you're actually there!
You can watch me drive, crash, run, jump, shoot and die my way through a couple of the game's early missions in this week's VR Corner below. Oh and I also spend a lot of my time just looking out of the windows of my cars going, "wooooooow, preeetttyyy!", because it really is.
As far as VR mods go, this one isn't the most polished of Luke's releases but according to his Patreon post the idea was to use "a relatively simple and well-behaved game like Mafia: Definitive Edition" to test his new framework on DX11"
That means, while the game itself does look fantastic in VR, there are some rough edges to the proceedings such as the way the player characters idle animations occasionally move into your field of vision so you end up being able to look inside their head at the back of their teeth. The in-engine cutscenes are similarly immersion breaking as you're now able to look around scenes that were originally intended to be viewed from one angle only. That means you'll spot things like characters disappearing, props being in the wrong location and even textures being absent entirely. It's quite a fun peek behind the curtain of game development but at the same time, it pulls you out of the experience a little bit due to the bizarre nature of what you're witnessing.
Unlike Luke's previous R.E.A.L. mods, the Mafia: Definitive Edition VR mod doesn't allow you to play the game from a first person perspective. Any on foot action is presented in 3rd person and while that's not as immersive as seeing the world through Tommy Angelo's eyes, it actually works fine and you still get to drink in the gorgeous surroundings.
One place you can go first person though is in vehicles, thanks to the ability to change camera views for driving in the game. This was by far the best way to explore the city of Lost Heaven and there were times when I was cruising around the city that it actually felt like I was there. Like I was visiting the 1930s in some kind of weird, VR time travel tourism device.
There's not as much life to the game world as you expect to might find in something a bit more modern like GTA V or RDR2 but the extra visual polish delivered by the Definitive Edition certainly makes Lost Heaven a beautiful spectacle to behold as you're driving through it. The towering, shimmering skyscrapers, the glistening waters stretching out into the distance as you cross the Giuliani Bridge and the brightly coloured buildings of China Town are just some of the gorgeous sights you'll see as you explore the city and it's worth downloading and installing the mod just for these trips around the city alone.
If you already have Mafia: Definitive Edition in your library and want to try out the VR mod for yourself you will need to sign up to Luke's Patreon which will cost you £8. For this price however, you'll not only get access to the Mafia mod, but also Luke's fantastic Red Dead Redemption 2 mod as well so he's basically making you an offer you can't refuse.
If you enjoyed this episode of Ian's VR Corner, you can catch up with my previous adventures over on YouTube in our VR playlist, where I've covered Valheim VR's motion controls mod, Doom 3 VR Edition and everything we know about PSVR 2 so far. You can also read our list of the best VR games.