Pillars of Eternity launches card game spinoff Kickstarter
UPDATE: The campaign is already a success.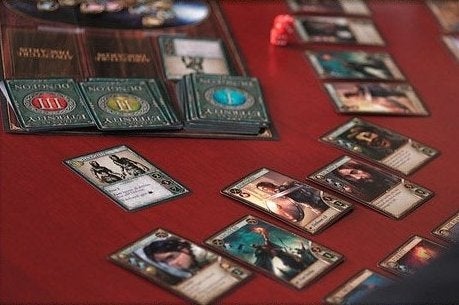 UPDATE 29TH MAY: The Kickstarter campaign is already past its $30K goal. The total as of 8.30am BST is $40K.
ORIGINAL STORY 28TH MAY: Pillars of Eternity could be getting a card game spinoff if its Kickstarter ends up successful. And it no doubt will be, given that it's already raised $9K of its $30K goal in its first few hours.
Dubbed Lords of the Eastern Reach, this strategy card game is being developed by Fallout lead designer Chris Taylor, Planescape: Torment and Fallout designer Scott Everts, and South Park: The Stick of Truth level artist John Lewis at Zero Radius Games. The Kickstarter noted that Pillars of Eternity developer Obsidian Entertainment is "actively involved in its development" too.
Lords of the Eastern Reach is a two-to-four player game about building a city, defending it, and sending soldiers out on quests. Of course, you can also send your army to pillage other player's hamlets should you wish. The game ends when all the cards have been played and everyone tallies up their scores. Each round is expected to last around 20-30 minutes.
For a more detailed explanation, here's a video outlining the process:
Lords of the Eastern Reach is shooting for a February release and can be reserved for the $39 price tier.
Stretch goals will add plastic tokens and tiles for the Event Die at $33,500 and eight new heroes at $37K.
Eurogamer contributor Richard Cobbett recommended Pillars of Eternity. "It's an RPG with design firmly rooted in nostalgia, but one that absolutely doesn't rely on it to be enjoyable today," he wrote in his review. "Instead, it's both a great reminder of why those games worked so well, and a brand new adventure well worth the hours upon hours (upon hours upon hours) that it takes to pick away at its secrets and its world."
Pillars of Eternity: Lords of the Eastern Reach has until 1st July to reach its $30K goal. Care to bet on how long that will take?