PES 2018 proves that slower can be better
Gimmicks, Griezmann and gegenpressing: hands-on with this year's model.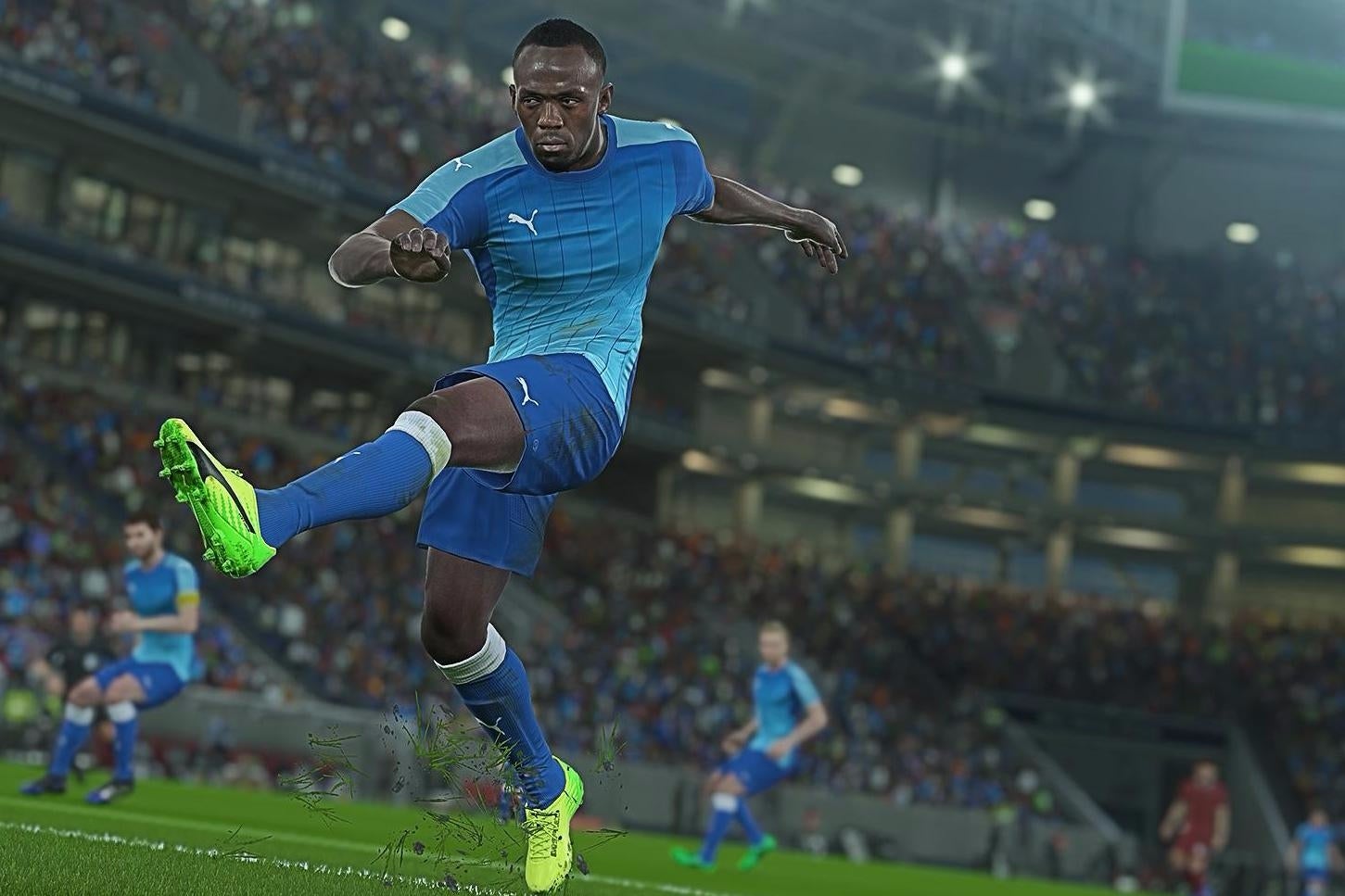 Usain Bolt? Really? The recent announcement that the world's fastest man is to feature in Pro Evolution Soccer 2018 seems a strange, misleading and possibly even misguided step. PES has earned its reputation not on gimmicks, but by taking the sport it simulates very seriously indeed. A headline-grabbing move this may be, but it's also a little desperate, and not very PES at all.
As it turns out, Bolt's inclusion is a particularly odd choice this year, as one of the most notable changes about PES 2018 is a tangible drop in pace. "It's one of the elements [we changed] to enhance the variation in strategic choices you have once you're in possession," says assistant producer Kei Masuda, via a translator, as we chat in a not-especially-quiet corner of the media suite at Anfield. The decision to slow things down a little wasn't simply a response to last year's game, he adds; his team has taken into account fan feedback from the previous three entries.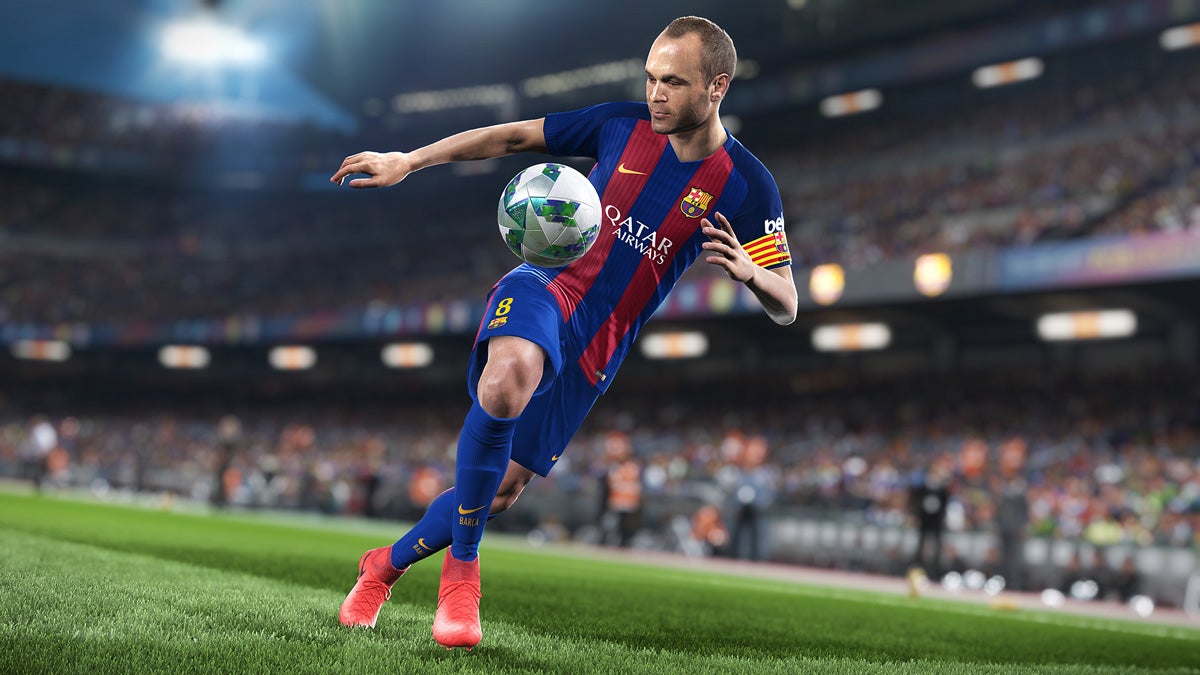 It's a sign that Konami understands it can't allow PES to stagnate, or let its current audience drift away. The publisher wants to cater to existing players by responding to complaints about previous entries, while simultaneously building upon the game's foundations in ways designed to attract newcomers to the fold. Hence Bolt, I suppose. "It's a bit slower" isn't really something you can put on the back of the box and expect people to get excited about, after all.
Likewise, "it's a bit harder", though this is also true. I head into injury-time of my first game against the AI, with my Dortmund team having played Liverpool off the park. The score? 2-1 to Klopp's side. Granted, one of those two Philippe Coutinho strikes is down to a dreadful (albeit horribly plausible) rick from my goalkeeper, who misjudges the flight of a cross, scrambling only to palm it feebly into the path of James Milner, who squares for the Brazilian to tap into an unguarded net. But the away side prove harder to break down than expected, and there's a wonderful late bit of sweeper-keeping from Loris Karius, who anticipates a through ball to the electrifying Ousmane Dembélé, and races off his line to boot it out for a throw-in.
These moments of automation are dependent on a player's individual awareness stat, a visible figure powered by all manner of backend cleverness. Much as Konami is aware of a section of its fanbase that wants a hardcore let-me-do-it-all simulation, it understands the value of allowing players to behave as their real-life counterparts would. Which means occasionally letting the AI play its part. There's a terrific example of this in another game I play as Dortmund, when midfielder Marco Reus spins his marker and slips a through-ball into livewire forward Pierre-Emerick Aubameyang, who cuts inside and drills a shot into the far corner. It's only on the slow-motion replay that I spot Aubameyang instinctively springing back a yard to stay onside just before I hit triangle to release the pass.
As I talk to Masuda about this, I lose the run of myself a little, gesturing exaggeratedly with my arms as I describe the movement. I'm sure he can't understand a word I'm saying until his translator explains, but his smile broadens all the same. "How high [a player's] individual ability is, is more relevant compared to previous entries," he explains. "For example, a player like Aubameyang will have a high awareness of his positioning in attacking situations." In other words, a lot of work has gone into ensuring a player's off-the-ball movement reflects their positional sense.
By contrast, there's a greater margin for error when it comes to the player's input. You can't simply tap X and expect a pass to reach its target; in my first game against a human opponent, we both underhit a number of fairly straightforward square balls. Shooting also requires sharper timing: in the same game, I witness my opponent taking a shot before the ball is fully under his spell; his player lunges forward, leading with his left foot and the ball skews off the outside of his boot, flying a foot or so wide of the target. The same goes for heading - it's no longer a case of just tapping a button when the ball's in mid-flight, but adjusting your position to properly contest an aerial challenge, before leaping at the right moment to beat your marker to the ball. If headers were slightly OP in last year's game, they're a much less reliable way to score here. Which naturally makes it all the more thrilling when you power one home at the back stick.
There's a greater sense of physicality in general. That's most apparent in the way players receiving a pass will attempt to put their body between the ball and their marker: Atlético Madrid's Antoine Griezmann might be dwarfed by a hulking centre-back, but he can still shield the ball effectively. Then again, if the ball is fizzed into him at pace, even a player of his talents might struggle to control it. By the same token, since the ball doesn't stick to your laces so much, you've now got greater control over your first touch. A quick player might choose not to bring the ball in too close so they've got more room to accelerate away from their man. Because, while the overall pace is slower, the fastest wingers and forwards won't be so easily caught. "We've let players like [Liverpool striker Sadio] Mané and Aubameyang off the leash this year," grins global product and brand manager Adam Bhatti.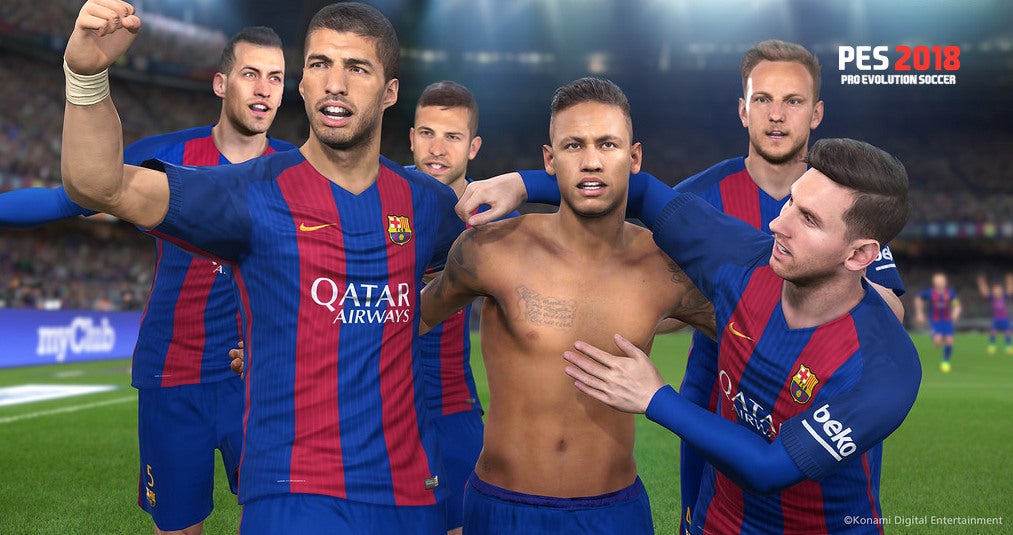 Clear differences between team and individual player styles have been apparent in PES for years now, but it's still a delight to see just how distinctive the sides are. I play out a tense, tetchy 0-0 draw as Atlético, stifling a very capable opponent for the duration (thanks in part to some industrial challenges, admittedly). Later, against the AI, I exploit Barcelona's openness by feeding direct balls behind their back line, scoring two goals on the counter thanks to Dembélé's blistering pace.
Much of this, I understand, is preaching to the choir. These are all definite improvements, and this is a tangibly different game to PES 2017. Still, I recognise I'm in a room of like-minded folks; people who know PES, and who know football. I hear the word 'gegenpressing' at least five times, and I'm sure everyone who says it knows what it means. I'm fairly sure if I polled the room, I'd find a disproportionate number of people who have a subscription to The Blizzard or Mundial - perhaps even both. This is, as it has been for some time now, a game for the football hipster. Partnering with Barcelona - and gaining exclusive access to the Camp Nou - is certainly a profile-raiser, but it can only convert so many to the PES cause; ditto, gaining access to Dortmund's Westfalenstadion and collecting extensive data from both sites for more authentic lighting and replication of stadium detail. (The player tunnels do look pretty great, actually.)
It's apparent Konami is taking an attitude of 'if we build it, they will come'. But while its primary focus is on making PES the best it can possibly be, it's aware that word of mouth from series acolytes is equally vital. "In this room now, you've got a bunch of people who play PES, and the only way we can bring people across is to let you play with your friends," Bhatti observes. To which end, this year will see the debut of a dedicated mode supporting 2v2 and 3v3 co-op. There's a competitive twist even within each side, as you're graded according to your personal contribution to the collective effort - with extensive input from Dortmund's youth coaching staff helping determine the criteria for a good performance. The co-op mode also helped inspire a change so simple and logical it's amazing it hasn't happened before. When you're defending, you'll now see an extra grey indicator above the player you'll switch control to next - and who'll step in to press your opponent when you hold square. Containing a front three of Messi, Suarez and Neymar is still no picnic, but keeping a clean sheet against Barca feels more achievable than before.
An open beta supporting these co-op features will take place between the 20th and 31st of July. "It's to prove to people that we're really focused on improving the online as well," Bhatti says. Quite apart from that, it's probably a better marketing wheeze than letting you play as the world's most famous sprinter. As our chat with Masuda draws to a close, a noisy roar goes up in the background, drowning out his penultimate answer. He flashes another smile, clearly confident that PES 2018 is good enough to speak for itself.