Penis-based party game Genital Jousting leaves Early Access, gains a story mode
Weiner takes it all.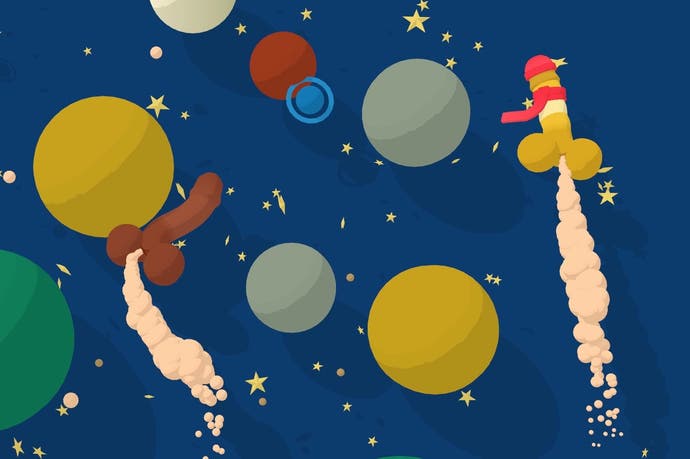 Genital Jousting, developer Free Lives' delightfully puerile multiplayer cock-'em-up, has finally released on PC after 14 months in Early Access development.
For those unfamiliar with Genital Jousting, it's described as an "online and local multiplayer party game about flaccid penises and wiggly anuses". Consider yourself warned.
Last time I spent a few happy hours Genital Jousting, the focus was undoubtedly on its hilariously raucous Classic and Party modes. Here, up to eight human-controlled wangs can battle it out across a surprisingly diverse range of maps and mini-games (with names like Double Delight, Obstacle Intercourse, and Weiner Round Up) for ultimate sausage supremacy, usually by frantically attempting to consensually penetrate their peers.
Somewhere along the way though, Genital Jousting gained a special romance mode for two players - in which potential soulmates can gently woo each other while picking roses, slurping spaghetti, bowling, and engaging in other seductive, sensuous activities - plus an honest-to-goodness story mode. This fully-narrated escapade recounts the touching journey of John, a penis in search of a date for his high school reunion.
As extraordinarily juvenile (and, yes, funny) as Genital Jousting frequently is, Free Lives readily admits that it designed the game in part to perhaps foster discussion around more serious issues. As it explains in its developer blog, "Genital Jousting is undoubtedly a joke. It's a comedy game, and a lot of the design is simply informed by what we think is funny, ridiculous or gross [...] But we like to think of the game as a trojan horse - a way to deliver a sex positive message to an audience that might never get to hear it otherwise.
"We have feelings to explore, and things to say, and by wrapping them in a big joke, we're hoping to sneak some of our ideas past the watchful gaze of unsuspecting cis-het dudes."
"How do you feel about penises touching each other? Why do you feel that way? What about anal pleasure? These are the kinds of questions we hope the game can elicit. These are also the kinds of conversations we want to have with our friends, but as men, we've been socialized not to. In the early days of the project, we were highly motivated by the fact that Genital Jousting gave us a vehicle to have those discussions amongst ourselves."
There's more background on Free Lives' blog, but the joy of Genital Jousting is that, even if you're not especially interested in its underlying message, you still get to be a wang in a dress, play a bunch of silly penis-themed mini-games, and politely penetrate your friends.
And if that tickles your fancy, you can grab it for $6.99 USD / £5.19 on Steam. Oh, and while I still have your attention, may I direct you to this most excellent official penis plush?