Payday: The Heist sequel in development
Plus, Starbreeze outlines PC, PSN and XBLA game P13.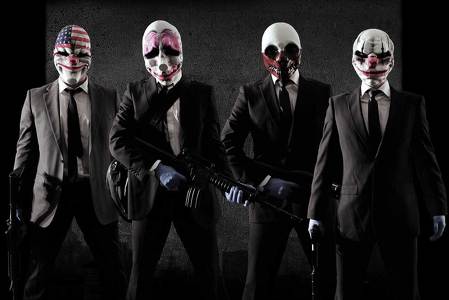 A Payday: The Heist sequel is in development.
Swedish developer Overkill Software is hard at work on "enhancing" the first game, but at the same time is making a follow-up.
The news follows Syndicate developer Starbreeze's announcement that it has agreed a deal to buy the studio - pending approval from its shareholders.
Starbreeze boss Mikael Nermark told Eurogamer this afternoon he intends to let Overkill continue with its plans for the Payday IP, which will be folded into the Starbreeze portfolio.
"They will still continue to grow the first Payday, to enhance that experience, and move to the sequel," he said. "They're doing great stuff, and I'm not going to change that in any way. We're going to give them the creative freedom to do what they've done so well.
"We're broadening our portfolio. With this acquisition we will also be stronger in the eyes of a publisher. It's one part of what we want to do."
Starbreeze has three core teams, each building new games. One of these games is P13, which it is developing with Swedish filmmaker Josef Fares. Nermark told Eurogamer Starbreeze is in final discussions with a publishing partner for the title, which is self-funded and will launch on PC, PlayStation Network and Xbox Live Arcade.
Nermark remained tight-lipped on the project, but did offer this: "It's an interesting game. It's a different kind of game. I think people will be surprised that Starbreeze is doing this game."
The second game is Cold Mercury, even more mysterious. This, Nermark said, has a "free-to-play-ish" business model. "It's a twist on it," he explained. The game is in the "very early stages", Nermark revealed, "but what we learned from the co-op part of Syndicate we brought into this game".
The third team is working on a super secret project that Nermark will say nothing about. "All the new products Starbreeze is doing, we will build from the Starbreeze DNA in story and narrative. We will always strive for getting the highest graphics fidelity in our games. We also always want to bring something new and innovative to the table. That's how we choose projects internally."
What we do know is that a sequel to the EA published Syndicate, which launched earlier this year to meddling review scores and sales, is not currently in development.
Nermark said he would love to create a sequel, but confirmed that EA had yet to approach the studio about doing so.
"We think EA is a great partner and Syndicate is a great franchise," he said. "If the opportunity arises again, we definitely would want to do another Syndicate. But no, there's no decision about making another Syndicate.
"We still want to do it, but when we bring in this shorter development, as with Payday, Cold Mercury and P13, it mixes things up. The triple-A game we make will be even better because we can bring passion back into that."