GTA: Liberty City Stories
A guide to the weapons and vehicles.
With only just over a month to go until Grand Theft Auto: Liberty City Stories is released on PSP, Rockstar has released some more details of what we can expect from the game.
The New York-based publisher has already told us about the cast of characters, as you'll know if you read our recent preview. Well, now it's time to take a look at some of the weapons you get to muck about with, and how best to go about blatting people to death with them.
And that's not all - read on to find out more about the game's vehicles, which include boats, subway trains and - wait for it - m0t0rb1kes. But first, let's concentrate on guns and ammo.
Right on target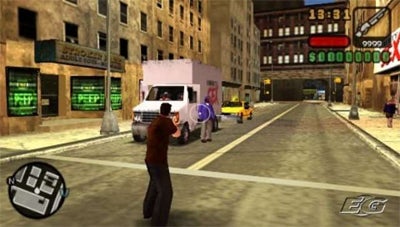 Rockstar says it has done its best to ensure that the targeting system in Liberty City stories is "natural and accurate". While it's evolved from previous games it's also designed specifically with the PSP in mind - making for "Perhaps the best targeting of any Grand Theft Auto yet," apparently.
It works like this: press the right shoulder button, and you'll lock onto the person who's nearest to you and poses the greatest threat - so no worries that you'll accidentally take out some old dear. (Which you can always get round to later if you like, of course.) You can toggle between targets using left and right on the D-pad.
Alternatively, you can forget the auto-lock and press down on the D-pad to aim anywhere you like - perfect for taking out car tires or blowing up barrels of fuel, say.
You then use the analog stick to aim and if you find the reticule is moving too fast, you can hold down the left shoulder button to slow the speed and make sure you get that perfect shot.
Drive-by shootings are a big part of the gameplay in Liberty City Stories, and Rockstar says you'll have several options to customise the controls for this particular aspect of the game - using the shoulder buttons or the analog stick to look left or right as you're cruising along. All together now: System up with the top down, Got the city on lockdown...
Choose your weapon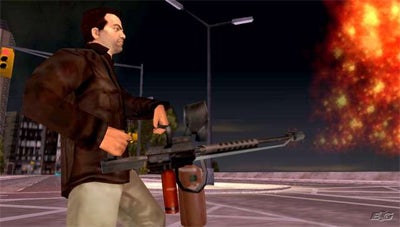 So that's the targeting system then, but what do you actually get to fire with? Well there are more than 30 weapons in total, and from sniper rifles and semi-automatics to samurai swords and sports equipment, there's sure to be something to suit even the most discerning homicidal maniac. Here's a rundown of just a few.
PISTOL - Your basic mafia issue sidearm, light, compact, dependable and sleekly designed. A great all-rounder for general everyday murdering.
SEMI-AUTOMATIC SHOTGUN - For when you need to get a bit more serious. A favourite amongst those fighting in Liberty City's ongoing Family Wars.
M-4 - This lightweight version of the M-16 can fire between 700-1000 rounds a minute, and is even capable of taking out armoured cars.
MINI-GUN - Originally developed for use by military helicopters, this weapon's rotating barrels allow for an incredibly fast firing rate. However, it's somewhat heavy and unwieldy, and not always easy to get hold of. As seen in Predator.
FLAMETHROWER - Shoots a thirty-foot column of flaming fuel. Excellent for destroying vehicles, damaging buildings and making people's skin look like the top of a crème brulée.
KATANA - Liberty City's Yakuza like to go back to their roots with these long, razor-sharp swords, as used by nobile samurai in ancient Japan.
HOCKEY STICK - Let's face it, the only manly thing you can do with a hockey stick is batter someone to death. And no, we don't care if it is Canada's national sport.
CHISEL - Easy to obtain, easy to hide and easy to do people over with in an extremely violent fashion. Growing increasingly popular amongst Liberty's criminal population.
Transportation issues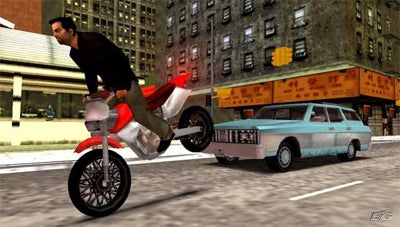 Travelling around Liberty City is no walk through the park - take one step into Atlantic Quays and you're likely to get run over by a biker on a chopper, head to St. Marks and you'll find yourself dodging bullets fired off by the warring families, and even the local ferry port is in a right old state. Heading out on foot is generally a poor choice, but here are a few of the alternatives.
MOTORBIKES - Everything from choppers and sporty numbers to motocross bikes and scooters. Look out though - following the successful banning of bicycles from Liberty City a few years ago, protest group American Road Safety for Everybody is now turning its attentions to other two-wheeled vehicles. They're encouraging like-minded citizens to take matters into their own hands and run bikes off the road whenever they get the opportunity, so watch yourself.
CARS - Liberty citizens like their motors and as a result the city streets are generally packed with wall to wall traffic. As you'd expect there are plenty of different cars to try out, such as compact Mananas and sleek and sexy Deimos.
TRASHMASTERS - The Mayor's office recently acquired a brand new fleet of giant garbage trucks, and while not the quickest way to get around town they're certainly sturdy. If stinky.
BOATS - Popular with mafia dons and politicians alike (and some of them are very alike) who enjoy mucking about on the river. Whether you fancy enjoying a peaceful cruise, doing a spot of fishing or disposing of someone without attracting too much attention, just jump aboard.
SUBWAY TRAINS - These are to be found high above the streets of Liberty City and offer one of the quickest ways to get around Portland Island, not to mention a lovely view. Only problem is, a vast amount of muggers and gangbangers seem to have realised this too, so look out.
So there you have it - another taster of what we've got to look forward to when it comes to the first GTA game for Sony's shiny new handheld. Check out our recent preview for more info. Remember to check back later this week when we get our first hands-on with Liberty City Stories.