Oxenfree dev's pub-crawl-in-hell adventure Afterparty gets October release date
Coming to Xbox One, PS4, and PC.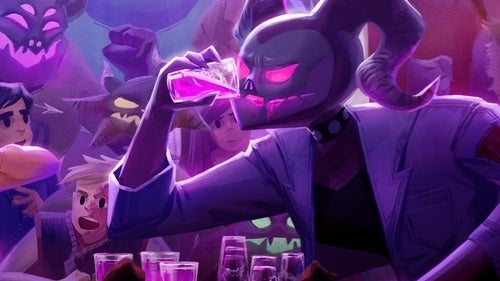 Oxenfree developer Night School Studio has announced that its intriguing pub-crawl-in-hell narrative adventure, Afterparty, will be making its way - presumably on all fours and in a trailing puddle of sick - to Xbox One, PS4, and PC on 29th October.
Afterparty, which was unveiled at the tail-end of 2017, casts players in the dual role of Milo and Lola, two recently deceased best friends who find themselves facing an eternity in Hell. Unless, that is, they can find a way to exploit a loophole permitting anyone capable of drinking Satan under the table passage back to the land of the living.
And, thus, the scene is set for the boozy night out to end all others, as Milo and Lola travel the River Styx, making enthusiastic use of hell's surprisingly plentiful drinking holes.
As part of Afterparty's release date announcement, Night School Studio's co-founder and creative director Sean Krankel has shared a few additional details about the systems driving its latest narrative adventure with Xbox Wire.
On the subject of Afterparty's leads, Krankel explained that the team wanted to explore "not only the upside of long-term friendship, but the pitfalls of knowing too much about each other." To that end, the game will shape the core duo's relationship based on who players relate to more, whose plans they follow through with, and "ultimately how you navigate the benefits and compromises of their friendship". Play a different way on a subsequent play-through, says Krankel, and you might see "wildly different results".
"Every bar or street corner can lead to another set of strange characters," continues Krankel, "and the order in which you take on the story will have a huge impact later in the game. Don't give your number to a demon if you don't want them texting you later that night, or maybe they can come help you when your luck's running out?"
It's certainly high-concept - and a deliciously intriguing one at that - but the wonderful Oxenfree demonstrated Night School Studio's talents at creating likeable, believable characters, able to ground proceedings even as things get increasingly weird.
We'll know exactly how Night School Studio's latest fares when it comes to Xbox One, PlayStation 4, and PC (where its availability is being restricted to the Epic Store) on 29th October. It'll also be available as part of Xbox Game Pass on console the same day.