Obsidian's bug-height survival adventure Grounded coming to early access in July
Through Steam, Xbox Game Preview, and Game Pass.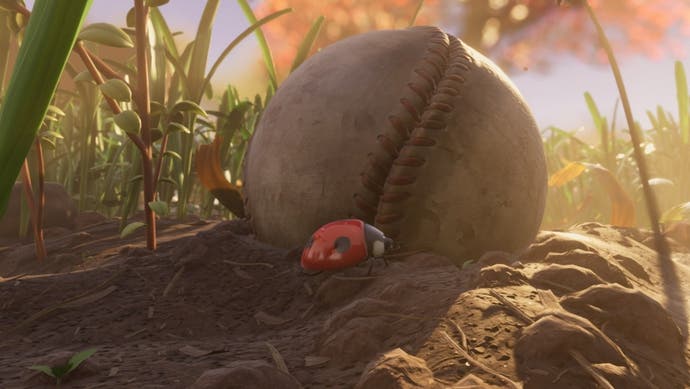 Grounded, Obsidian Entertainment's upcoming Honey-I-Shrunk-The-Kids-style bug-high survival adventure, will be entering Steam early access and Xbox Game Preview on 28th July.
Obsidian unveiled Grounded - to some surprise, given its considerable deviation from the studio's usual RPG fare - at the tail-end of last year, and Eurogamer's Robert Purchese was rather charmed by the experience when he got an early look at the game.
That initial reveal was accompanied by a trailer showcasing Grounded's strikingly oversized backyard-as-perilous-jungle environment, but now Obsidian is ready to offer a few story teases, as seen in a brand-new video during tonight's Inside Xbox livestream.
Here, we're introduced to a talking robot companion who'll guide players through their survival-driven adventures, built around the usual genre staples of exploration, crafting, and base construction - albeit with big bug twist. There are also hints of a weirdly advanced high-tech civilisation among the inches-high shrubbery, said to be a mysterious evil force whose real aim will be revealed as Grounded's action progresses.
Although Obsidian insists story is a real focus, and has helped inform the world's "lived in and alive" design, Grounded's plot won't have an end when it arrives this summer. Instead, the developer says it hopes to get community feedback in order to bring things to a satisfying conclusion following Grounded's early access launch on Steam, Xbox One, and the Windows 10 Store (as well as PC and console Game Pass) on 28th July.