Not a Hero gets PS4 release date but canned on Vita
"It sucks that we couldn't make it happen."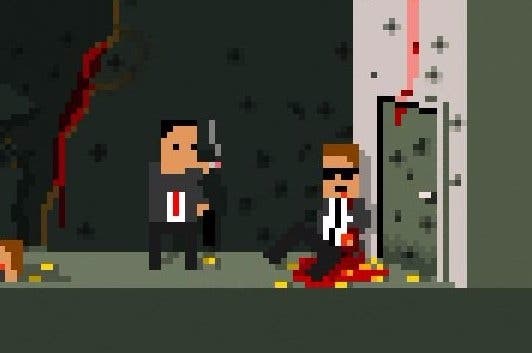 Not a Hero, the newest game by OlliOlli maker Roll7, releases 2nd February on PlayStation 4. It costs £9.99/€12.99/$12.99.
Not a Hero is already available on PC - and has been since May last year - and for the same price.
But what about Vita? That's where lovely skateboarding game OlliOlli was born after all. Unfortunately that version has been canned. A blog post written by Roll7 in the style of Not a Hero's baddie Bunnylord suggested as much so I followed up with the developer and yes, confirmed, Vita Not a Hero is dropped.
"We really wanted to bring Not a Hero to Vita but, unfortunately, due to constraints of both time and money (both of which we have very little of!) we felt it was in the best interests of the game to concentrate on making sure the PS4 version was absolutely the best experience that it could be," developer Roll7 told Eurogamer.
"It sucks that we couldn't make it happen on Vita, but rest assured the console version is definitely worthy of your 10/10 review score."
Actually we don't do review scores any more because we're trendy.
Not a Hero is a 2D shootermarooter, which is a word I just made up to mean a game fast and fluid, filled with bullets and a slide system and a cover system. It's pixelated in the style of OlliOlli and there's loads of blood.
"Not a Hero isn't perfect," we wrote in our review last year, "but it does enough to confirm that Roll7 is a developer to watch. This is a game where the design principles shine through in every second of the action, foregrounded by a winning combination of clever visual tricks and slick production values.
"At times everything comes together and this is a delicious, feedback-heavy and flowing system - at others you'll be chewing the analogue stick in anger. Bunnylord, in other words, is a candidate with flaws. But still worth your support."