Nintendo: some Switch games don't support cloud saves "to ensure fair play"
Splat!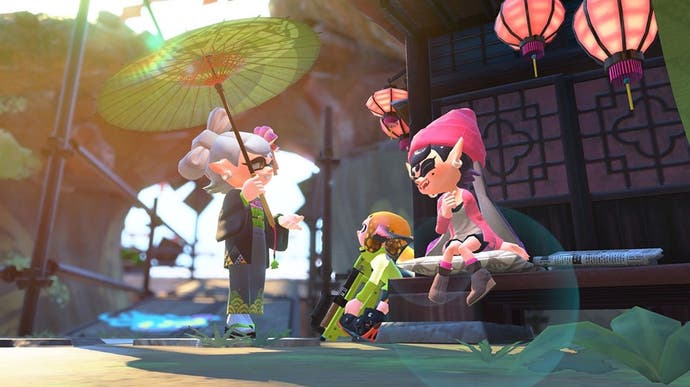 Some Switch games do not support cloud saves "to ensure fair play", Nintendo has said.
In a statement issued to Game Informer, Nintendo said cloud saves in some games would make it possible to regain items traded to other players or cheat when it comes to online multiplayer ranking.
Currently, the Nintendo Switch does not have a cloud saves feature. You can't even transfer save files via USB. But the Switch will soon get cloud saves via the premium online membership service - the problem is it's not for all games. Upcoming Nintendo Switch game Pokémon Let's Go Eevee & Pikachu does not support cloud saves, for example. Nor does competitive multiplayer shooter Splatoon 2.
That's not all. As spotted by ResetEra, some third-party games, such as FIFA 19 and Dark Souls Remastered, don't support cloud saves on Switch either.
Here's the statement in full:
"The vast majority of Nintendo Switch games will support Save Data Cloud backup. However, in certain games this feature would make it possible to, for example, regain items that had been traded to other players, or revert to a higher online multiplayer ranking that had been lost. To ensure fair play, Save Data Cloud backup may not be enabled for such games. To ensure that Save Data Cloud backups cannot be used to unfairly affect online multiplayer rankings, the feature will not be enabled in Splatoon 2."
Nintendo's explanation has been met with a good deal of head-scratching among Switch owners. FIFA 19 and Dark Souls Remastered both support cloud saves on PlayStation 4 and Xbox One. In this context, Nintendo's policy seems particularly puzzling.
But then Nintendo has always employed a somewhat draconian policy when it comes to cloud functionality for its hardware. While you can link your Nintendo Account to multiple consoles, you can only activate one console per Nintendo Account, which means games you've downloaded with your Nintendo Account will only be playable on the one active console for your account.
The £17.99-a-year Nintendo Switch online paid membership service launches in the second half of September. It provides access to online play, a library of NES games with added online play and the aforementioned cloud saves.
You'll need to open your wallet to continue to play the likes of Splatoon 2, Arms and Mario Tennis Aces online. But, as we now know, you won't get cloud saves for Splatoon 2.