NFS: The Run £49.99 on PSN Store this week
Sonic CD, Duke Nukem DLC also out today.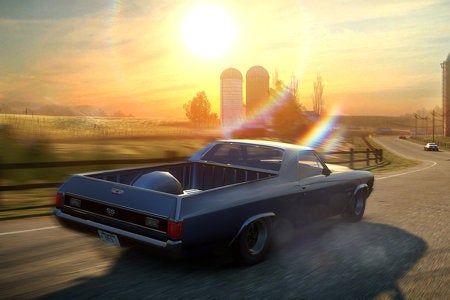 Update: Sony has contacted Eurogamer with a change in pricing for Need for Speed: The Run - it will be £49.99, not £69.99 as originally listed.
Original story: 5/10 racer Need for Speed: The Run is an eye-watering £69.99 on the PlayStation Network Store this week.
The Run becomes available to download alongside other full-retail launches such as Alice: Madness Returns (£47.99), Dirt 3 (£39.99) and zombie survival game Dead Island (£35.99).
At least there's Sonic CD, priced at a wallet-soothing £3.59. Its classic 2D gameplay arrives from 1993 virtually untouched, albeit with Trophy support and the unlockable ability to play as Tails.
There's little else new for PS3 gamers, although those subscribed to PlayStation Plus get Marvel Pinball free, and other tables half price. Criterion Games' wildly different Burnout Crash! is also 50 per cent off.
Assassin's Creed: Revelations adds more multiplayer characters and Trophies, while Duke Nukem gets new single and multiplayer content. And if you did buy Need for Speed: The Run, there's some new DLC for that too.
The full listing, courtesy of the EU PlayStation blog, lies below.
PlayStation Plus
Marvel Pinball - 100% off
Marvel Pinball Captain America Table - 50% off
Marvel Pinball Fantastic Four Table - 50% off
Burnout Crash! - 50% off until 28th December
PS3 Games
Alice: Madness Returns (£47.99/€59.99)
DiRT 3 (£39.99/€49.99)
Need for Speed: The Run (£49.99/€69.99)
Dead Island (£35.99/€44.99)
Tom Clancy's Rainbow Six: Vegas (£15.99/€19.99)
Sonic CD (£3.59/€4.49)
PS3 Demos
Goldeneye 007: Reloaded Demo
PSP Games
Corpse Party (£11.99/€14.99)
Naruto Shippuden: Ultimate Ninja Impact (£31.99/€39.99)
Persona 2: Innocent Sin (£27.99/€34.99)
The Legend Of Heroes: Trails In The Sky (£27.99/€34.99)
Persona 2: Innocent Sin + The Legend Of Heroes: Trails In The Sky (£59.99/€47.99)
Mickey's Wild Adventure (£4.79/€5.99), today (£3.99/€4.99)
Rally Cross (£3.99/€4.99)
Fear Effect (£5.49/€6.99)
PS minis
Ambassador Kane (£2.49/€2.99)
PS3 Add-Ons
Ace Combat Assault Horizon - Skill Set 2 (£3.99/€4.99), A-10A 'Happy Holidays' (£2.39/€2.99), Ah-64D 'Leopard Pattern' (£2.39/€2.99), Aircraft Skin Pack 1 (£5.49/€6.99), Rafalem 'Tiger Pattern' (£2.39/€2.99), Sharp Shooter (£1.59/€1.99), Compatibility Pack 5 (free), Defender (£1.59/€1.99), F-35B 'Pac-Man' (£2.39/€2.99), Quick Respawn+ (£1.59/€1.99), Su-37 Terminator (£3.19/€3.99)
Assassin'S Creed Revelations - The Ancestor Character Pack (£3.19/€3.99)
Battlefield 3 - Physical Warfare Pack
Dance Star Party - Mix 4 (£5.49/€6.99), Mix 5 (£5.49/€6.99)
Disney Universe - Nightmare Before Christmas Level Pack (£3.99/€4.99)
Duke Nukem Forever - The Doctor Who Cloned Me (£6.29/€7.99)
Marvel Pinball - Vengeance and Virtue (£6.29/€7.99)
Motion Sports Adrenaline - Urban Jungle DLC (£3.99/€4.99)
NFS The Run - Heroes and Villains (£3.99/€4.99)
Zombie Apocalypse: Never Die Alone - Pure Pwnage Pack (£3.99/€4.99)
LBP 2 - The Muppets' Costume Pack 2 (£4.79/€5.99), (Includes the following content, also available separately) The Great Gonzo Costume (£1.59/€1.99), Miss Piggy Costume (£1.59/€1.99), Statler Costume (£1.59/€1.99), Waldorf Costume (£1.59/€1.99)
Magic the Gathering: Duels of the Planewalkers 2012 - Deck Pack 1 (£1.99/€2.49), Deck Pack 2 (£1.99/€2.49)
Resistance 3 - Brutality Pack (£3.19/€3.99)
Rock Band
Rock Band Network - 2nd Sucks - A Day To Remember (£0.99/€1.49), If It Means A Lot To You - A Day To Remember (£0.99/€1.49), Heat Seeking Ghost Of Sex - Dance Gavin Dance (£0.99/€1.49), Internal Cannon - August Burns Red (£0.99/€1.49), Movies - Alien Ant Farm (£0.99/€1.49),
Rock Band 3 - A Warrior's Call - Volbeat (£0.59/€0.79), Living For The City - Stevie Wonder (£0.99/€1.49), Rebel Love Song - Black Veil Brides (£0.59/€0.79), Rush Pack 01 (£2.49/€3.99), (Includes the following content, also available separately), Fly By Night (£0.99/€1.49), Caravan (£0.99/€1.49), The Spirit Of Radio (Live) (£0.99/€1.49), Queen Extravaganza 02 (£7.49/€10.99), (Includes the following content, also available separately), Bicycle Race - Queen (£0.99/€1.49), Don'T Stop Me Now - Queen (£0.99/€1.49), I'M In Love With My Car - Queen (£0.99/€1.49), Long Away - Queen (£0.99/€1.49), Radio Ga Ga - Queen (£0.99/€1.49), Seven Seas Of Rhye - Queen (£0.99/€1.49), Stone Cold Crazy - Queen (£0.99/€1.49), The Show Must Go On - Queen (£0.99/€1.49), You'Re My Best Friend - Queen (£0.99/€1.49)