Next Borderlands 2 DLC details leak, headed to Oasis
Definitely maybe.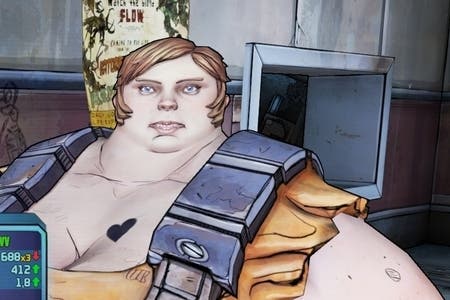 Borderlands 2's first major expansion looks like it's called Captain Scarlett and Her Pirate's Booty.
The add-on's existence was outed by new PlayStation 3 Trophies relating to the DLC, added in the game's latest title update (which went live on PS3 yesterday alongside the new Mechromancer character).
Captain Scarlett will offer a spectrum of new features, including the new location of Oasis, new missions, weapons, bosses, raids and a fresh rarity level.
More details have been uncovered within the game's Steam files (posted on the official Gearbox forums). Most notably, this includes the story's entire script, which is now housed on Pastebin.
Dialogue is set to include the lines: "You slagged-up fistomitch! DIEEEE!" and "I am the Censorbot. All lewd behavior must be stopped. A deviant known as P3RV-E is in possession of sexually explicit materials. Please murder him, because morality."
Captain Scarlett and Her Pirate's Booty has yet to be announced by Borderlands 2 developer Gearbox. It's presumably one of the four major add-ons included in the game's Season Pass.