Vivendi's Hulk sequel a bit Grand Theft Also?
Smashing-sounding Radical Games effort features free-roaming environments and lots of destructible scenery to use as weapons.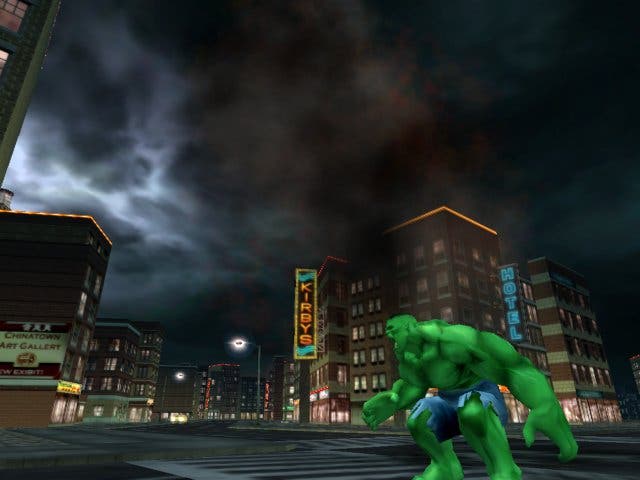 Radical Games is working on a new Hulk game for PS2, Xbox and GameCube, publisher Vivendi-Universal Games revealed today, and unlike the last example this one will be a free-roaming, 'sandbox' affair where the Hulk can destroy more or less anything and use whatever's lying around as a makeshift weapon. Or, as Vivendi eloquently puts it: "jump anywhere, climb anything and smash everything".
"The Incredible Hulk" is due out in summer 2005, and apart from free-roaming smash-'em-up missions players will also be able to expand their fighting repertoire to make better use of the breakable scenery, take on huge bosses, and tackle various side missions spread about throughout the environment.
No details yet on the source of Bruce Banner's discontent this time around, nor where in the world he's wound up, but judging by the one screenshot we've seen so far it's going to be a fairly typical urban sprawl - presumably why Radical Games, who created just such a world for The Simpsons: Hit & Run, have been put to the task.
Of course, the obvious comparison to draw here is with Activision's Spider-Man 2 game, which also used a free-roaming city-based environment as a basis for its missions. However it's worth considering that if The Incredible Hulk is due out in summer 2005, it must have been in development since long before Spidey's Grand Theft Also antics first came to light.
More on The Incredible Hulk when Vivendi next gets angry.