Murder by Numbers brings campy detective mystery and Picross to Switch and PC in March
From Swords of Ditto, Hatoful Boyfriend devs.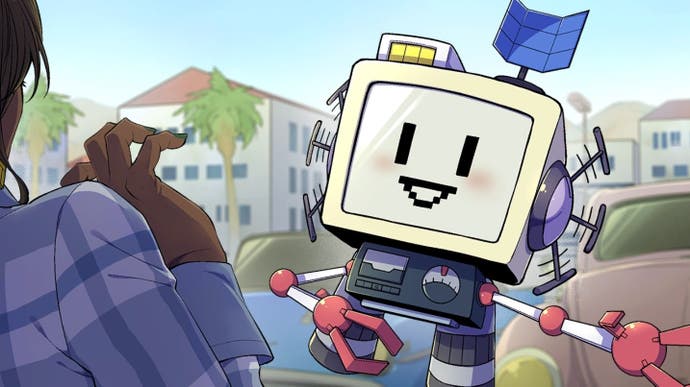 Mediatonic's endearing Murder by Numbers, which blends campy visual-novel-style detective mystery and the numerical puzzling of Picross, finally has a release date. It'll be sleuthing its way to Switch and PC at the beginning of March.
Murder by Numbers is set in the Los Angeles of the mid-90s, and tells the story of Honor Mizhari, an actress on a hit TV detective show who's suddenly required to do some real-world investigating (with a bit of assistance from a robot named SCOUT) when her boss is found dead. There's a dark conspiracy to be uncovered, along with "90s fashions! Upbeat jams! Sass dialled up to 100!", according to Mediatonic, with the story playing out across the TV studios, glamorous award shows, and drag clubs of LA.
The experience is directed by Swords of Ditto writer Ed Fear, with character designs by Hato Mao, the creative force behind acclaimed pigeon dating adventure Hatoful Boyfriend. There's also music from Masakazu Sugimori, whose many notable soundtracks include Phoenix Wright: Ace Attorney, Viewtiful Joe, and Ghost Trick.
It's admittedly still not entirely clear how Murder by Number's multiple-case adventure will play out from a structural perspective - its announcement trailer definitely has the visual-novel-style exuberance of a Phoenix Wright investigation, although I'm not quite sure how the nonograms fit in - but the delightfully upbeat 90s vibes displayed in the new animated intro above makes me feel like we're in good hands.
According to the developer's launch date announcement, Murder by Numbers is heading to Switch on 5th March and to Steam a day later, on 6th March.