Monster Hunter World - Teostra strategy, Teostra weakness explained
Take down Elder Dragon Teostra.
Teostra is a late game encounter and one of the toughest you'll face in all of Monster Hunter World.
When you finally come up against the Elder Dragon in battle, there are a number of Teostra weaknesses and strategies to learn about.
Elsewhere, our Monster Hunter World tips can help you decide when to get, what to forage and what to do between hunts, and our Monster Hunter World walkthrough and guide can help with main quest and story progress.
How to prepare for Teostra the first time, Teostra location
Once you unlock Elder's Recess and beat Nergigante, you'll have to find more tracks.
This operates much the same as the ??? Rathian tracks several missions prior, but instead focuses on blue-coloured tracks specifically within specific areas.
For Teostra, this area is the Wildspire Waste.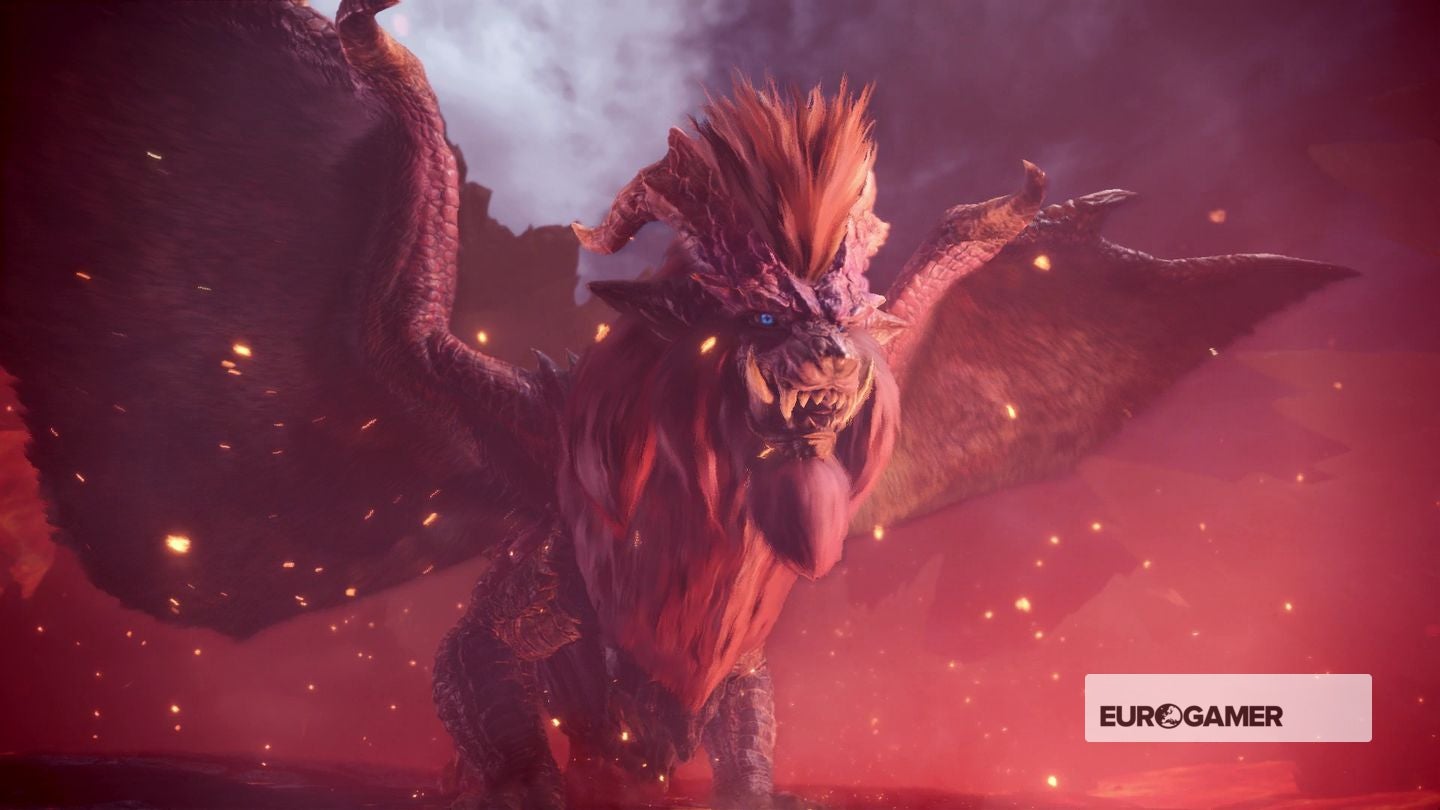 To prepare for Teostra, you'll need some strong armour. Whatever you had to face the Nergigante should be good enough, but since Nergigante has some of the best armour pieces and skills in the game, it won't hurt to fight it a few more times.
Additionally, the Ore weapon tree will lead into Nergigante now you've fought it, with a weapon that has high affinity against Dragons and with a high Elderseal. Both are very useful against Elder Dragons, so this is well worth unlocking.
Otherwise, make sure you have plenty of curatives and other defensive items. Unlike the other two Elder Dragons, there's not trick here (there are a set of fire attacks, but elemental defences aren't essential) as Teostra is simply a very mean and very fast monster to take down.
---
Iceborne has arrived! Here's how to start Monster Hunter World Iceborne and beat the first monster, Beotodus. Once you get settled into the world, learn about Layered Armour in Monster Hunter World and the various side-quests available - including Surveyor Set missions, Boaboa quests and finding Pearlspring Macaque locations. And, when you're ready to take it on, Shara Ishvalda. If you're crafting, then learning where to find rare materials such as Purecrystal and Monster Slogbone is useful. Been away from Monster Hunter for a while and need a refresher? Our pages on weapon changes and types, how to join friends and Squads in multiplayer plus how to capture monsters and mount monsters can help.
---
Teostra weakness and strategy
Teostra weaknesses:
Fire - Null
Water - High
Thunder - Low
Ice - High
Dragon - Low
Poison - Medium
Sleep - Low
Paralysis - Low
Blast - Low
Stun - Medium
Teostra - a fire-breathing wyvern - is arguably the toughest of the Elder Dragons you'll face, combining fast movements and powerful hits for an array of fire attacks you'll best want to avoid.
Teostra is at its most dangerous when it is covered in flaming embers, so stay distant and mobile until it is safe again.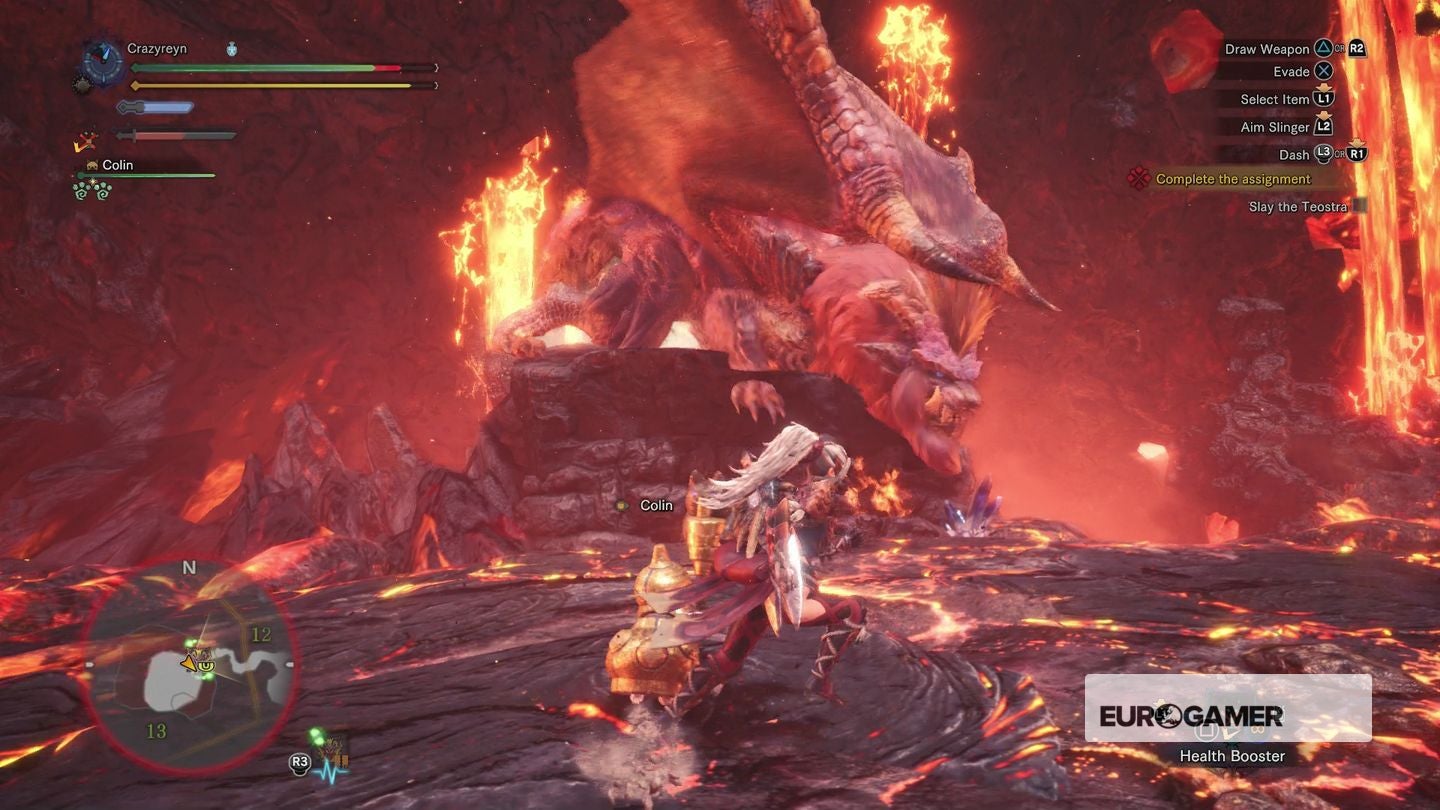 As with most wyverns, you should be particularly wary when its in the air, though its dives and fire breath attacks are easier to dodge than other monsters in flight.
The one attack you must avoid is an explosion, prompted by flames appearing in an aura around it. When you see this, flee as fast as you can, as it can take you down in a single hit.
Though the one-hit explosion is something to watch, you'll generally come across most problems on the ground. We found most of our knockouts were when we were dazed - usually from a seemingly standard swipe, or sprint as it comes across the arena - and then was caught by another attack.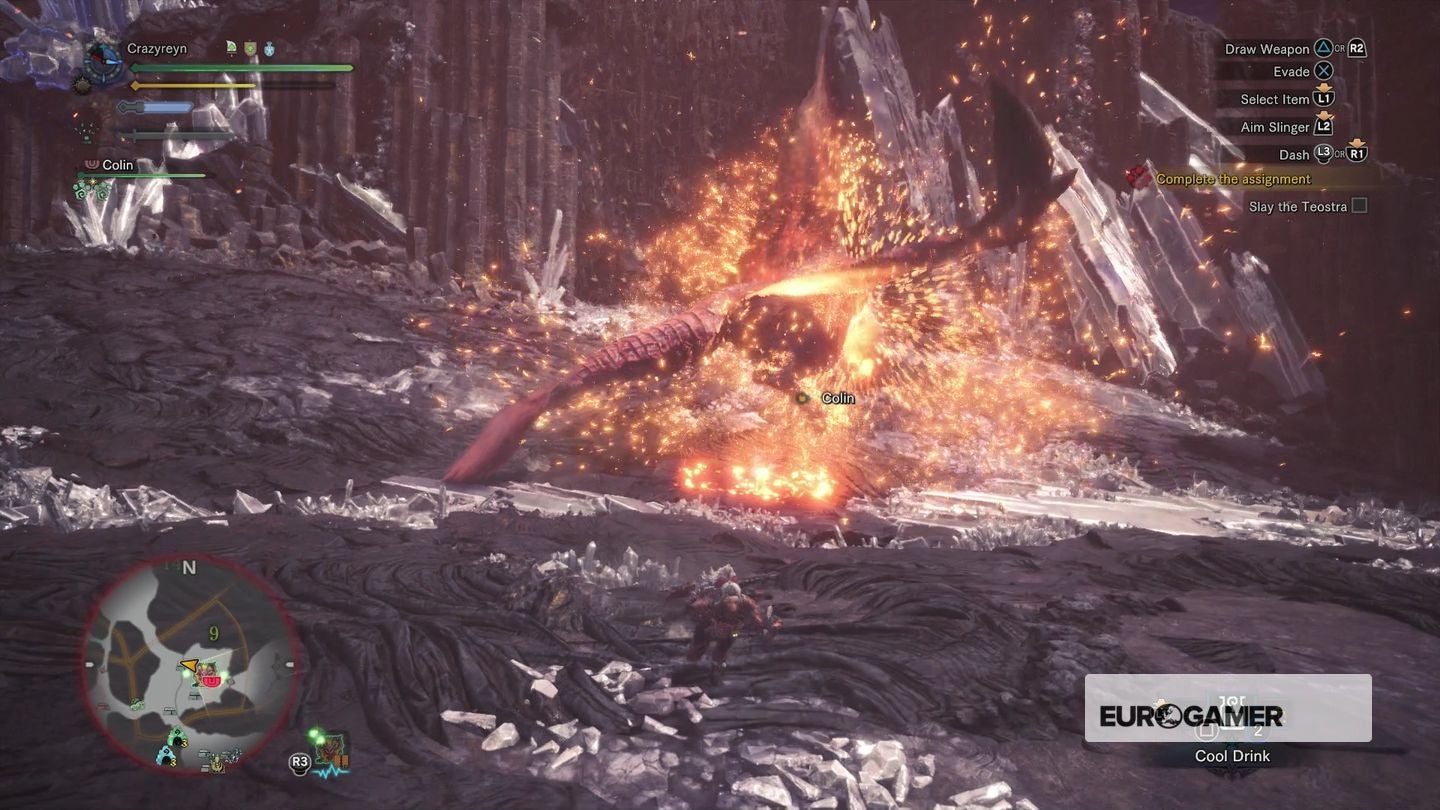 The key, then, is to stay out of Teostra's way until you are certain you can attack. A tried and true tactic, yes, but you especially need to be alert in this battle.
When it comes to attacks, the most dangerous areas to be would be approaching from the front - it has a sweeping fire breath - and behind with the tail, so going in at the side is advised.
Like Kirin, however, it can employ elemental damage around it, and though these aren't as frequent or sudden as Kirin, be prepared to back away very quickly if you see embers appear directly around Teostra.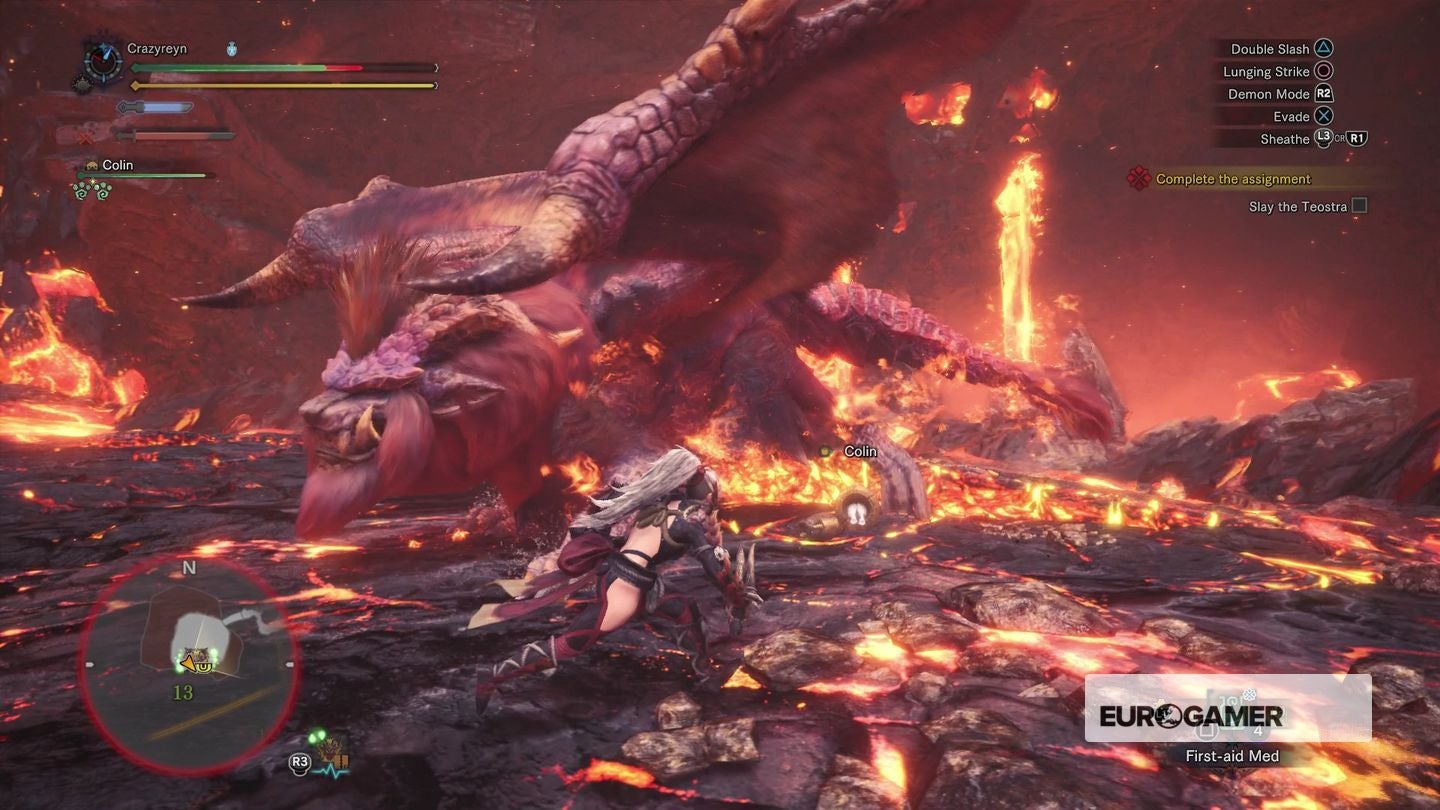 As with all tough battles like these, you should avoid combos unless you're certain you can get out in one piece, and to use the environment to your advantage. The areas it roams in will have a step or a slope you can use, so we recommend luring it in that direction so you can get a quick powerful attack in before fleeing again.
It's cheap, but allows you to keep away from Teostra's extremely powerful attacks.
We recommend firing an SOS flare if you are struggling. As with all challenging fights, though, make sure you at least give Teostra a go yourself first. It means you'll know what you're up against before you invite others along - you don't want to faint from not knowing what's coming.
Whether solo or with friends, expect a long and taxing battle. And don't forget to consume Cool Drinks, either, which will ebb away your health in lava-filled rooms. It's easy to forget if you've been knocked out or battling for a while!
If you keep hitting your head against Teostra, we recommend you try and take down a Bazelgeuse.
Not necessarily for its armour, but the fights feel somewhat similar in their pacing, and might be a nice break while also training your reflexes. Good luck!