Mike Bithell's Subsurface Circular coming to Nintendo Switch
Play a game set on a train on a train.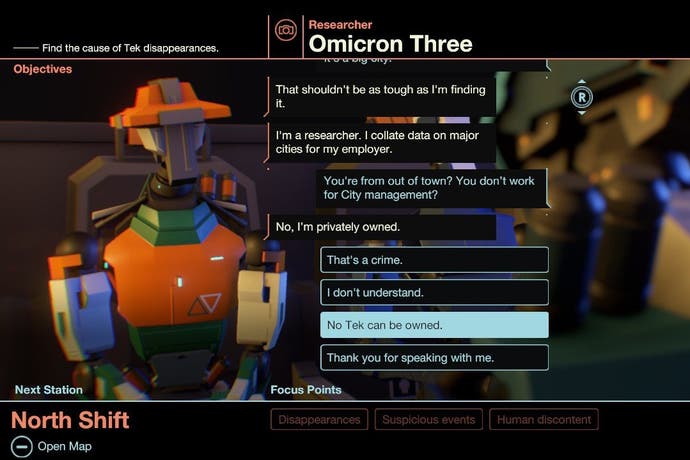 Subsurface Circular, the text-based sci-fi adventure game from Thomas Was Alone creator Mike Bithell, comes out on Nintendo Switch via the eShop on 1st March priced £4.79.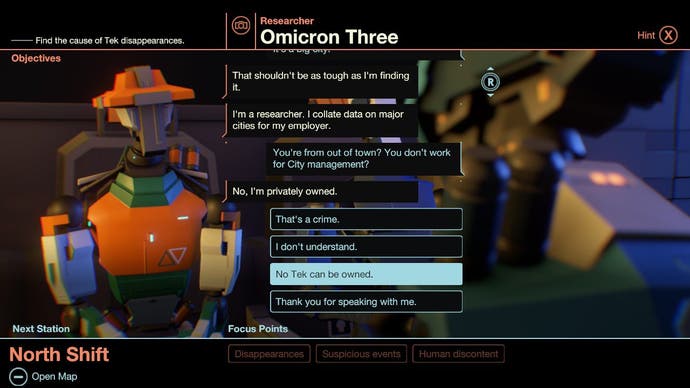 Labelled a "Bithell Short", Subsurface Circular is a modern take on the old school text adventure genre, and revolves around the rumblings of a working class of sentient robots.
You play as a robot detective who investigates the disappearance of other robots while aboard a futuristic underground subway system. Indeed the entire game takes place in a single carriage on the train.
As the train works its way around the Subsurface Circular, you're set a number of objectives you complete by talking to other robots. As you chat you unlock Focus Points, which can then be used in conversation to unearth new, sometimes crucial information.
Subsurface Circular launched on Steam last year and met with a positive reception. It later released on iPad.
"Nintendo Switch is an ideal platform for players to experience Subsurface Circular, a game perfectly suited to playing on an actual train," said Bithell.
"Nintendo has displayed a commitment to the success of independent gaming on Nintendo Switch, and we're thrilled to join their expanding library of games."