Microsoft really wants you to know playing Minecraft online is safe
Wonder why?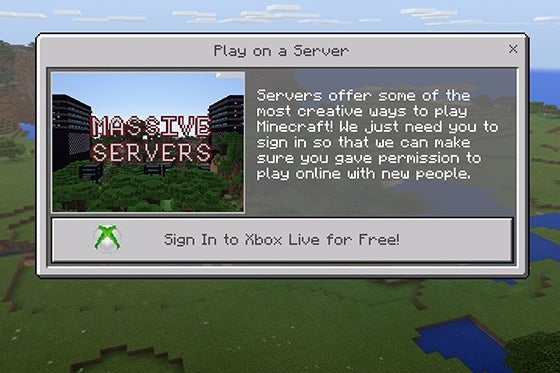 Microsoft recently released a big new update for Minecraft that marked the beginning of cross-platform play, and alongside the update updated its safety features for playing the game online.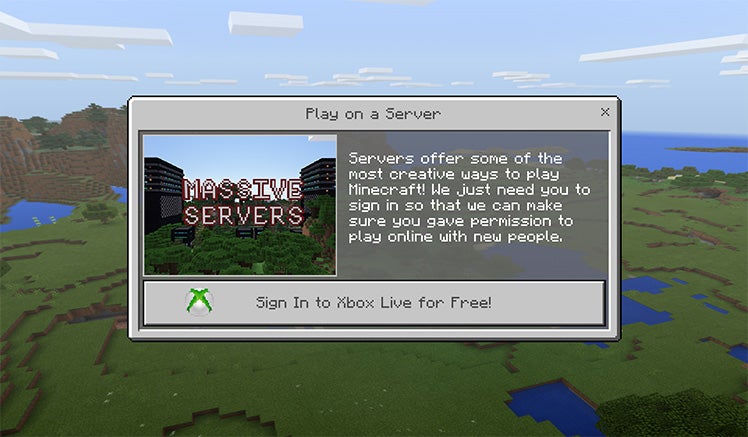 In a lengthy article on the Minecraft website titled, "How to stay safe online," Microsoft outlined safety tips for playing the game with others, and announced some new requirements.
An Xbox Live sign-in is now required for online multiplayer no matter which platform you're playing on. That includes Android phones and, eventually, Nintendo Switch. You need a gamertag to connect to a Realm, an official server partner or a hosted Minecraft world via an IP address.
"By creating an Xbox Live account and gamertag, when logged in you can set your own privacy and multiplayer preferences, create and manage accounts for your family members, and stake your claim on your name in the Minecraft universe," Microsoft said.
"Plus, because everyone will have an account, if you do run into any creepers ruining the fun, it's easy to report them, and for our Enforcement team to identify the player in question."
Of course if you are playing on a local area network (LAN) connection, you won't need to sign in to play with friends on the same network.
In the same article, Microsoft detailed how to add, mute, block or report players from the pause menu.
"We take reports very seriously," Microsoft said. "All our players are expected to adhere to the Xbox Live Code of Conduct. When you report bad behavior you're helping to create a positive and welcoming experience for all Minecraft players."
There's a lot more in the article on Minecraft online safety. Clearly, it's important for Microsoft to highlight the work it's doing and the steps it's taken to keep Minecraft safe for users - and it's easy to see why.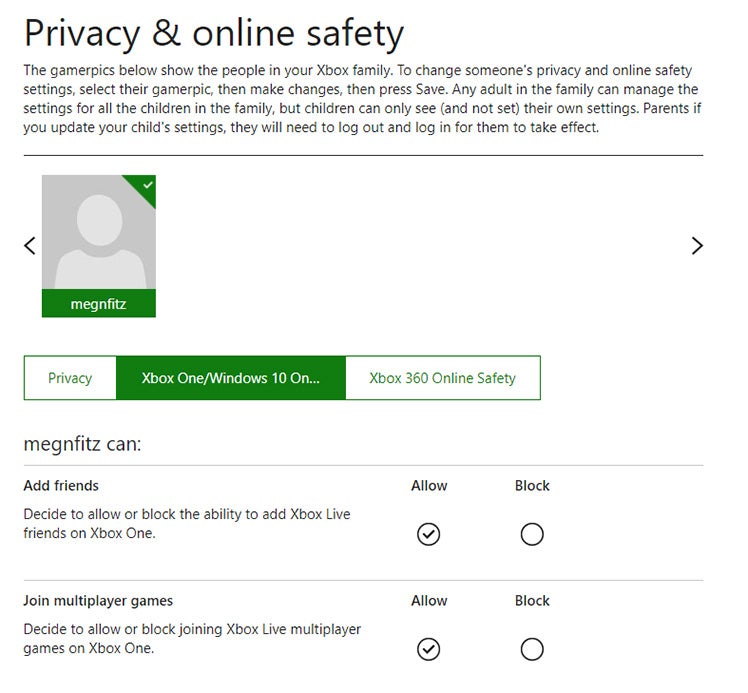 At E3 in June, Sony executive Jim Ryan expressed concern about letting PlayStation gamers connect with those on other platforms. His comments came after Microsoft announced Nintendo Switch, Xbox One, PC, mobile and VR Minecraft players would all play together.
In defending Sony's decision to block cross-play, Ryan told Eurogamer:
"We've got to be mindful of our responsibility to our install base. Minecraft - the demographic playing that, you know as well as I do, it's all ages but it's also very young. We have a contract with the people who go online with us, that we look after them and they are within the PlayStation curated universe. Exposing what in many cases are children to external influences we have no ability to manage or look after, it's something we have to think about very carefully."
Ryan's comments clearly irked Xbox boss Phil Spencer, who told GiantBomb in a later interview:
"The fact that somebody would kind of make an assertion that somehow we're not keeping Minecraft players safe, I found - not only from a Microsoft perspective, but from a game industry perspective - like, I don't know why that has to become the dialogue. Like, that doesn't seem healthy for anyone.
"We take the safety of Xbox Live, of our players across all of our games - inside of Minecraft, obviously an incredibly important part of that - it's incredibly important to our team. We would never put Minecraft in a place where we felt like [...] we weren't keeping our players safe."
Fast forward a couple of months to the release of Minecraft's Better Together update, and you can see Microsoft hammer home Spencer's point. The message is loud and clear: it's safe to play Minecraft on Xbox Live.
While we're on the subject of cross-platform play, Microsoft has said it's still talking with Sony about PlayStation but has nothing to confirm right now. "We would love to work with Sony to bring players on PlayStation 4 into this ecosystem as well," Microsoft said.