To see Microsoft Flight Simulator's London at its best you'll need this DLC
London calling.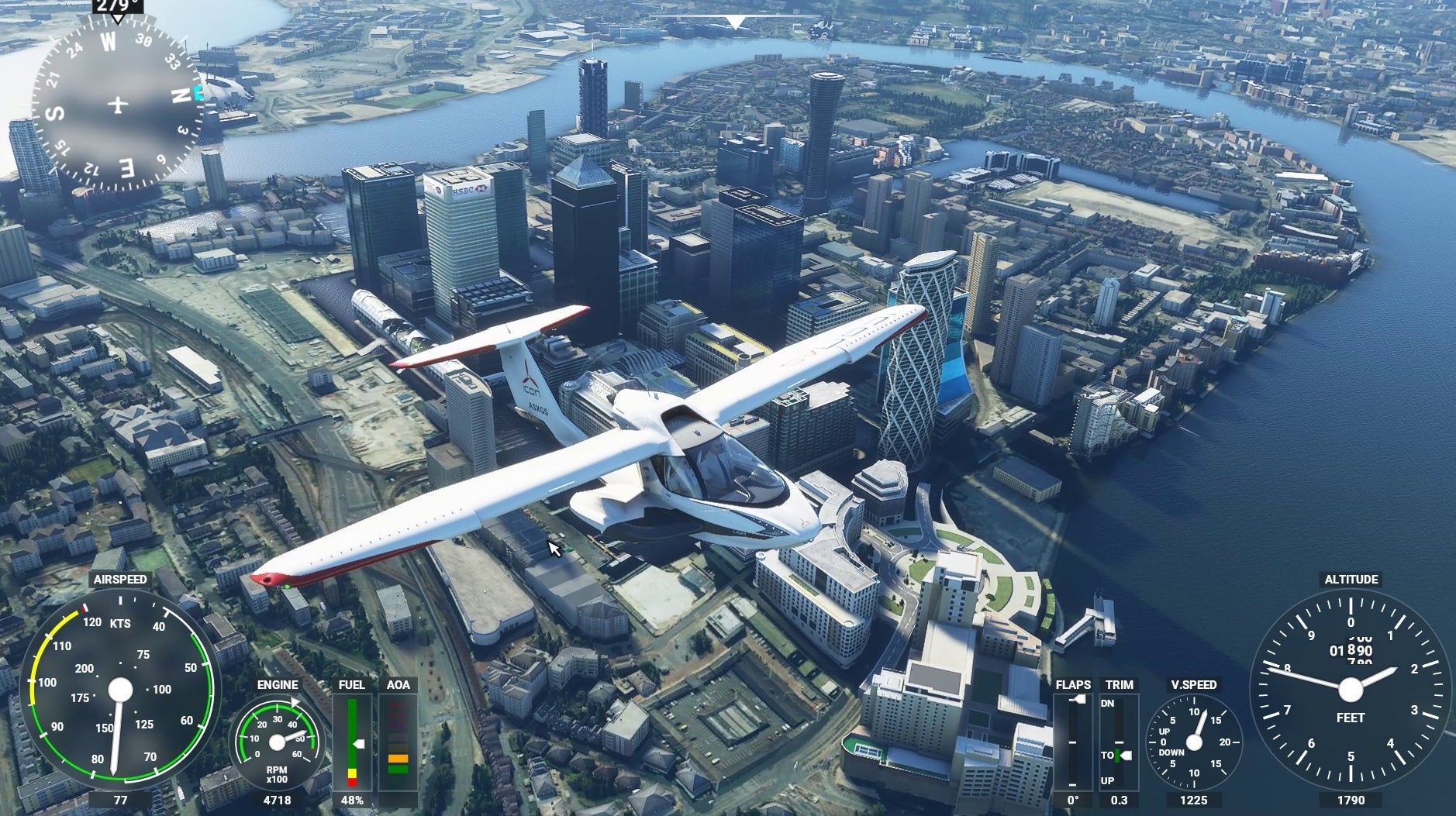 Given that most of you are probably still downloading the sizeable client for Microsoft Flight Simulator, it might seem a bit premature to start talking about expansions - but trust me, one of the first things you should do after getting it all up and running for the first time is head to the marketplace and buy Orbx's London landmarks pack. It's a game changer - or it is if you spend a lot of your time in the airspace above the capital, like me.
London's perhaps one of the least impressive major cities in the base, as you might have noticed if you've seen pre-release videos - there's replicas of The Shard, The O2 and Big Ben, but head over somewhere like the Isle of Dogs and you'll see Canary Wharf is a hodge-podge of generic skyscrapers. The Orbx pack - which is £6.99 - fixes all that. I'd go as far to say it makes London one of the most spectacular cities you can visit in Microsoft Flight Simulator, but then again I live there so I would say that.
You might also think, given that Microsoft Flight Simulator has only just come out today, it's a bit premature to talk about paid expansions, and that's fair enough. Sims work a little bit different to many other games, and something like Microsoft's Flight Simulator series has traditionally been at the centre of a thriving third-party market as well as mod support. Indeed, there are many companies who make their livings from it.
"The thing that's interesting about the flight sim world is that there's this community of third party developers, and they make a living making airports," Microsoft's head of Flight Simulator Jorg Neumann told me last month when I asked him about the differences between some of the regular airports in the game and their premium, hand-crafted counterparts.
"We didn't fully realise that we need to tread very carefully, because if we make too much stuff, we're hurting them. And we don't want to hurt them. We want to have a thriving ecosystem, and they can be as creative as they want to be for years to come. We actually took out a bunch of airports and stopped development on a bunch of airports because it was too much."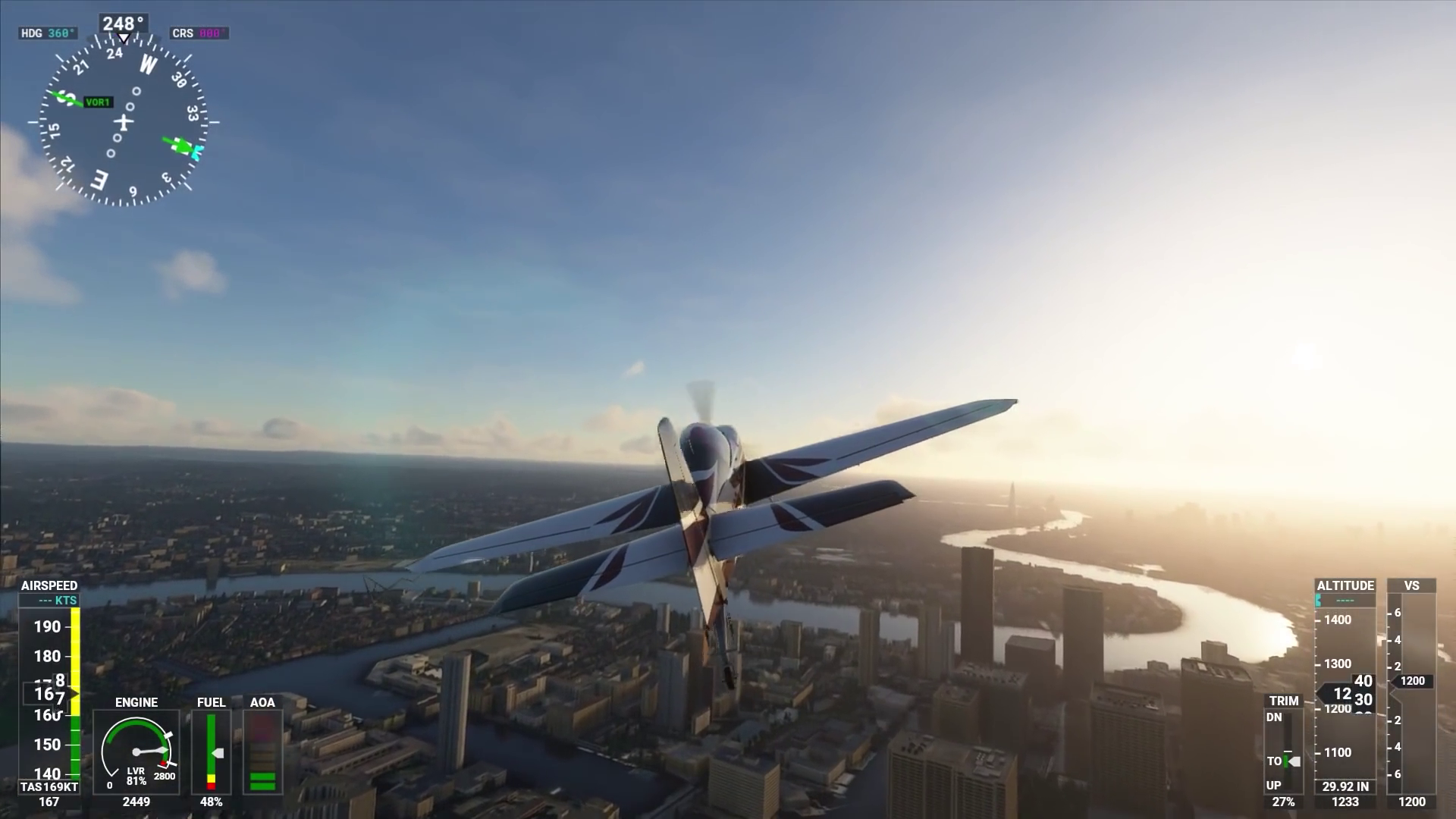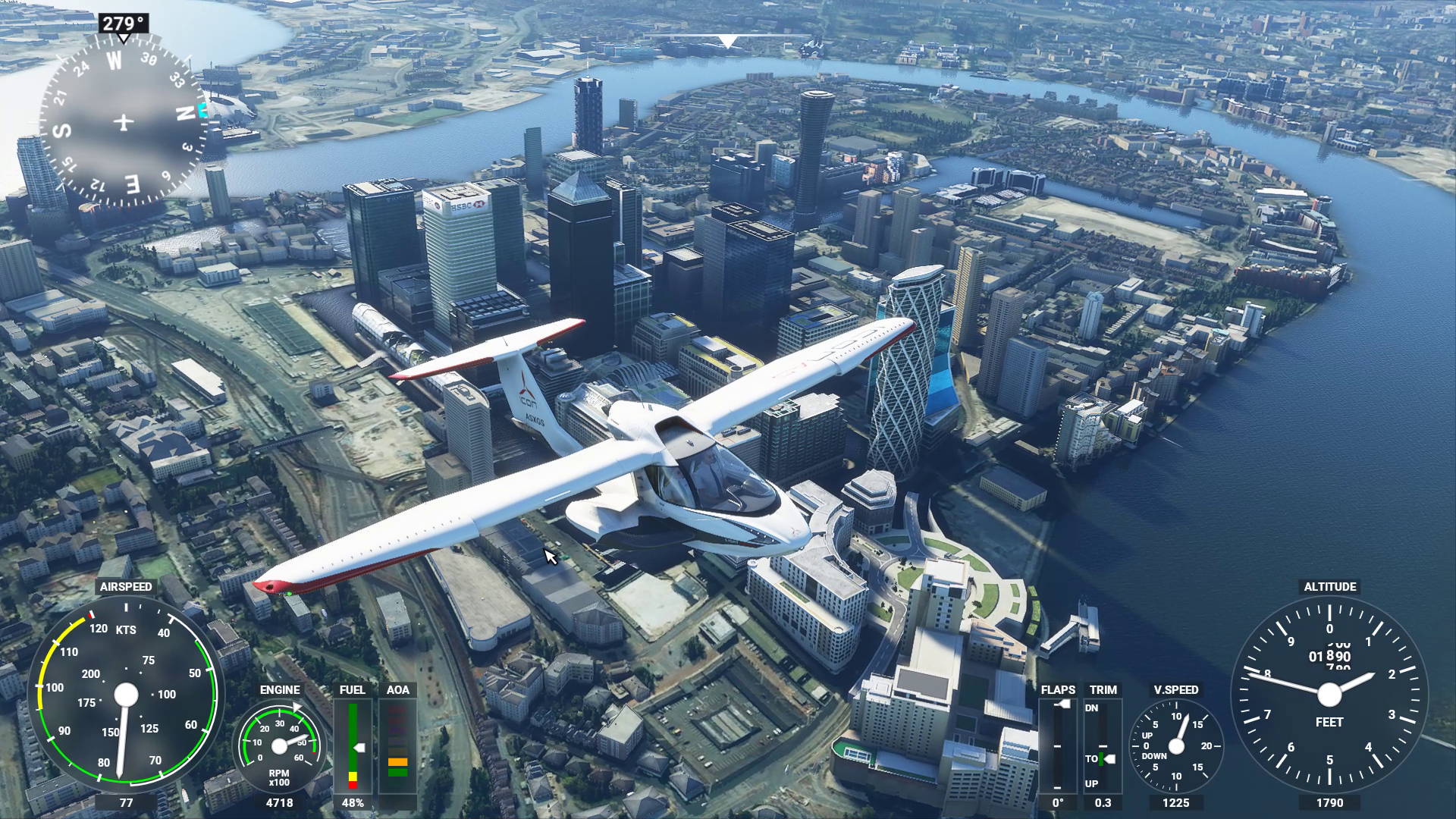 I wouldn't be surprised, essentially, if London was left only lightly touched by the hands of Microsoft Flight Simulator's developers as they allowed some space for Orbx to come in and do its thing. And Orbx does its thing very well indeed - before all this I've already paid a fair bit more than £6.99 for some of their packs for X-Plane 11, and I've felt they've been worth every penny.
When Orbx and Microsoft Flight Simulator come together, though... I've spent the morning on various sorties from City Airport (for just under 12 quid you can also get Orbx's hand-crafted take on the airport), taking in all the sights from east to west. From the runway you can see the pyramid atop One Canada Square, flanked by the likes of the CitiGroup Centre and the HSBC building.
Snake alongside the river and I spotted a passable imitation of Ernő Goldfinger's Balfron Tower to the east (its sister Trellick Tower gets a much more accurate replica out to the west in Shepherd's Bush), while on the south there's Greenwich Power Station and the Imperial Naval College. Further along the Thames you'll also find Battersea Power Station, with Battersea Park, while in central the detail's striking: I've spotted King's Cross station, the BFI Imax, the British Museum and Centre Point.
It's worth pointing out that it's not perfect, and there are imperfections. I found Arsenal's Emirates Stadium, though when looking for Millwall's The Den there was just a barren patch. The Olympic complex erected for 2012 sees Microsoft Flight Simulator and Orbx make a noble attempt at the swimming pool's swirling roof, while the London Stadium is an entirely flat texture. Still, I've got friends with West Ham season tickets who tell me that's pretty much apt, and I'm super excited to head back to this take on London and discover more.
The expansion's a must-have, I reckon, and wherever you might fall on reaching into your pockets on day one for a game you've already bought, I'm sure we can all agree it's a sign of how much further Microsoft Flight Simulator can still go, and how impressive the work of third parties like Orbx can be. Now if you'll excuse me, I'm just off to find out if they've made the effort to recreate the Catford cat.
Will you support Eurogamer?
We want to make Eurogamer better, and that means better for our readers - not for algorithms. You can help! Become a supporter of Eurogamer and you can view the site completely ad-free, as well as gaining exclusive access to articles, podcasts and conversations that will bring you closer to the team, the stories, and the games we all love. Subscriptions start at £3.99 / $4.99 per month.