Meet Persian Gulf Soldiers - the Iranian Call of Duty
Iranian marines versus Somali pirates in the Gulf of Aden.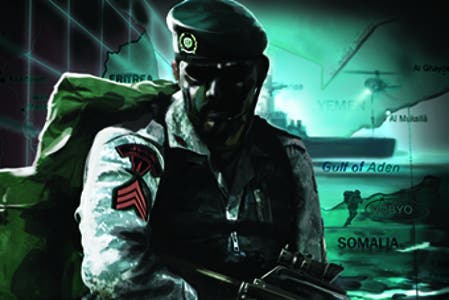 Call of Duty, Medal of Honor, Battlefield - for years western military first-person shooters have featured US soldiers killing terrorists. Now, the Middle East is having a go at its own take on the genre.
Meet Persian Gulf Soldiers, a military FPS that looks a lot like Call of Duty in terms of gameplay but in terms of story is very different - and it's coming to the West.
In the trailer above we see a Middle East setting much like those Infinity Ward, Danger Close and DICE create for their shooters. We see soldiers killing each other, iron sights and fast-paced gameplay - all familiar military FPS mechanics. But we soon notice a difference: the narration is not from "deep voiced Hollywood movie trailer man", it's from "deep voiced Iranian movie trailer man".
Persian Gulf Soldiers is developed by Iran game studio Amytis Games and, spokesperson H.R. Nikoofar tells Eurogamer, tells the story of Iranian marines conducting operations in the Gulf of Aden against Somali pirates.
"The story begins with the kidnapping of an Iranian trade ship by Somali pirates," he said. "Now Persian Gulf soldiers have to find the ship and arrest a Somali pirate boss called 'Sawfish'."
The Gulf of Aden is in the Arabian Sea, between Yemen and Somalia, in the Horn of Africa. It's part of the Suez Canal shipping route and is known to locals as Pirate Alley because of, you guessed it, all of the pirates.
Persian Gulf Soldiers is built using the Unity Engine, and Amytis Games plans to publish in autumn 2012 for western markets on Steam, although it is unclear to what extent the game will be localised.
There's multiplayer, too, but Nikoofar won't talk about it. Persian Gulf Soldiers' striking box art is below.