Mass Effect Trilogy dated for PS3 next month
DLC for all versions detailed.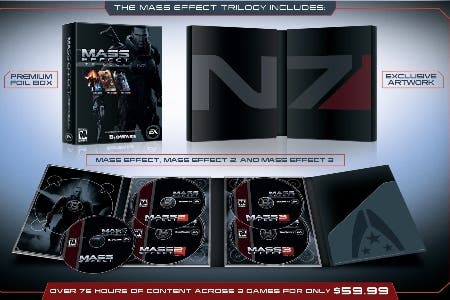 We knew that the Mass Effect Trilogy was coming out next week on Xbox 360 and PC on 9th November (or 6th November in North America), but BioWare just announced the PS3 version's release date of 7th December (or 4th December in North America).
This will be the first time the original Mass Effect will be available on Sony's console. It will also be available as a digital download on PSN.
BioWare also detailed the DLC on each platform.
On PS3 the first game will have the Bring Down the Sky DLC integrated both on-disc and on PSN. Mass Effect 2 will have come packed with various DLCs such as Cerberus Network, Kasumi, Overlord, and Lair of the Shadow Broker. Mass Effect 3 will remain exactly as it shipped as a standalone title.
The Xbox 360 version won't include the original game's DLC - which will still be available for purchase - but it will contain Mass Effect 2's Cerberus Network content and Mass Effect 3 will remain the same as its original release.
And the PC version is just like that on the 360 only both the first Mass Effect's Bring Down the Sky and Pinnacle Station DLC are available for free - just as it is if you were to buy the standalone game on PC.