Maquette is the new game from the Annapurna label, and it's basically a fever dream
Don't sleep on it.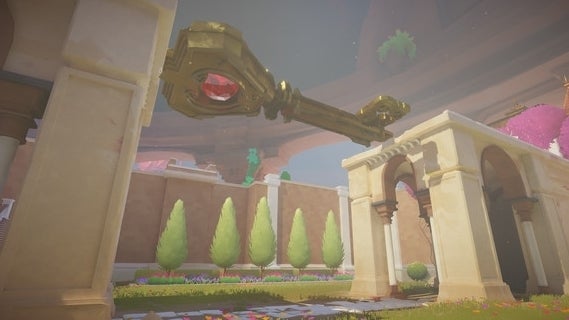 I'm not going to lie, watching this trailer gave me a real sense of dread - like when you think you've woken from a dream, only to realise you're just dreaming about waking up. Oh no.
Developed by Graceful Decay, Maquette is a first-person puzzle game releasing sometime later this year on PC. It's the newest game to be published by Annapurna Interactive, which has garnered a name for itself as a publisher of lovely and unusual titles; such as our 2019 game of the year Outer Wilds, along with What Remains of Edith Finch, Sayonara Wild Hearts and Telling Lies.
This one's set in a world "where every building, plant, and object are simultaneously tiny and staggeringly huge". You can move items to play with scale and navigate the twisted environment, with small cracks becoming vast chasms as you move from the miniaturised centre into the grand outer edges. The Steam description compares it to the work of artist M.C. Escher, who was known for impossible constructions and mind-bending designs.
There's a love story wrapped around the puzzle, too, and the trailer includes audio of a mildly awkward first meeting. It's about "exploring the scale of everyday problems in a modern-day love story... where sometimes the smallest of issues can become insurmountable obstacles." Ok, so maybe it isn't all just a dream world.
Once again, this looks incredibly well-made - and like it'll do a great job of melting my brain like a Dali clock.