Mapping the musou empire
Akihiro Suzuki on over 20 years of Dynasty Warriors.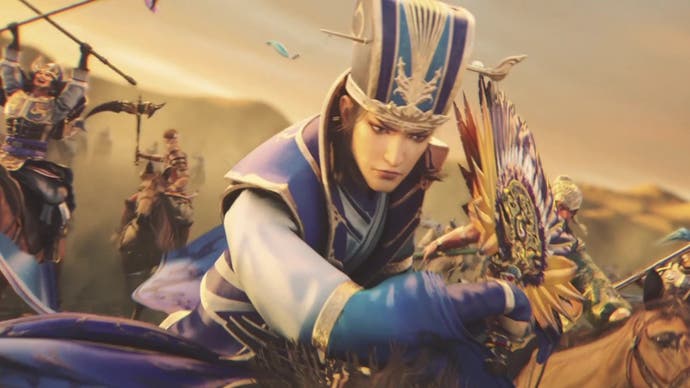 In the 30 years since Akihiro Suzuki started at Koei, he's spent 20 of them overseeing Dynasty Warriors - progenitor of the musou genre, one of gaming's longest-running series, and one whose every entry bar the fifth Suzuki has been involved in. It's a success that the team could never really have anticipated - how could they, given how the series had its start in a different genre entirely.
Released on the original PlayStation back in 1997, the first Dynasty Warriors was a Soul Calibur-like one-on-one fighting game and was met with positive reviews - so much so that Omega Force, the division within Koei Tecmo that Suzuki was a part of, stuck with the genre with its next project Destrega. "Within the team we all thought it was really good, but it didn't really sell well," says Suzuki.
There was some doubt as the team embarked on its next project, a follow-up to Dynasty Warriors. "We went from the fighting game to Dynasty Warriors 2 for the PlayStation 2," says Suzuki. "When we started development on the game, we actually had the intention of making a sequel to the fighting game.
"But, you know, once we got our hands on the PS2 and we saw the technical specs we figured we could probably do a lot more with this technology. And so, as a team, we decided we wanted to take the game in a different direction to harness the power of the technology. That's how the Dynasty Warriors series as we now know it came to be - that switch from fighting game to action game was a big challenge."
Coming in the early days of the PS2 - it was a launch release for the console's North American release - Dynasty Warriors 2 was a showcase for what was possible in the new generation, with battlefields swarming with enemies and dense action that earned it comparisons to classics such as Golden Axe, while its liftings from 14th century novel Romance of the Three Kingdoms gave it a flavour all of its own. Suzuki was deeply involved with what would be the genesis of an entire genre of its own - and it's a project he remains deeply fond of.
"There were a lot of new things that we did with it," he says. "At the time, I was not only the director of the game, but I was also the lead programmer, so I was directly involved with the actual system architecture. Because we were making everything from scratch, it's all brand new. Making the game itself was quite a feat! But we had a clear plan in mind, and we were able to actually make that happen. Being able to be part of it as a programmer, to help create it from the bottom up is definitely one of the things I'm proudest of."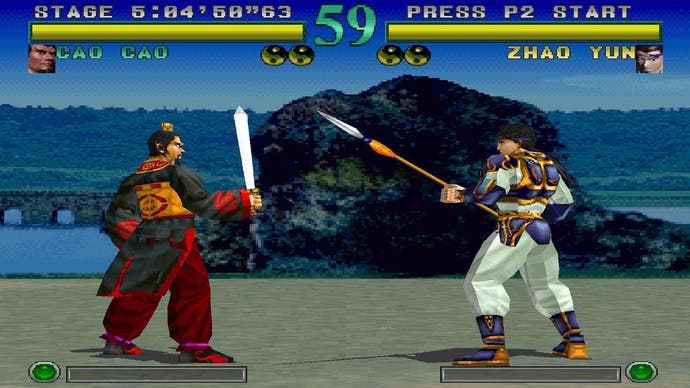 At the time, there was some cynicism within the team as to how well this new formula they'd conjured for Dynasty Warriors 2 would be received. "We were making something that we thought would be really fun," says Suzuki. "But we didn't really know how it would be accepted in the general public space."
To say it's been a success would be something of an understatement - the list of entries in the series, taking into account the various spin-offs and associated games - is eye-watering. "It's something we definitely never anticipated," says Suzuki. "We've been really fortunate. I didn't really think that we would be continuing on the series, when the team was formed, the intention was to constantly take on new challenges, to try different things, different kinds of games.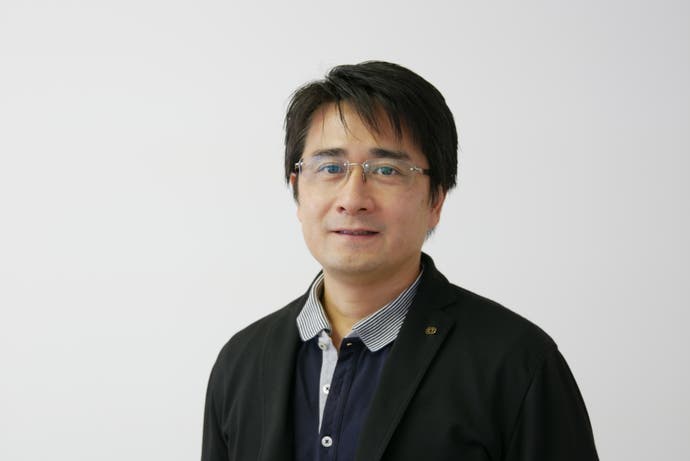 "It wasn't really our intention to be working on something that would become a series - that was a bit of a surprise. But you know, at the same time we were very conscious of the fact we were making something brand new and doing a lot of different things. I think that really helps with coming up with ideas for the game, and also led to the length and the richness of the series."
It's been a long road for the series since, and one that's not been without its bumpy moments. Perhaps one of the biggest - and certainly the most recent - came with the release of Dynasty Warriors 9, an ambitious new entry that attempted to take the series in an open world direction.
"The open world system was brand new for the series," says Suzuki. "It was a big change in direction, and it split off in a different direction than previous games. We did hear both positive and negative feedback about it, and definitely we learned a lot from it as well. From that experience we need to think about what we want to do next and what direction we want to take it. I think that game was a bit of a first step for us, but in terms of how we're going to move forward that's still something that we're looking at."
It's an interesting revelation, given how long it's been since the release of Dynasty Warriors 9 and how important the series is to Koei Tecmo. "We do feel a potential for both sides. If we were to go deeper into a more open world and go deeper into the open world I think we want to really get players into that Dynasty Warriors world so they can really see it from the perspective of being an officer of that time. When we released Dynasty Warriors 9, we did hear voices saying this isn't the direction we want the series to go, which wasn't what we were hoping for. There really was a clear split between the opinions, so you know right now in terms of which direction we go that's something that we need to decide. It's something that I'm really thinking about and we don't really know the answer yet at this point."
There's time before any such decision has to be made - indeed, there's another game to consider first, with the imminent release of Dynasty Warriors 9 Empires. The Empires games typically add an extra strategic lair to the games they build upon, and it's going to be interesting to see how this particular spin-off builds on the foundation of what was a divisive game.
"At the start with Dynasty Warriors 9 Empires, we actually were split on what kind of direction we wanted to take it into," says Suzuki. "We did consider using the open world system - it does fit the open world concept because you're approaching the game from very different perspectives and different characters, so there's a lot of freedom in that. One of the other main features of the game is all the preparation, and in a single play of the game there's really a lot of things to do, and another feature of the series is that you can do all these different things at a brisk pace if you wanted to. That works against the idea of an open world which might be just too vast and with too many things,so we ended up so you can proceed at a very good tempo for the player - so that's the direction we took instead of an open world system."
Given the technical issues that Dynasty Warriors 9 had at launch, it's going to be interesting to see what progress has been made for Empires, especially with new hardware in play. "With the next generation hardware the visuals have really been able to evolve as well as the loading screens," says Suzuki. "That's really an advantage of the new hardware to cut down on the loading speeds, and it has made it a more comfortable playing experience. In addition with the visual improvements, the frame rate has become more stable."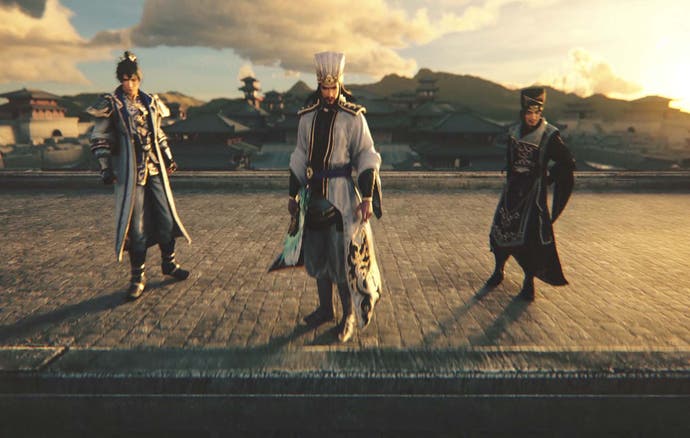 It sounds promising, and with the jettisoning of the open world and technical improvements Dynasty Warriors 9's Empires' spin-off could be the slight course correction the series needs. It's promising, too, that Koei Tecmo has listened to the fans' concerns about the last entry and acted on them - a long-standing approach that no doubt contributes to the series' longevity.
"It's not just hearing everything and just putting it into games, because obviously we need to make it so that it actually stands up as a game itself," says Suzuki. "We do as much as we can to incorporate it in a way that will make the game a lot of fun. You know, I think that's one of the things that really has kept the series running for so long."