Jumpgate: Evolution
Space saving.
Ten people. That's the size of the team at NetDevil currently working on Jumpgate: Evolution. This sceince-fiction, space-combat MMO, only recently announced and due out by the end of this year, is flying (and shooting) in the face of the wisdom received from Activision chief Bobby Kotick - that it would cost at least half a billion dollars to succeed in massively multiplayer gaming.
"I think it's, frankly, BS," says NetDevil president Scott Brown, speaking to us at last week's Connect 08 event in Birmingham - the showcase for Codemasters Online Gaming, which will be publishing Jumpgate: Evolution in Europe. "I think that's the big guys trying to say get out, don't compete with us. It's not true."
Of course, NetDevil isn't exactly aiming to steal the audience of Kotick's adopted baby, World of Warcraft, with this sequel to its original Jumpgate from 2001. It's not even aiming to compete too closely with the daddy of space-faring MMOs, EVE Online. Jumpgate: Evolution is a pacey, aggressive, skill-based dogfighter and galactic trader, a game in search of a lost constituency of big kids with flight-sim joysticks who are still chasing the dream of being an X-Wing pilot.
"The primary market is going to be fans of space games," confirms Brown. "Elite, Wing Commander, FreeSpace, X-Wing vs TIE Fighter. We've tried to make an online game for those players, but we've hopefully made it accessible enough that it'll be a game that's easy enough for others to get into. The secondary market will just be other MMO players. EVE is an incredible game, it's beautiful, it's amazing. But it's more of a 'create your corporate empire in space' game. Ours is more in-the-cockpit adrenaline. So we're kind of opposites. I've heard someone say: we're Star Wars, they're Star Trek."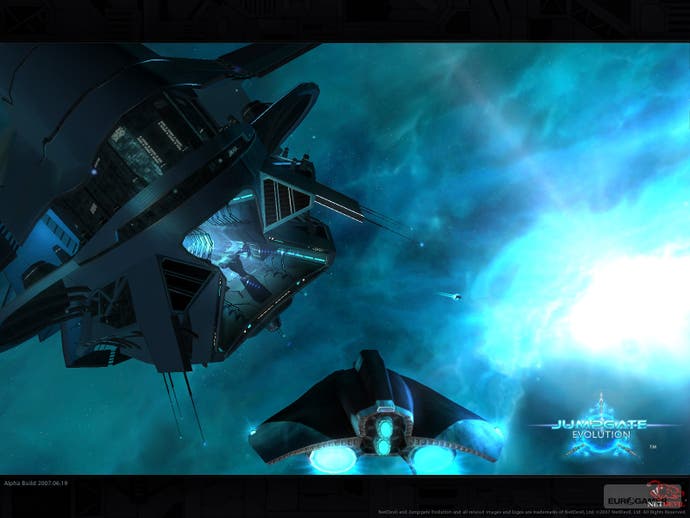 The better to replicate the seat-of-the-pants intensity of flying a space fighter, NetDevil is bending over backwards to include as much hardware support as it can - quite a novelty in the MMO field, where developers tend to rely on the online nature of their worlds to go the extra immersion mile. Not just joysticks, but keyboard displays, powered seats and head-tracking systems will all be supported.
Not everyone will want to make that investment, of course, and thankfully the mouse-and-keyboard setup is elegant, logical and highly responsive. The mouse steers your craft and fires lasers, WASD keys are throttle and strafe, Q and E are roll, there's a high-speed boost on shift, brakes on the space bar and missiles - not that we got that far, sadly - on C. It's a little twitchy and disorienting at first, but that's because it really is that long since we played a space-combat game; a couple of missions in and you'll be twisting and weaving and barrel-rolling with abandon.
For such a low-budget, small-scale development, Jumpgate: Evolution looks mighty slick, too. The asteroid cluster in the first sector is a little chunky, perhaps, but the ship designs are sharp, and NetDevil has found every opportunity it can to splash neon colours and hazy, rippling energy effects all over the screen. It's an answer to the eternal problem posed by space games - how to maintain visual interest in the void, especially considering the physical scale, and extended play time, of an MMO.