Jon Blyth on: Fixing Far Cry 4
"Time is like location, but for watches."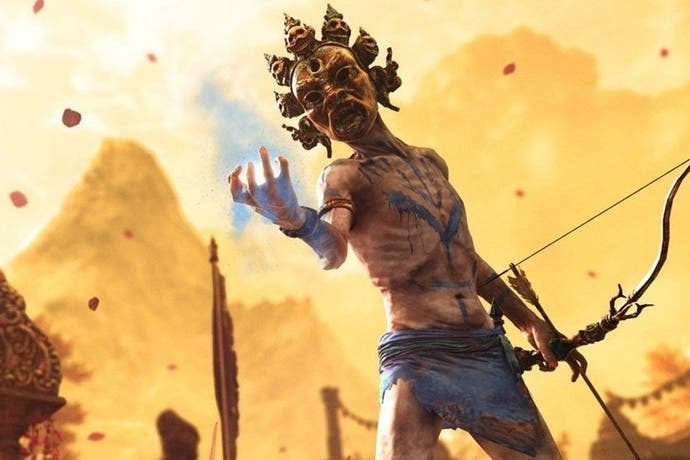 My first column for Eurogamer was published four weeks ago. It was designed to fix NPC dialogue in shooters, and it worked perfectly. Since that day, not one shooter has been released with unconvincing or repetitive barks. You'd think, with such a resounding success still ringing around the internet, I'd be allowed to rest. You can imagine my horror when I received an email on Monday asking what my next column was going to be about.
It's a disease that's endemic in this industry: you can't let one perfect bit of art stand, unmolested. There has to be a damn sequel.
So, in the truest spirit of the desperate opinion piece writer, I'm going to spin something out of what I've been doing anyway. And that's Far Cry 4. Bit of background here: Far Cry 4 winched me out of a barren gaming patch. My new life, running a pub, has turned out to be a bubonic dick-ton of work. So suddenly, my gaming life was reduced to a furtive round of Hoplite played under the counter, while a customer describes the excruciating symptoms of gout.
Far Cry 4 pulled me out of that, finding new hours in my daily schedule. It reminded me what gaming could be: a world where curiosity is rewarded, instead of getting lumbered with a reputation for killing cats. A process of drip-fed achievements that captivate that unsophisticated bit of our brains. Of course, your clever word-thinking brain knows these achievements have been set up for easy completion. But that doesn't stop the pompous grey hypocrite from wallowing in all those hormonal reward chemicals(1).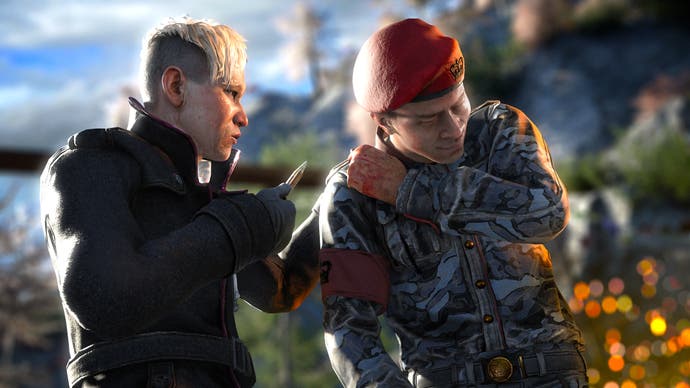 And finally, Far Cry 4 reminded me of the most potent thing games can be: the first symptom of a yawning opaque doom as all other aspects of your life billow and disappear like cigarette smoke into a yellowing net curtain. Faced with the choice between the legal obligation to file a tax return, and uncovering a couple of question marks on a made-up map - well, it's not like the 47th Mask of Yalung is tucked in amongst all these receipts for beer, is it?
So, in my new career as an unsolicited consultant, and as a personal thank-you to Ubisoft for hand-wrecking my mental state, I'd like to return to the theme that I set up in the first paragraphs, like a professional writer: sequels.
I've seen Far Cry 4 referred to as Far Cry 3.5. That this massive, beautiful and hopelessly dense game lacks ambition, and shares too much with its predecessor. That may be true, especially when you consider the vast difference between previous games. But it made me want to help out, with a list of easy quick-fixes to hoodwink us all into believing in that big, lovely 4.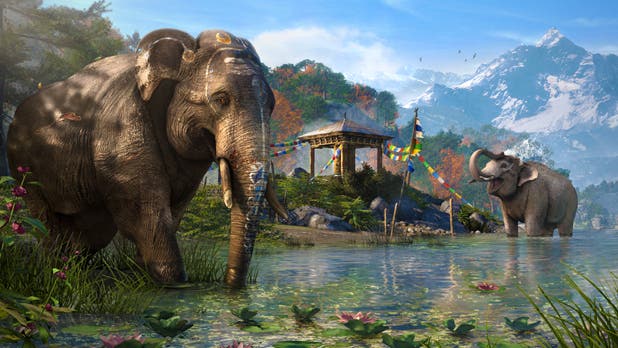 Because this is an internal document, directed from one bit of the industry (my Google Docs) to another (Ubisoft's France), you might notice that I refer to gamers as "moribund scum". Don't worry about it. That's just how we talk about you when you're not watching. It doesn't affect your profitability as a consumer demographic, or your ability to say "GOOD WORK ALIENATING YOUR MARKET YOU JUST EARNED MINUS $60" on Twitter(2).
---
OFFICIAL CONSULTATION DOCUMENT
FOR FRENCH EYES ONLY
SUBJECT: LIST OF THINGS YOU COULD DO TO LET EVERYONE KNOW THIS IS A PROPER SEQUEL THAT YOU'VE PUT SOME ACTUAL THOUGHT INTO
1. MAKE YOUR PROTAGONIST MORE CONTROVERSIAL, NOT LESS
Ajay felt like a competent response to the criticisms levelled at Jason Brody. He wasn't a privileged, player-alienating jock like Brody. Ajay was born in Kyrat, preventing accusations of indulging the fantasy of the white saviour, come to save the natives from their own foreign incompetence(3). In other words, Ajay Ghale is the perfect protagonist... for Far Cry 3.5. Here's a scene from the true Far Cry 4.
JULIE
Looks like I underestimated you, Ajay. You completed my short mission chain really quickly, and liberated the women of Kyrat from Min's bumming dungeon.
AJAY
Yup. I guess I am the best at feminism, after all. Fat lot of good all that yapping your jaws off did you, huh? You yapping idiots.
JULIE
Yes, Ajay. We'll shut up now forever. Promise you'll comment on the internet on our behalf.
AJAY
Oh God please shut up. It's like talking to a helium-bloated chihuahua.
JULIE'S BRA FLIES OFF LIKE BARBARA WINDSOR'S DID IN CARRY ON CAMPING.
Nothing justifies a sequel like a bit of fresh controversy - and this one's overstated enough to be an obvious parody, but crucially, it's never actually challenged or subverted. Now that's having your controversy cake and eating it, baby. Both sides can assume you're on their side, and the idiots won't even know you're playing them off against each other! All you have to do is say "I think as a piece of art it speaks for itself," and you're immunised forever, no take-backs.
2. USE THE NEAR-FUTURE
Time is like location, but for watches. Setting Ajay's story in the near future would give you instant access to new weapons that would trick the morons that constitute the gaming public into believing that this is actually Far Cry 4.
Add the following unlockables, and you've got yourselves a full-blown case of the sequels:
-Sticky cluster revolvers
-A remote-controlled wasp that can crawl inside an enemy's ear, triggering the mind-control mini-game from Paradroid
-One weird gun that obliterates belly fat
3. MAKE IT NOT SO GREEN
No truly creative company sets two consecutive games in the same coloured environment. So far, the Far Cry colours have been jungle-desert-jungle. Lost Planet went ice-jungle-ice, and Crysis went jungle-city-jungle/city.
And as far as the laws of opinion columns are concerned, name-checking three things is enough to outline a "trend", regardless of the many contradictory examples that might disprove my point.
Deep down, you know this too, don't you? The icy mission in the Himalayas, and the rainbow-fuelled hallucination missions - that was just you realising that you've accidentally done two green games on the trot, wasn't it? It would have been cheaper, and way more creative, just to make the trees blue. Everyone would have been, like, "blue trees?" and you would have said "yeah, enjoy Far Cry FOUR".
4. SAY YOU'VE REWRITTEN THE AI FROM THE GROUND UP
This is a freebie. A great do-nothing tactic that worked on me a few times, when I was a full-time writer. You don't have to actually do it. Just say you're doing it, then come out with a cool anecdote about how the AI surprised even you! Here are some AI anecdotes you can tell:
-When a grenade got thrown into a crowded area, everyone ran away - except one guy who had fallen into a deep melancholy. On investigation, it turned out his AI was so sophisticated that he'd realised the constraints that bound him left no path to a personal victory
-Two of your NPCs had been having an affair behind your back, and would hold hands while the protagonist was looking the other way. One time you found them fingerbanging in the background of Rayman Legends, and to this day no-one knows how they got there
-You've been chatting with one of your NPCs on Tinder and he seems totally DTF
This works, because reciting an anecdote is like a free couple of paragraphs to a writer, but it's not specific enough that anyone can hold you to it. Total, cynical winner.
5. SORT OUT THOSE SKILL TREES
Far Cry 3 had three skill trees: the stealthy Spider, the attack Shark, and the sniping Heron. This made perfect sense, because Herons are brilliant snipers. The movie American Sniper was nearly called American Heron, but everyone thought it'd get confused with The Pelican Brief. Anyway, Far Cry 4 has just two skill trees - Elephant and Tiger. In no sane world is this progress.
And this isn't anything to do with sequels, but it's even more important. When you select the elephant skill tree, an elephant trumpets. But when you select the tiger tree, you just hear some drums. This is ridiculous - tigers can't even play the drums. What the hell are you on, Ubisoft? I wanted to hear a tiger growling, and a tiger didn't growl. Unforgivable.
Here is me doing a growling sound. Patch it into your in-game menus immediately.
6. PUT EVERYTHING IN YOU DIDN'T PUT IN THE LAST GAME
One question I always asked, in the beginning of my games writing career, was about stuff that didn't make it into the game - broken or poor-fit ideas that had been discarded along the way. I thought it would be illuminating - giving context to the features that were still there, and giving the reader an idea about the creative process, and how it isn't just adding bricks to a tower until you reach a target height.
I soon stopped asking, because it was never answered. Maybe those features were being held over for the next game, maybe people were scared I was trying to stitch them up with a STUPID IDEAS BY COLOSSAL MORONS article.
Solution: cram every idea you've had in the past into your new game. To hell with coherence, we want new stuff and you're not giving it to us.
7. MAKE PAGAN MIN AN ALIEN MAYBE
The genius of Highlander 2 was the way that it not only was a great film, but it also enriched the mysterious fantasy lore of the first movie, by making it all about f***ing space-men. What better way to earn your #4 than by having Pagan Min's face come off in the final act, as he pops a live mouse into his gob? "Ajay, I underestimated you," he'd say. "A mistake I won't be making again. So the final battle will be fought in the low-G platforming environment of my home planet."
Speaking of which, if Half-Life 3 isn't exclusively set on Xen, then I'll be the first to say "Pfft. Half-Life 2.6," before rolling off the sofa and kissing myself on the wrist.
8. INVENT SOMETHING SO SIMPLE, INTUITIVE YET SUBTLY FUNDAMENTAL THAT PEOPLE DON'T IMMEDIATELY SEE WHAT A REVOLUTION IT IS, BUT IT GOES ON TO SHAPE AND DEFINE THE GENRE IN WAYS THAT WILL BE EXPLORED AND REFINED FOR YEARS TO COME
This one speaks for itself, really.
9. RELEASE YOUR GAMES TEN YEARS AGO
The gap between May Payne 1 and 2 was the same as Far Cry 3 and 4. And all that sequel added was polygons, and a player avatar that could smirk. So why did no-one say "this is just Max Payne 1.5?" Because... well, because to be honest we were glad of anything we got in those days, and it was either that or listen to Evanescence on our wind-up radio helmets. Sorry, developers, but the more you give us, the more we expect, like fat labradors eating themselves into disability. So why not stop making games for six months until we look like we're sorry? Make us all play Akalabeth: World of Doom (available free on GOG) for a couple of hours, and we'll beg for our 3.5 grappling hooks and animal bait back.
10. SERIOUSLY THOUGH
I got nothing. I really liked Far Cry 4, and so did everyone else. I just thought this'd be a good springboard for a few dumb anecdotes and swear words.
And so, like a big sleepy sagpuss, I draw to the close of Eurogamer Column II. Now it's time once again to slump backwards and slather my gums in slow-release nutrition paste, as recommended episodes of TV shows auto-stream into my VR goggles, and I phase into and out of sleep. Like you, reader, I can only pray that this is the last thing I'm ever asked to do.
---
ENDNOTES
(1) Seriously, brains - could you be any less ethical? Before you ferry your emotions into the bit of my brain that thinks up words to justify those emotions, could you please disclose your collusion with the intricately evolved network of hormones and bacteria that fuel you? Maybe you could disclose how I didn't *just* evolve to produce a baby that's 50% me, but to duplicate a rich meaty environment for a carnival of symbiotic parasites? How in hell's name can I believe a single thought you make me think, when you could be lobbying for the interests of my gastric biome?
(2) Look at me, poking a hornet's nest like a big brave boy. I daren't even use the hashtag.
(3) In the first preview round for Far Cry 3, this issue was raised - I believe by Keith Stuart. The answer was given that Ubisoft were completely aware of the white saviour narrative, and we could be confident it would be subverted in an intellectually exciting way. Imagine our surprise when it wasn't!