Jeff Minter "beyond disgusted" with Atari over TxK block
UPDATE: Atari "surprised and dismayed by the very close similarities" to Tempest.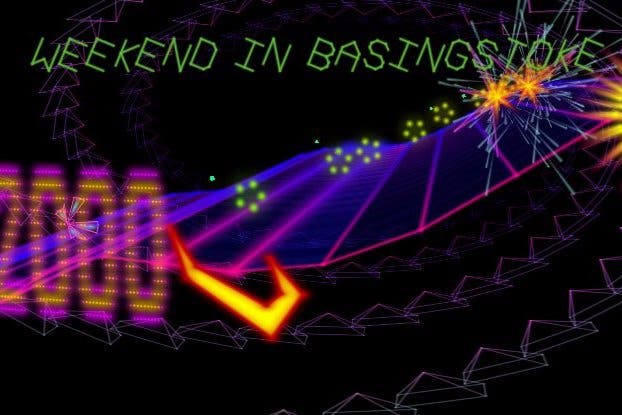 UPDATE 18/03/2015 7.29pm: Atari has responded to Minter's outrage with the following statement:
"Atari values and protects its intellectual property and expects others to respect its copyrights and trademarks. When Llamasoft launched TxK in early 2014, Atari was surprised and dismayed by the very close similarities between TxK and the Tempest franchise. Atari was not alone in noticing the incredible likeness between the titles. Several major gaming outlets also remarked at the similarity of features and overall appearance of TxK to Tempest; one stated of TxK, 'This is essentially Tempest.' There is no lawsuit. Atari has been in continuous contact with the developer since the game launched in hopes that the matter would be resolved."
Atari's response went on to point out a few outlets that likened TxK to Tempest in their reviews. The publisher offered the following quotes:
"This is essentially Tempest, a classic Atari arcade game (technically the spiritual successor of Tempest 2000) and even an updated look can't obscure its retro roots." -IGN
"Though it is technically only a sequel to Atari's Tempest in spirit, this Vita shooter sports the same vector-style visuals, the same tube-based gameplay, and even the same yellow player ship as the 1981 original, all refined into a stunning modern interpretation." -Gamespot
"Although it doesn't use the name, TxK may as well be the proper sequel to Tempest 2000 (or Tempest 3000, if you are more of a Nuon fan). It doesn't just look and control like Tempest, but it actually uses many of the same power-ups, a few of the level designs and a similar bonus stage. And that's not even taking into account that it uses the same vector-style graphics we've seen employed in all previous Tempest games. TxK is the Tempest sequel I never thought would come out." -Gaming Nexus
Clearly TxK bears similarities to Tempest, but lots of games bear similarities to one another. At what point do you draw the line?
UPDATE: Jeff Minter has gone into more detail on the situation with Atari in a post on his website. It's currently struggling, but the post has been republished on pastebin.
Minter runs through Atari's accusations, reveals he had tried to convince Atari to allow him to use official Tempest branding for TxK ports, before concluding he can't afford a legal battle.
He also claims Atari continue to "insist" TxK be removed from sale from the PlayStation Store, and he sign papers saying "I can never make a Tempest style game ever again".
We're still waiting on a comment from Atari on the matter.
ORIGINAL STORY: British game developer Jeff Minter has accused Atari of blocking the release of his shooter TxK on a raft of platforms, including PC and PlayStation 4.
TxK is a follow-on from cult Atari Jaguar shooter Tempest 2000, which Minter created in 1994 while working for Atari. Tempest 2000 was a remake of Dave Theurer's 1981 arcade game classic, Tempest.
TxK, which Minter calls a "distantly related sequel" to Tempest 2000, launched on PlayStation Vita to critical acclaim in February 2014. Martin Robinson wrote in his 9/10 review: "All you need to know right now is that TxK is Minter at his finest, and it's absolutely mint."
Sony supported the project, and even featured it as a PlayStation Plus title for September 2014. TxK ended up as one of Eurogamer's Games of 2014.
Despite the fact Minter is the creator of Tempest 2000, it appears the Atari of today - the company behind the upcoming RollerCoaster Tycoon World and a fitness mobile game - has taken issue with TxK expanding its audience.
In a series of tweets the clearly upset Minter accused Atari of becoming a "copyright troll", and said TxK for the PC, PS4, Oculus Rift, GearVR and Android platforms "will now never see the light of day".
According to Minter, Atari claimed he "must have stolen Atari secrets from the original creators to make TxK", and the soundtrack was "indistinguishable" from the soundtrack of Tempest 2000.
Minter also pointed to a number of Tempest clones already available on the App Store and Google Play store. Cyclone 2000, for example, even describes itself as an "Android clone of the Atari Jaguar game Tempest 2000, originally made by the brilliant Jeff Minter. Try now for a nice retro game feeling".
Where this leaves Minter, his development company Llamasoft and TxK remains to be seen. We've contacted both Minter and Atari for comment. At the time of publication TxK remains on sale on the PlayStation Store.