Japan chart: Vita finally outsells the PSP
Big debuts for Resident Evil: Revelations, Armored Core.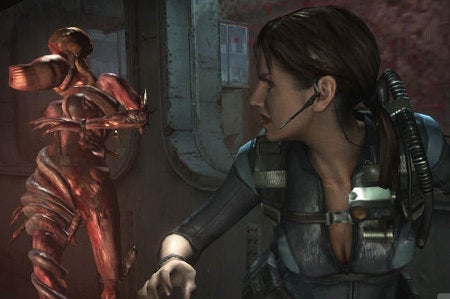 From Software's mech battler Armored Core 5 and Capcom's Resident Evil: Revelations both scored big debuts on this week's Japanese sales chart.
The PlayStation 3 SKU of Armored Core took the top spot, shifting 163,906 units, with Resident Evil close on its heels at number two, with 146,559 sales.
That's a solid debut for the 3DS title, outstripping first week Japanese sales of Resident Evil 4 on the GameCube.
Elsewhere on the chart, Vita RPG remake Tales of Innocence R debuted at number three, while last week's number one, Mario Kart 7, fell to four. Another 3DS title, Monster Hunter Tri G, rounded out the top five.
Here's the full top 20, as seen on Andriasang:
Armored Core 5 (From Software, PS3): 163,906 - NEW
Resident Evil: Revelations (Capcom, 3DS): 146,559 - NEW
Tales of Innocence R (Namco Bandai, Vita): 54,853 - NEW
Mario Kart 7 (Nintendo, 3DS): 29,230 (Life to date: 1,433,958)
Monster Hunter 3G (Capcom, 3DS): 27,032 (1,186,898)
Armored Core 5 (From Software, Xbox 360): 24,719 - NEW
Super Mario 3D Land (Nintendo, 3DS): 23,003 (1,288,495)
Idolmaster Anime & G4U Pack Vol.4 (Namco Bandai, PS3): 18,179 - NEW
Rhythm Thief (Sega, 3DS): 14,928 (46,526)
Inazuma Eleven Go (Level-5, 3DS): 10,479 (370,804)
Gundam Mokuba no Kiseki (Namco Bandai, PSP): 9121 - NEW
Just Dance Wii (Nintendo, Wii): 7837 (519,199)
Musou Orochi 2 (Tecmo Koei, PS3): 7419 (355,033)
Monster Hunter Portable 3rd PSP the Best (Capcom, PSP): 7072 (178,978)
Final Fantasy XIII-2 (Square Enix, PS3): 6405 (769,079)
Wii Party (Nintendo, Wii): 6280 (2,279,598)
Wii Sports Resort (Nintendo, Wii): 6056 (856,483)
Nintendogs + Cats (Nintendo, 3DS): 5397 (487,201)
Mario Kart Wii (Nintendo, Wii): 5326 (3,495,100)
Kirby's Adventure (Nintendo, Wii): 4873 (590,133)
It was business as usual on the hardware chart, with the 3DS maintaining a significant lead over the rest of the field. Nintendo's portable sold 84,789, up slightly on the 80,960 it managed last week.
The PlayStation 3 followed in second with 22,925 sales, with Vita in third, overtaking the PSP for the first time since launch week.
The full chart lined up as follows:
3DS: 84,789 (Last week: 80,960)
PlayStation 3: 22,924 (21,155)
PS Vita: 18,942 (15,219)
PSP: 16,008 (17,181)
Wii: 10,396 (10,173)
Xbox 360: 1235 (1588)
DSi XL: 1180 (1200)
DSi: 738 (822)
PlayStation 2: 713 (903)