Jane Jensen announces Moebius as new studio's first project
Sierra veteran promises "spiritual successor" to Gabriel Knight.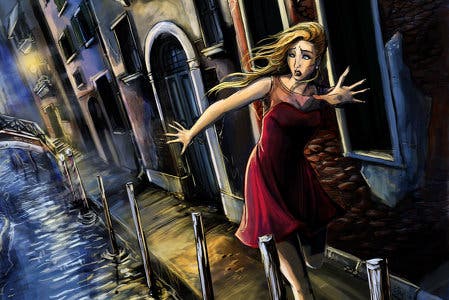 Veteran adventure game creator Jane Jensen has named her new Pinkerton Road studio's first project: a third person point-and-clicker called Moebius.
Apparently it's a metaphysical sci-fi thriller drawing inspiration from both J J Abrams TV show Fringe and Jensen's classic Gabriel Knight series.
You'll step into the shoes of globe-trotting antiquities dealer Malachi Rector who's been hired by a shadowy figure called Amber Dexter to investigate the death of a young woman in Venice.
The situation duly snowballs from there, with a much wider mystery unraveling.
There'll be two game modes - Casual Adventure and True Adventure. The former will offer hints and general hand-holding, while the latter promises to adhere to the adventure games of old and throw the player in at the deep end.
See below for a few pieces of concept art.
Providing Pinkerton Road successfully reaches its stated goal of $300,000 from crowd-funding site Kickstarter in the next month, the game is scheduled for release in March 2013. It's secured $173,563 at the time of writing, with 32 days of fund-raising left. No confirmed platforms have been announced.
Jensen's last release was PC and Xbox 360 adventure Gray Matter, which launched to measured acclaim back in 2011.