Jack Black's balls blurred in Bowser cosplay
E-reptile dysfunction.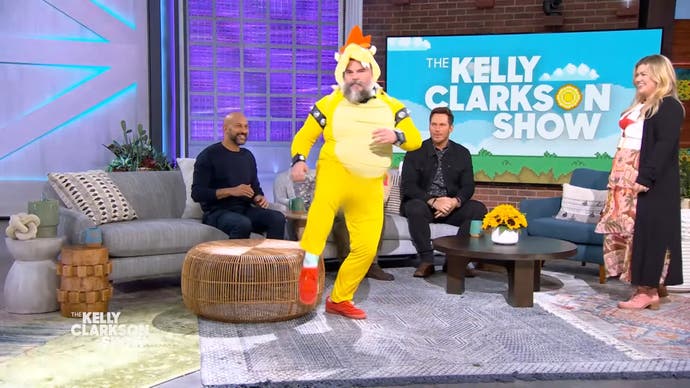 With the release of The Super Mario Bros. movie approaching, the film's cast have been doing the rounds to promote it, as one would expect.
Jack Black, the voice of Bowser, may have promoted a little more than he had anticipated in a recent appearance on The Kelly Clarkson Show - and ended up having his crotch blurred.
Black appeared with co-stars Chris Pratt, Charlie Day, and Keegan Michael-Key in a series of videos uploaded to YouTube by the official channel for The Kelly Clarkson Show. The others showed up in smart casual fashion, whilst Black was "tricked" by the others into dressing up as his Mario movie counterpart.
The editors clearly thought the Bowser costume was somewhat naked, and in an attempt to prevent any broadcasting cock-ups Black's crotch has been censored. The blurring can clearly be seen in the uploaded video of his entrance to the studio.
"My favourite part is your butt," Clarkson told Black. I can only assume she meant the tip of the tiny tail on the back of the costume, and not the tip of something else. Regardless, this caused Black to turn his back to the studio audience and shake his butt a bit, and you can notice Charlie Day found it hard to take his eyes away from the area.
Black proved dick-torious later in the programme when he, Clarkson, and warm-up comedian Reuben (dressed in an immaculate Mario-patterned suit) won against Day, Key, and Pratt in a Mario trivia game.
I say good on you, Jack Black, for being ballsy enough to commit to the character (and the bit).
We're due a Nintendo Direct on 9th March which will showcase the final trailer for the Mario movie, ahead of the film's release in April.