It didn't take long for CEX to hike the price of Call of Duty: World at War on Xbox 360
Backward compatible wallet.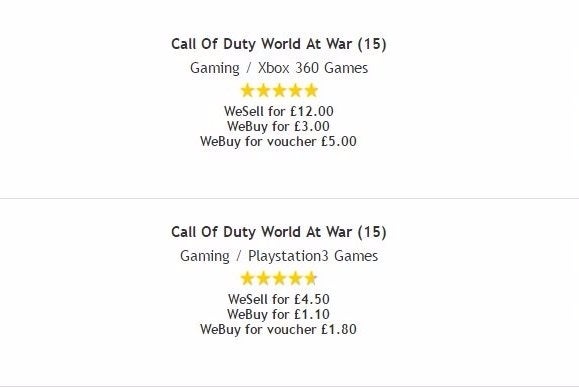 Just hours after Microsoft added the Xbox 360 version of Call of Duty: World at War to the growing list of Xbox One backward compatible games, second-hand video game shops hiked the price.
Let's take CEX, for example. A second-hand copy of Treyarch's first-person shooter was £5 this morning.

This afternoon, it's £12. That's more than doubled in price.

eBay sellers have jumped on the announcement, too. New listings for the six-year-old game carry a price of around £13 while advertising the fact it's now a backward compatible title.

Now, this kind of price hike tied to the launch of popular Xbox 360 games as backward compatible titles on Xbox One is nothing new. CEX clearly keeps an eye on these things, and has upped the price of pretty much every major backwards compatible title by at least a fiver. Take Call of Duty: Black Ops, for example. That's £12 on Xbox 360, and just £3 on PS3. Smart.
Eagle-eyed bargain hunters might be inclined, then, to rush to their nearest second hand video game shop to pick up backward compatible games the morning after they're announced, as it usually takes a few hours before prices change on retail systems.
Or you could always fork out £20 to download it from the Xbox Marketplace.