50 Cent: Bulletproof
We chat to the men behind Vivendi's hip-hop-flava'd blockbuster.
Hip-hop and gaming have been cosy bedfellows for years, and the release of Grand Theft Auto: San Andreas just over a year ago proved how rich the pickings can be if you marry the two in the right way. With the world, his wife and probably his ho scrambling to cash in on the phenomenon, VU's decision to go all-out and deliver a brutal shooter based on one of the world's biggest rap stars could prove to be an inspired decision - commercially, at least.
Of course, we're not expecting the game itself to be the world's greatest. If we're honest, we fully expect it to be 'one for the fans' rather than something we should all rush out and buy. But that doesn't make it any less interesting. In fact, we wanted to know whether a 50 Cent game could ever be anything more than a cynical cash-in. So we asked some of the key men responsible for making it happen. Step forward producer Andre Emerson and the man behind the brand marketing, Antoine Molant...
Eurogamer First of all, tell us why the world needs a 50 Cent game? What are the motivations behind the project, other than as a means to generate a lot of cash during the busy Christmas period?
Andre Emerson
50's background, as well as the content in his lyrics and videos are a perfect match with an action game. Bringing gaming and hip hop together is a natural fit.
Antoine Molant
We are bringing more than a game to the market. Bulletproof is a real interactive mix of games, music and videos. This opens new areas for the entertainment industry as Universal music, Universal Pictures and VUG join forces. Bulletproof is a kind of pioneer for us.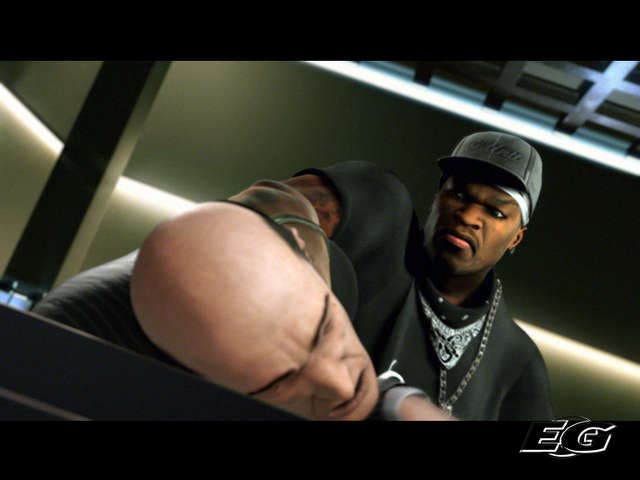 Eurogamer Are you relying on the fact that the core audience for this game might not be the most discerning gamers? In other words are you essentially targeting music fans that will get off on the fact that they're playing a real-life gangster rapper, as opposed to gamers?
Andre Emerson
We expect Bulletproof to draw a diverse audience. From the very start, we focused on a making a great third-person shooter with lots of fun and brutal game mechanics. We're also offering five different skill levels so the game can appeal to first-time players as well are hardcore gamers.
Antoine Molant
It is more than just music; it is about lifestyle and culture. 50 is an iconic image regardless of the cultural differences. A game based on his world is naturally aimed at the widest audience possible, as its content matches everyone's expectations.
Eurogamer How tough is it to make a 'mass market' game such as this appealing to a specific demographic? Do you have to deliberately dumb certain elements of the game down to make sure that it has a broader appeal?
Andre Emerson
I think Bulletproof will have a broad appeal due to its fun factor, scope and incredible value. In addition to the core gaming experience, we're offering over 160 songs, featuring 13 exclusives from 50. We have a 90-minute original score from Sha Money XL and sixteen 50 and G-Unit music videos. Our story was written by Terry Winter, an Emmy Award-winning writer from The Sopranos. Our cast includes G-Unit's Lloyd Banks, Tony Yayo, Young Buck and DJ Whoo Kid. We also have Eminem and Dr. Dre making their videogame debuts.
Antoine Molant
If you consider that 50's music has a broad appeal, and then his game has too. We have here a truly multimedia product and at all levels we are true to 50's world, with no concessions made.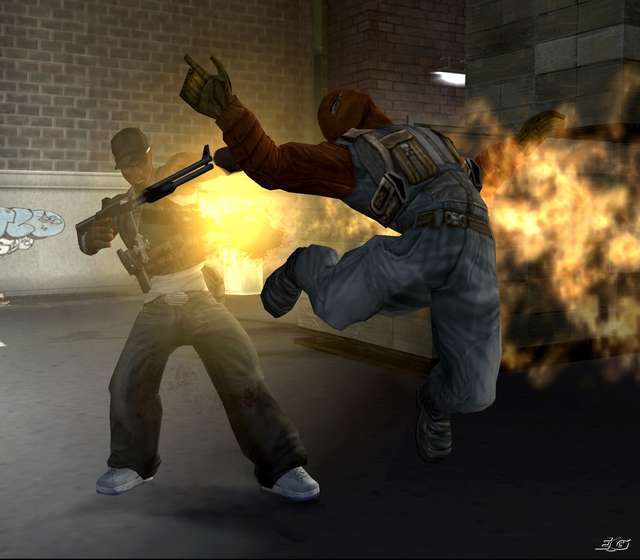 Eurogamer On a more positive note, there seems to have been a fair amount of effort put into making sure that 50 and the cast look as close to their real-life counterparts. How much say did the man himself have in this side of the game? Did he go as far as suggesting what the game should be like? What does 50 think about the game?
Andre Emerson
50 and the entire cast did extensive voiceover and photo sessions to ensure we captured their personas. 50 stayed involved from beginning to end, providing input and direction on the look, story, sound and most every aspect of the experience. He's proud of the result and we're all looking forward to the audience's response.
Antoine Molant
The whole crew has been involved in creating the game. We never even questioned the level of involvement from 50. He was here from the start.
Eurogamer Who came up with the idea in the first place? Did 50 fancy the idea of seeing himself in a game straight away, or was it a case of the various divisions of Universal getting together and realising what could be possible?
Andre Emerson
The idea originally came from Jimmy Iovine at Interscope and 50 himself. We have a great relationship through Universal and are pleased that we were chosen to bring Bulletproof to life.
Antoine Molant
Once again, given the multimedia content of this product, it was natural to partner with each division of Universal to bring Bulletproof to life.
Eurogamer Is it true that 50 Cent was originally going to play CJ in GTA: San Andreas? Did this project basically put that idea to bed?
Andre Emerson
Not sure really. You'd have to ask 50.
Antoine Molant
Not sure either, but 50 anyway deserves to have his own game.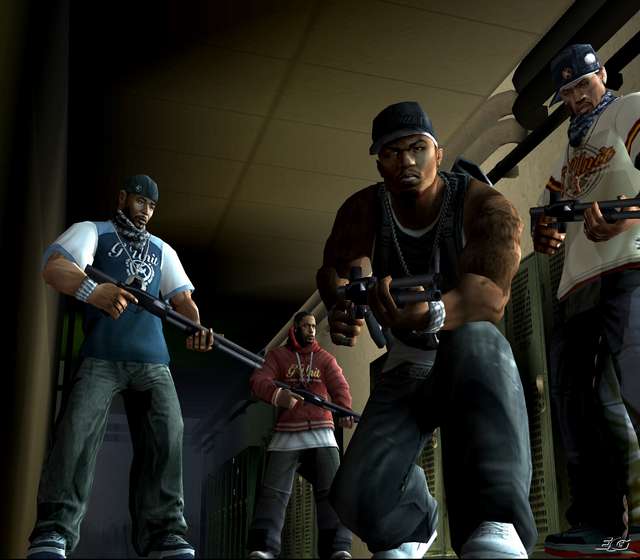 Eurogamer Was there a temptation to make a sandbox-style free-roaming city-based driving/shooting game in the vein of GTA, or would that have been a little too ambitious?
Andre Emerson
Not really, actually. We expect Bulletproof to be a franchise and want to grow it carefully. We focused on tight controls and solid on-foot mechanics for this first instalment. Too many of the sandbox games out there have either questionable driving or on-foot gameplay or both. We want every mechanic in Bulletproof to have a smooth, intuitive feel.
Antoine Molant
The creation of this 50 game has also been monitored taking the market trends into account. Free-roaming style games usually lack identity and a proper scenario. The choice was made to emphasis these elements, and not to dilute 50's impact.
Eurogamer Music, obviously, plays a massive part in the game. From what we've seen of it, there are several albums' worth of 50's material to unlock in the game, but in the main it's stuff that's already on the various albums out there. Did 50 record tracks specifically to go with the game, or was it just unreleased material he had knocking about? Tell us about those songs, and why he chose them for the game.
Andre Emerson
There are over 160 tracks in the game. Over 40 of these tracks are original score created by G-Unit President and Executive Producer, Sha Money XL. He wrote various pieces based on the location, enemies and type of action that happens in the game. The music changes dynamically as well depending on the intensity of the action. While the entire game is scored, at any time you can overwrite the score with your own custom playlist. 50 created 13 new tracks for the game, featuring originals and exclusive remixes of underground tracks. It's very cool to hear some of the more obscure material with a full production mix. There are also sixteen 50 and G-Unit music videos as well. We had to go to DVD9 format to fit all this material.
Antoine Molant
This is purely an artistic decision.
Eurogamer In terms of the voice acting, you've roped in a whole load of famous rap artists to lend their vocal talents to the game. What was it like organising that, and were you happy with how they delivered their lines?
Andre Emerson
As I mentioned earlier, the script was written by Soprano's writer, Terry Winter. Terry also wrote the screenplay for 50's movie, Get Rich or Die Tryin'. I think this may be the first time that the same screenwriter has created original scripts for both the movie and videogame. All of the talent were highly professional and self-directing in many ways. The performances were great and very much capture the authenticity we were aiming for.
Antoine Molant
We are extremely happy with the way it has been done and couldn't have expected more dedicated artists for this. Combining all these vocal talents is a world premiere in a game.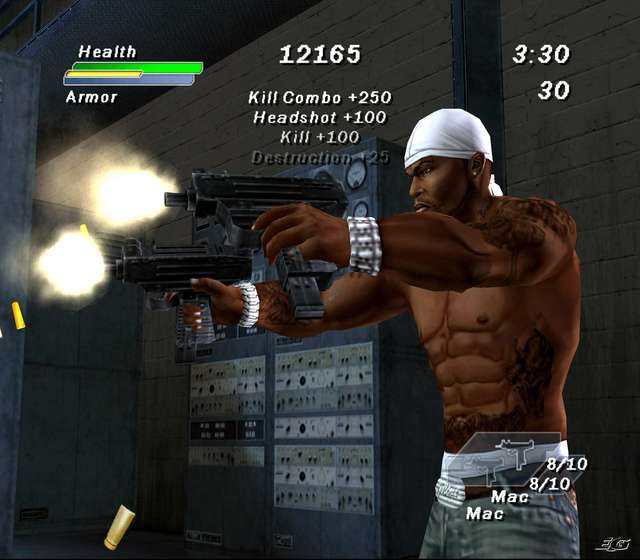 Eurogamer Can we expect more games featuring 50 Cent? What about other artists? Does this signify the beginning of a whole run of music-videogame collaborations?
Andre Emerson
I'd love to do Bulletproof II. We've got a great team and foundation built and we're ready to take it to an even higher level on next-gen systems. While you would think this may start a trend, I'm not sure how many artists are big enough to carry their own game. 50 is at the top of the rap game and a growing global success.
Antoine Molant
Bulletproof proves that music, videos and interactive environments can melt in order to create a truly new experience for the consumer. This could revolutionise the Entertainment industry.
Eurogamer What are your expectations of the game commercially? Do you really see it as one of the potential big hits of the holiday season? Who will buy it?
Andre Emerson
I hope it's wildly successful. Whether you're a casual gamer, hip hop / 50 fan or hardcore player, there is something for everyone here.
Antoine Molant
This game is a triple-A title aimed to all types or target. We eagerly anticipate it will be a blockbuster.
Eurogamer Having now finished work on the game, what would you identify as the areas it excels in? What game would you most closely associate with it? And which version is best?
Andre Emerson
The game excels in a number of ways. Considering that this is a new type of experience, a fusion of entertainment mediums, I'm proud of how seamless the overall experience is. From the actual game to creating music playlists to watching videos, all of it is at your fingertips and readily accessible. Targeting-wise, we looked to Halo for inspiration while the rest of game is more influenced by action movies rather than other games. PS2 and Xbox are near identical. I would recommend choosing based on your controller preference.
Antoine Molant
Bulletproof is honestly unique, there is no competition. This is just the most complete 50 cent experience you can have.
50 Cent: Bulletproof is released on November 25th on PS2 and Xbox via Vivendi Universal Games. A PSP version is due for release in Q1 2006.