Hero Academy given Steam release date, exclusive TF2 squad
You'll be able to play cross-platform against iOS opponents.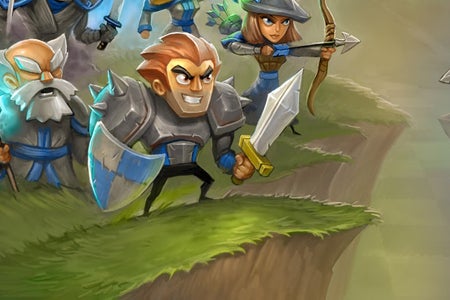 Compelling - downright addictive - iOS game Hero Academy is coming to Steam.
Mark 8th August in your diaries. No price has been mentioned.
There are two major new things to note about the PC, Steam version of Hero Academy.
The first is that there will be an exclusive Team Fortress 2 squad included in the game. Valve's playing ball, as it were.
The other is that you'll be able to play, cross-platform, against owners of the iOS version.
It sounds like your Steam and Apple Game Centre accounts will connect somehow, too, because you're promised the ability to swap freely between platforms.
Also, once you've unlocked that Team Fortress 2 squad within Hero Academy, you'll be able to use it on iPhone or iPad or both, depending on the platforms you own and use.
Team Fortress 2, developed by former Ensemble Studios developers (Halo Wars, Age of Empires) as new studio Robot Entertainment, is a turn-based battle game ever so slightly like chess.
The aim of the game is to destroy the opposing player's giant crystals, but you'll have to get to them in instalments, making use of each of your squad's unique moving capabilities and special powers as you go. And you'll need to take care of the other player's squad. Session-long power-ups are available to spice things up.
You can't play this single-player, apart from in tutorial rounds. Hero Academy searches for opponents of a similar level to you and matches you up, and you can have countless games on the go at any one time. Each time you take your turn, the session freezes and waits for the other player to go. This means you can leave and return to a session at your leisure.
As on iOS, Hero Academy hopes you'll spend more money to buy additional squads beyond the default group.
Christian Donlan summed up the iOS version of Hero Academy in Eurogamer's App of the Day column.