Game of the Week: Quarrel
"Wouldn't you prefer a good game of chess?"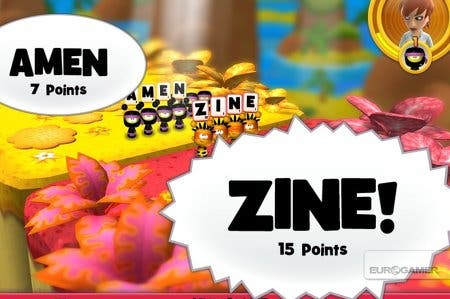 Long before there was an internet, people were playing chess with each other through the mail. Long before a bunch of MIT hackers made two spaceships move around an oscilloscope screen hooked up to a PDP-1 mainframe, we were gathering around kitchen tables to play games with and against each other on boards or bits of paper. Without these antecedents, video games wouldn't exist in any recognisable form.
It's what games are. In 1962, after getting one spaceship working on that PDP-1, the first thing Steve Russell and co. added to Spacewar was a second player. Even such highly evolved concepts as massively multiplayer online worlds have existed since the Multi User Dungeons of the mid-seventies. And yet, weirdly, connected multiplayer gaming still feels like it's in its infancy.
There are so many game types and play-styles that are underused or virtually unexplored. Meanwhile, publishers desperate to add value and fend off a rapacious pre-owned market are crowbarring online modes into every property they have, regardless of suitability, and causing all kinds of growing pains.
This week, I've been really enjoying Hero Academy on iPhone. As Chris pointed out in our Hero Academy review, this turn-based tactical battler is something of a work in progress, but it already stands out from the crowd for a simple reason. It melds a gamer's game type with a method of delivery popularised by casual and social games like Words With Friends (a game whose online implementation was so brilliant that it took Scrabble's market and walked away with it, right under the brand's nose).
We really need a better word for this play-style than "asynchronous": it's multiplayer gaming where you'll have several matches on the go at any one time, and can take your turns when you feel like it. We need it because we're going to be using whatever that word is an awful lot from now on.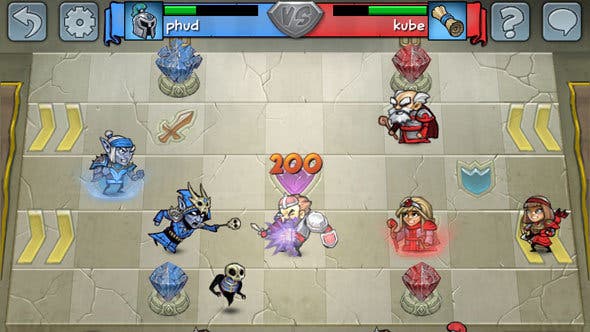 This style of play has always been hovering around in the background of video gaming - most recently in the fantastic tactical PC game Frozen Synapse and the intriguing vision of social racing in Need for Speed: Hot Pursuit. But the ubiquity of smartphones, the perfect match of their form with these games' function, and the ease of connecting with friends through social networks, now puts this type of play right back in the same context it inhabited in the chess-by-mail days. You use regular communication tools to play, you play at your own convenience, and you do it as a way of staying in touch.
In this context, playing games with others is a seamless part of daily life. So much so that it's been possible to release Hero Academy without even including the option to play it on your own against the computer, unthinkable for most strategy games. It's going to be really exciting to see how this new/old way to play can revive old genres and spread the gospel of player-versus-player.
Meanwhile, this week's major boxed release, Resident Evil: Revelations on 3DS, has a relatively elegant solution to adding multiplayer fun to a traditionally single-player thrill. Co-op has been the obvious answer for some time now, but the various Horde rip-offs and bespoke scenarios still end up feeling like vestigial limbs for die-hard solo gamers. Revelations' Raid mode smartly focuses on tried-and-true hooks that work equally well in single- or multiplayer: score-attack, levelling, loot. It might still sully the fiction a bit, but there's no doubt that everyone buying this game is getting a good deal extra bang for their buck, however they want to play it.
Indeed, for our reviewer Rich Stanton, Raid was enough to elevate a lukewarm entry in the series to a solid recommendation. "The challenge and persistence, along with the ability to take in whatever tools you need from a soon-burgeoning inventory, make Raid a worthy replacement for [Mercenaries], one of the best bonus modes in gaming," Rich wrote in our Resident Evil: Revelations review.
"Resident Evil: Revelations is gorgeous, huge, and offers the most fully-featured online co-op experience on 3DS. The single-player isn't quite the survival horror comeback Capcom promised but, with its brilliant take on score attack, Raid mode ensures Revelations delivers at least once on its title."
Raid is a multiplayer extension we weren't really looking for, but were glad to find. Our game of the week, however, presented a mode we'd been waiting for for months.
Quarrel
In contrast to Hero Academy, Denki's ingenious mix of tactical board game and quick-draw anagram-off appeared on phones last year in single-player form only, despite the design begging for a competitive mode. A canny implementation of computer opponents ensured it still shone, but it was a puzzling omission.
In fact, the mobile version of Quarrel was a port born of desperation. Denki had always intended the game for Xbox Live Arcade - but after years banging its fists fruitlessly on the door to Microsoft's walled garden, the Dundee outfit was driven onto a more open platform. As Wes reported last year, you can't get on XBLA without the support of a publisher or of Microsoft itself - and every publisher, Microsoft Studios presumably included, turned Quarrel down. Multiple times.
The result? The excellent Xbox 360 game you can download and play for the first time this week has been finished for two years.
"Quarrel is still the horribly compelling single-player game it's always been on mobiles, with an extra dollop of polish and a few new tantalising game modes for the console release - and all for the laughable sum of 400 Microsoft Points," wrote John in our Xbox Quarrel review. "It's with the addition of ranked online multiplayer, though, that Quarrel's finally evolved into the sedentary StarCraft for the pipe-smoking gamer that it always promised to be."
Thank heavens publisher UTV Ignition eventually consented to rescue it from limbo. But how did it end up there? According to Denki's Colin Andersion, the most frequent excuse offered by reluctant publishers was: "People don't buy word games."
Tell that to social gaming giant Zynga, which liked Words With Friends' figures so much that it bought the developer, Newtoy, for $50 million. Not coincidentally, both Newtoy and Hero Academy creator Robot Entertainment are offshoots of the great strategy game studio Ensemble, of Age of Empires fame, which Microsoft shut down in 2009.
It seems we still have a lot to learn from those upstarts in social gaming - even if they learned it all from us in the first place.