Here's everything announced during Nintendo's latest Indie World showcase
Spelunky 1&2! Among Us! Grindstone! More!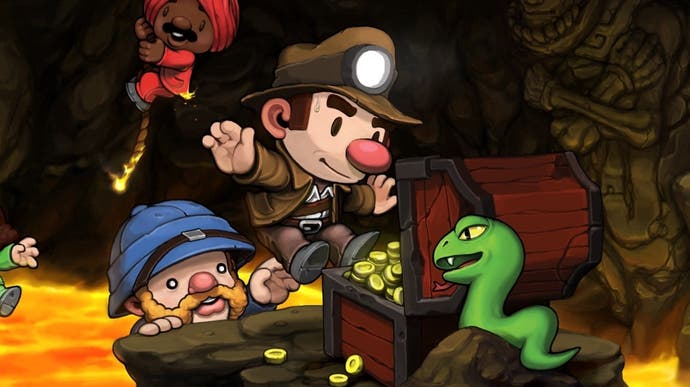 Nintendo has wrapped up another of its Indie World showcases, firing out news of a fresh batch of titles - including a number of very welcome surprises - heading to Switch in the coming months. And for those of you whose attention was elsewhere, or who accidentally had a 15-minute-long blink during the livestream, here's everything that was announced.
Getting the ball rolling, developer Derek Yu's critically acclaimed subterranean platform rogue-like Spelunky is heading to Switch! And so is its equally well-received sequel, with both games currently scheduled to arrive in "summer" 2021.
Fisti-Fluffs is a feline-focussed action-brawler that sees cats - some wearing silly hats, others brandishing household objects as offensive weapons - duking it out to be crowned the world's best fighter, and it'll be "first on Switch" early next year.
Very Very Valet, which comes to Switch in early 2021 as a timed exclusive, joins an ever-increasing roster of ordinary-jobs-turned-party-game, this one inviting up to four friends to work together in order to pick up, park, and return cars in over 20 locations.
Tunche - coming "first on Switch" in March next year - is a hand-drawn hack-and-slash-style game with rogue-like elements that unfolds in a world inspired by the Amazon rainforest. It sees players, cast as one of five heroes (each with own skills and abilities), battling fearsome beasts as they search for the mythical creature of title. Local co-op play is also supported.
Cyber Shadow, the extremely promising sci-fi ninja platformer from Mechanical Head Studios and publisher Yacht Club Games (of Shovel Knight fame) is heading to Switch on 26th January. You'll even be able to scan Shovel Knight amiibo figures to get some fairy assistance.
Calico, the social sim in which players attempt to manage their own cat cafe - by finding felines, and filling the building with food, furniture, and decorations - is out today on Switch's eShop.
Developer Ustwo's adorable exploration game Alba: A Wildlife Adventure is heading to Switch in spring 2021. This one just launched on PC and Apple Arcade, and is a lovely thing, tasking players with completing a range of feel-good, animal-themed pursuits as they rove around the sprawling Mediterranean island where Alba is spending her summer.
Gnosia is a blend of solo social deduction game and visual novel that challenges players to chat with the eclectic inhabits of a drifting spaceship in order to figure out which of them, on any giving playthrough, is actually a deadly alien in disguise - and then put them into "cold sleep". It's coming to Switch early next year.
Happy Game, meanwhile, is the latest project from celebrated developer Amanita Design - the studio behind the likes of Samorost, Chuchel, and Botanicula. Amanita describes Happy Game as a "psychedelic horror" experience, and its tale of a young boy forced to traverse his own nightmare world (and solve puzzles along the way), looks deliciously disturbing in its announcement trailer. It's coming to Switch in spring 2021.
Next up is long-awaited Super Meat Boy sequel Super Meat Boy Forever, which arrives on Switch as a "console launch exclusive", on 23rd December. Which is next week!
There's also a treat for puzzle fans, courtesy of developer Capybara Games' acclaimed Grindstone, which offers up over 200 levels of murderous monster matching, daily leaderboard challenges, and more. The iOS version is a big Eurogamer favourite, and now Switch owners can purchase it starting from today.
Nintendo's latest Indie World showcase came to a close with a couple of rapid-fire release announcements (Kosmokrats in March 2021, Hoa in April, Hazel Sky in March, and spring releases for Trash Sailors and Finding Paradise), alongside one final surprise; smash-hit multiplayer social deduction game Among Us is out on Switch today.