Spelunky 1 & 2 are heading to Switch next summer
Cave story.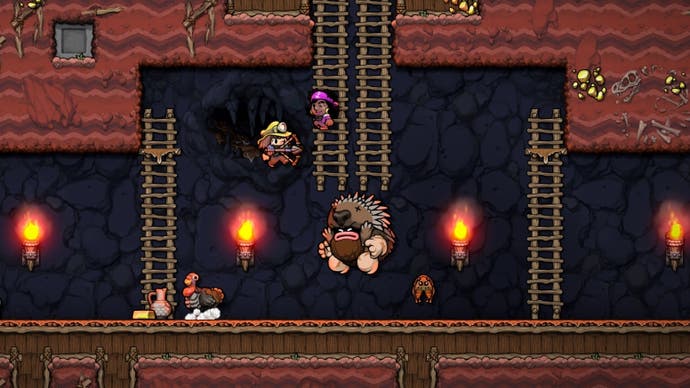 Developer Derek Yu's much-loved subterranean platform rogue-like Spelunky - and its critically acclaimed sequel - are finally heading to Switch, with a launch window of "summer" 2021.
There's been a rising clamour for both games on Switch for quite some time, of course; partly because the brisk replay loop inherent in rogue-likes is particularly well-suited to portable play, but mostly, simply, because Spelunky 1 and 2 are just utterly masterful games.
Eurogamer called Spelunky "a creation of rare crystal clarity that sparkles from every angle" when it reviewed the acclaimed 2012 remake on PC, giving its refined procedural platforming a mighty 10/10 (and, later, an Essential badge when they came in).
Moon-set sequel Spelunky 2 - with its new areas, items, monsters, traps, and refined refined procedural platforming - also managed to earn itself an Essential badge when it launched on PC and PlayStation 4 earlier this year.
"The first Spelunky is a game of secrets," wrote Eurogamer's Christian Donlan, "which means that for the last decade it's been a game without secrets - everything about this world is known and categorised. But a sequel? It's lovely to stand on the windy precipice again, knowing, even after 20 hours, 30 hours, that you cannot yet know even a third of the things that await."
All of which is to say that Switch owners are in for a treat when Spelunky 1 & 2 make their Switch debut in 2021 (complete with local multiplayer in the first game, and online and local play in its sequel), even if summer still feels like a long way away.