Samorost and Botanicula developer unveils "psychedelic horror" adventure Happy Game
Coming to PC and Switch early next year.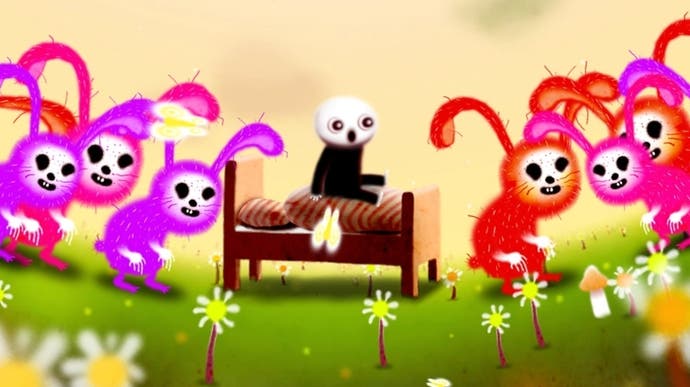 Amanita Design - the acclaimed developer behind such treats as Samorost, Machinarium, and this year's wonderfully gloomy puzzler Creaks - has unveiled its latest project for Switch and PC, psychedelic horror adventure Happy Game.
Happy Game is the brainchild of artist, animator, and designer Jaromír Plachý - previously responsible for Amanita's whimsical garden adventure Botanicula and last year's delightfully brash comedy caper Chuchel - and tells the story of a young boy trapped in his nightmares.
"Endure and escape three unforgettable nightmares," explains Amanita of its latest off-kilter endeavour, "solve deeply disturbing puzzles in (not so) charming environments", and "deal with suspicious smiley faces and pink bunnies".
Czech alternative band DVA, which provided the music for Botanicula and Chuchel, is working on Happy Game's "creepy songs and screeches", and the whole thing promises to be a dark adventure that, Amanita stresses, "departs significantly" from its usual family-friendly fare.
Happy Game looks to be another artful adventure from the ever-reliable Amanita, and it'll be launching on Switch, PC, and Mac in "spring 2021".