Halo 2: Anniversary campaign isn't quite 1080p, Microsoft confirms
Due to running original graphics engine and remastered engine simultaneously.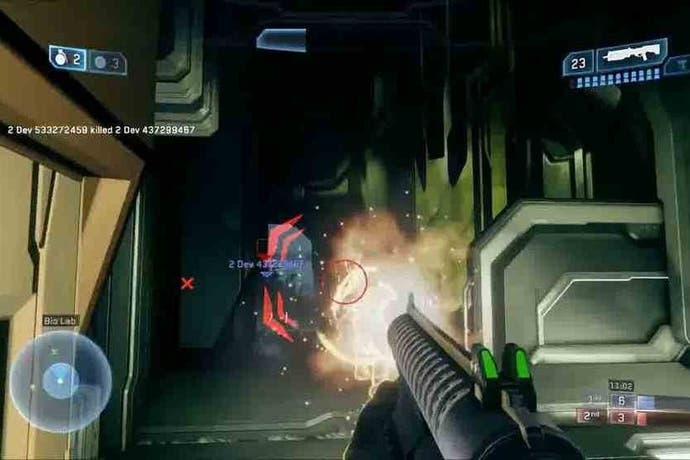 Halo 2: Anniversary's campaign does not output at a native 1080p resolution, Microsoft has confirmed.
Halo 2: Anniversary, part of upcoming Xbox One exclusive Halo: The Master Chief Collection, lets players switch between running the original Xbox graphics engine and the new Xbox One Anniversary graphics engine at the touch of a button - and as a result it outputs at a 1328x1080 resolution and 60 frames per second.
In an interview with IGN, 343 executive producer Dan Ayoub commented:
"During development we were really pleased with the way the engine and buffer allowed us to switch instantly between classic and Anniversary engines that are running simultaneously - however that, as you might expect, put a hit on resolution.
"The campaign of Halo 2: Anniversary looked fantastic at 720p with the level of detail and clarity it gave us, but like every other aspect of the game and tech, we wanted to push it further. So in the last weeks of development, our teams were able to meet a stretch goal and the campaign of Halo 2: Anniversary now runs 60fps at a crisp resolution of 1328x1080, which is a significant and meaningful boost in image quality we think fans are really going to appreciate.
"All of the other games across the entire package of The Master Chief Collection run 60fps at 1920x1080 native."
Digital Foundry's Richard Leadbetter questioned the lack of an option to run Halo 2: Anniversary using the new engine only, which would theoretically have allowed the game to output at 1080p.
"There's absolutely no reason why the remastered Halo 2 can't run at full 1080p at 60fps," he said. "It's the developer's insistence at being able to switch between remastered and classic modes that explains the sub-native presentation: two entire framebuffers need to be held in memory while 343 itself suggests a rather more ambitious set-up - that two distinct game engines are running simultaneously, side-by-side."
1328x1080 is an unusual resolution for a video game, but Leadbetter said developers have done a decent job of upscaling in the past.
"1328x1080 is actually slightly fewer pixels in total than 1600x900 - 900p, if you prefer. It's going to be the quality of the horizontal upscale that will be crucial - Black Ops 2 did a pretty decent job on Xbox 360 in scaling up 880x720 to 720p, so there is a precedent - but that had the benefit of working with an image employing multi-sampling anti-aliasing (MSAA).
"Personally, I would have preferred the ability to disable the instant classic/remaster switcheroo in the options, freeing up the necessary resources for a full 1080p60 presentation - this would have given us the ability to bring the Halo 2 remaster into line with all of the other games in the Master Chief Collection."
In a thread on Neogaf, Halo franchise development director Frank O'Connor responded to a few questions about the news.
Responding to a question about why Halo 2: Anniversary does not run at 1080p when Halo Combat Evolved: Anniversary, also included in Halo: The Master Chief Collection, does, he said:
"Halo CE Anniversary is running Xbox 360 fidelity assets at 1080p with some rendering and lighting improvements. H2A is running higher res textures, geo, characters and animation AND running the OG engine at the same time."
He then revealed exactly what Halo 2: Anniversary is running simultaneously, before suggesting that if the game did not run the original engine the resolution could, in theory, be boosted:
"Two game (graphics) engines - the OG H2 and H2A, and the original audio (music and FX) and completely new music and FX. And the switch is instantaneous. If it weren't running the OG engine it could in theory run at a higher resolution but that's not the intended nature of the project. It's designed to be a remake that lets you switch between the two instantaneously. Now you can feel one way or another about that, but that is indeed the intent."