Guacamelee's El Diablo's Domain DLC is out this week
Adds 17 challenge stages, one new area, and three new costumes.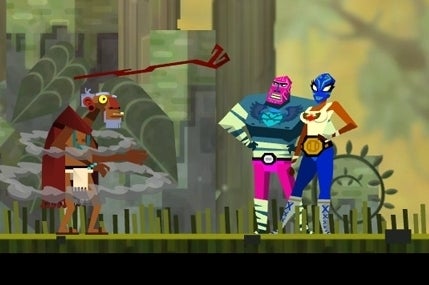 Drinkbox's charming Mexican lore-based metroidvania Guacamelee is receiving its second batch of DLC this week with its El Diablo's Domain add-on.
Available today in North America and tomorrow in Europe, the add-on is priced at £2 / €2.50 / $2.99.
As detailed in a Gamespot video below, El Diablo's Domain adds 17 trial stages, a new area entitled El Infierno, and three new costumes for Juan and Tostada.
The El Portero outfit is a colourful number inspired by 90s football superstar Jorge Campos, the Alebrije costume is based on Mexican folk art, and the Diablo skin classes things up with a formal attire. Each outfit is unlocked by acquiring at least 10 of a certain type of medal - bronze, silver and gold - in the new challenge maps.
Previously, Drinkbox released a Costume Pack DLC that contained three new outfits for £1.25 / €1.59 / $1.99.