Gorgeous Blade Runner-esque delivery thriller Cloudpunk comes to consoles in October
Out on Xbox One, PS4, and Switch.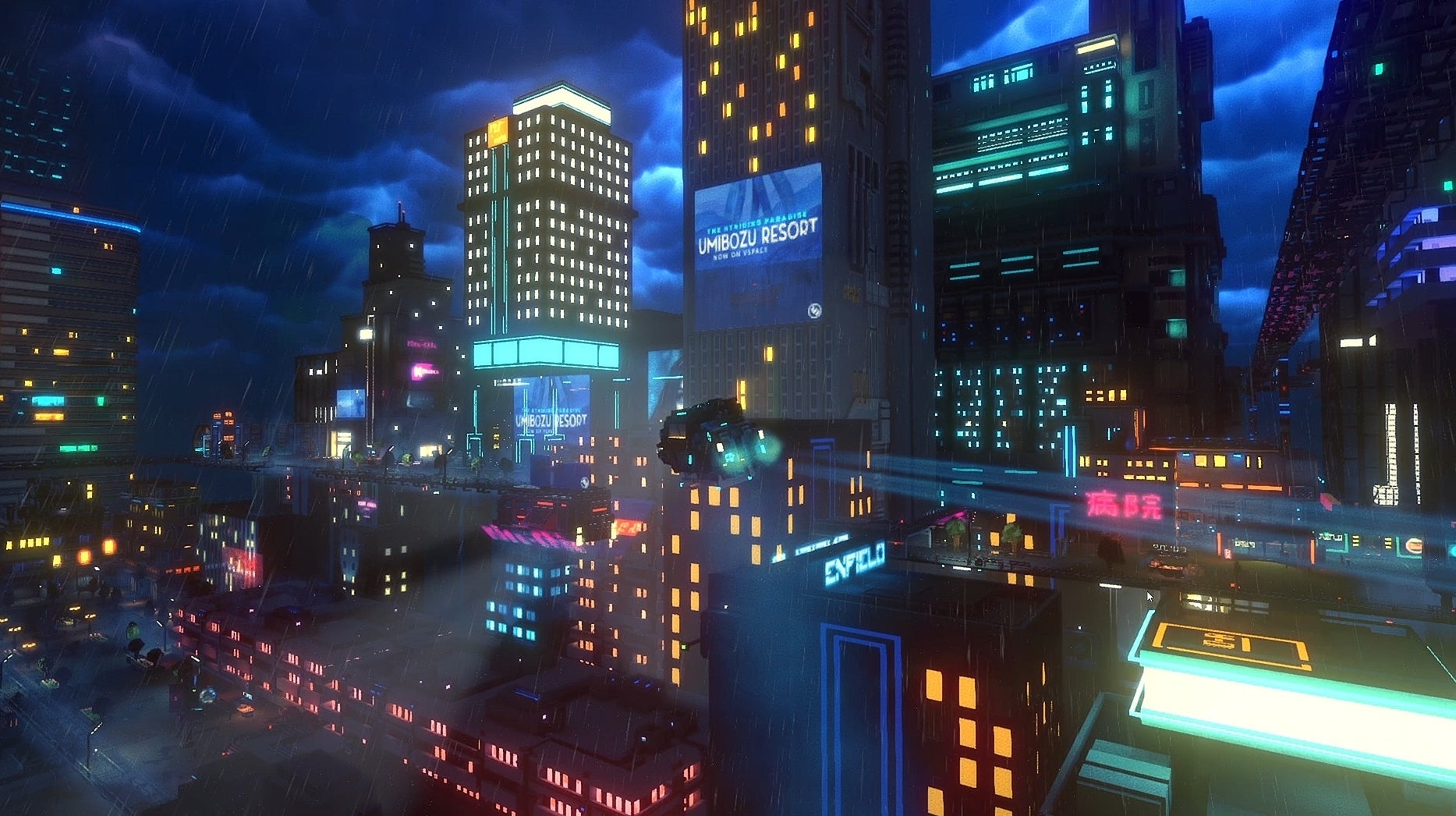 Developer Ion Lands' gorgeous delivery driving neo-noir thriller Cloudpunk is currently revving its engine (or whatever it is that futuristic flying cars use to get about the place) and readying to swerve onto Xbox One, PlayStation 4, and Switch on 15th October.
Cloudpunk released on PC earlier this year, and immediately drew attention for its stunningly designed open-world playground, a vast rain-slicked metropolis shrouded in endless night and bathed in blazing neon that most definitely wouldn't look out of place in Blade Runner.
The city, Nivalis, is the very recent home of protagonist Rania, and the slowly unfolding story sets players whizzing across the expansive voxel world in a nippy flying HOVA car to complete jobs and survive their first night working for illicit delivery company Cloudpunk.
Before long, Rania - accompanied by her loyal AI companion dog Camus - finds herself embroiled in a mystery with potentially devastating consequences, and much driving, NPC chatter, and a spot of on-foot traversal ensues.
Eurogamer contributor Vikki Blake celebrated Cloudpunk's "stunning aesthetic, sublime score, and intriguing premise" when she reviewed it earlier this year, but concluded "neither the story nor its mechanical gameplay offers enough to keep me suitably engaged and entertained".
For what it's worth, I warmed to it considerably more; while it's undoubtedly a linear, and mechanically rather shallow, adventure - disappointingly, there's almost nothing to do in the gorgeously wrought city outside of the main plot - its immensely likeable core cast and compelling mystery (not to mention the ceaseless delights of simply careening across Nivalis' breathtaking cityscape) proved more than enough to hold my attention. And the first-person on-foot traversal added post-launch made poking around the city even more mesmerising.
Incidentally, Ion Lands recently confirmed it's now working on a major update for Cloudpunk, said to add "multiple hours of gameplay" featuring both old and new characters. Additionally, it'll introduce a first-person cockpit view (and racing!) which I'm very excited about.
Those suitably intrigued by all of the above can take their own spin round Nivalis when Cloudpunk comes to Xbox One, PS4, and Switch on 15th October.