Free, simultaneous QuakeCon event heading to UK this summer
Doom come along.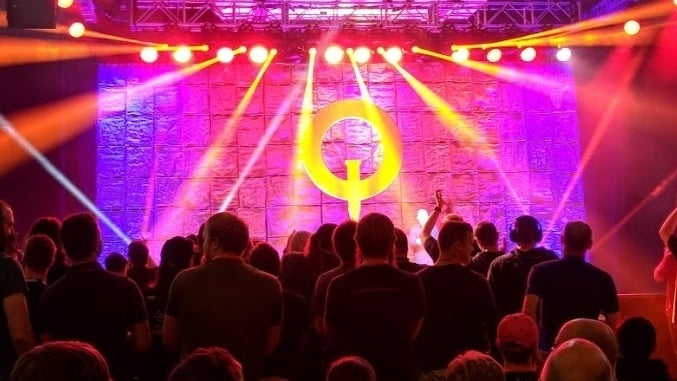 QuakeCon is coming to Europe for the first time this year, in a kind of mirror event being held in London simultaneously with the traditional, age-old Dallas QuakeCon event on 26th-27th July.
The headline attraction: playing Doom Eternal for the first time outside of North America. The clincher: the event is free.
It will be located at the Printworks venue in south-east London.
You'll also be able to play the ace-looking Wolfenstein: Youngblood which, handily, comes out the same day the event begins: 26th July. Rage 2 will be there as well but as it's due out next week - 14th May - it'll be of fading excitement by then. Doom Eternal, incidentally, doesn't have a specific release date beyond "2019" yet, but this year - the series' 25th anniversary - is being billed by Bethesda as The Year of Doom.
Bethesda mentioned development "talent" heading to the show but didn't say who, and promised panels, a tabletop corner, art gallery and retro Doom area. But there's no whiff of a bring your own computer hall, which is one of the most iconic parts of QuakeCon US - and, let me tell you, whiff is very much the word after a few days gaming and no sleep.
Tickets aren't being handed out yet but you can register for updates over on the QuakeCon website.