FIFA 18 The Journey: Hunter Returns Chapter 5 - Knock-Back objectives, decisions and rewards
Everything you need to know to get the most of FIFA 18's story mode sequel.
The Journey: Hunter Returns Chapter 5 - Knock-Back sees you make yet another fresh start, this time in either Spain, France, or Germany with your choice of Atletico Madrid, PSG, or Bayern Munich - but there's a wrinkle in the road ahead...
Here on this page we'll take you through everything you need to know about the The Journey: Hunter Returns Chapter Chapter 5 - Knock-Back objectives, decisions and rewards, and provide a few tips for getting the most out of the Chapter as you go along, too.
For more details, meanwhile, head back to our FIFA 18 The Journey: Hunter Returns walkthrough hub or our main FIFA 18 tips and guide page which branches out to plenty more.
The Journey: Hunter Returns Chapter 5 - Knock-Back objectives, decisions and rewards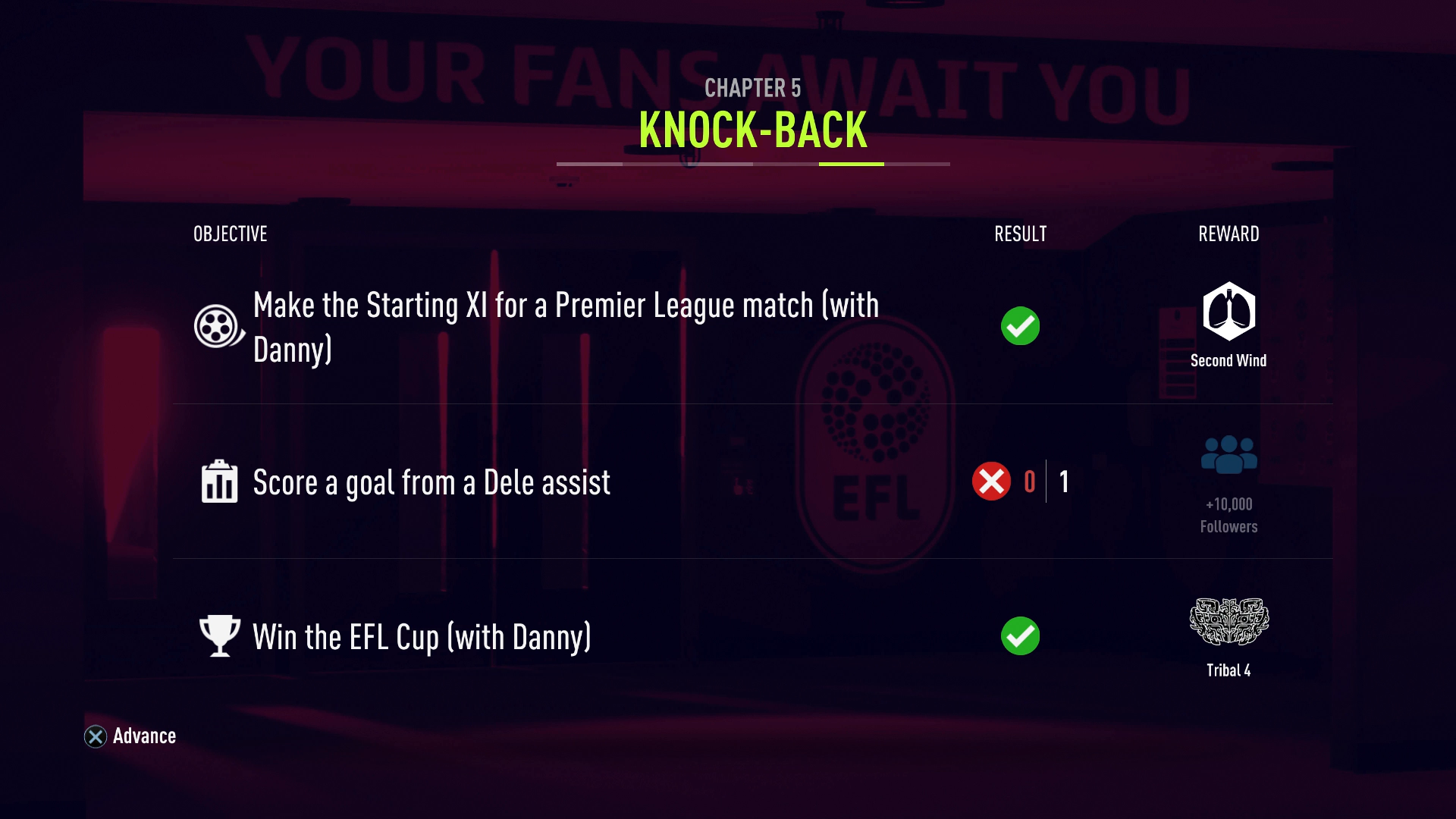 The Journey: Hunter Returns Chapter 5 - Knock-Back objectives:
Make the Starting XI for a Premier League match (with Danny)
Score a goal from a Strike Partner assist
Win the EFL Cup (with Danny)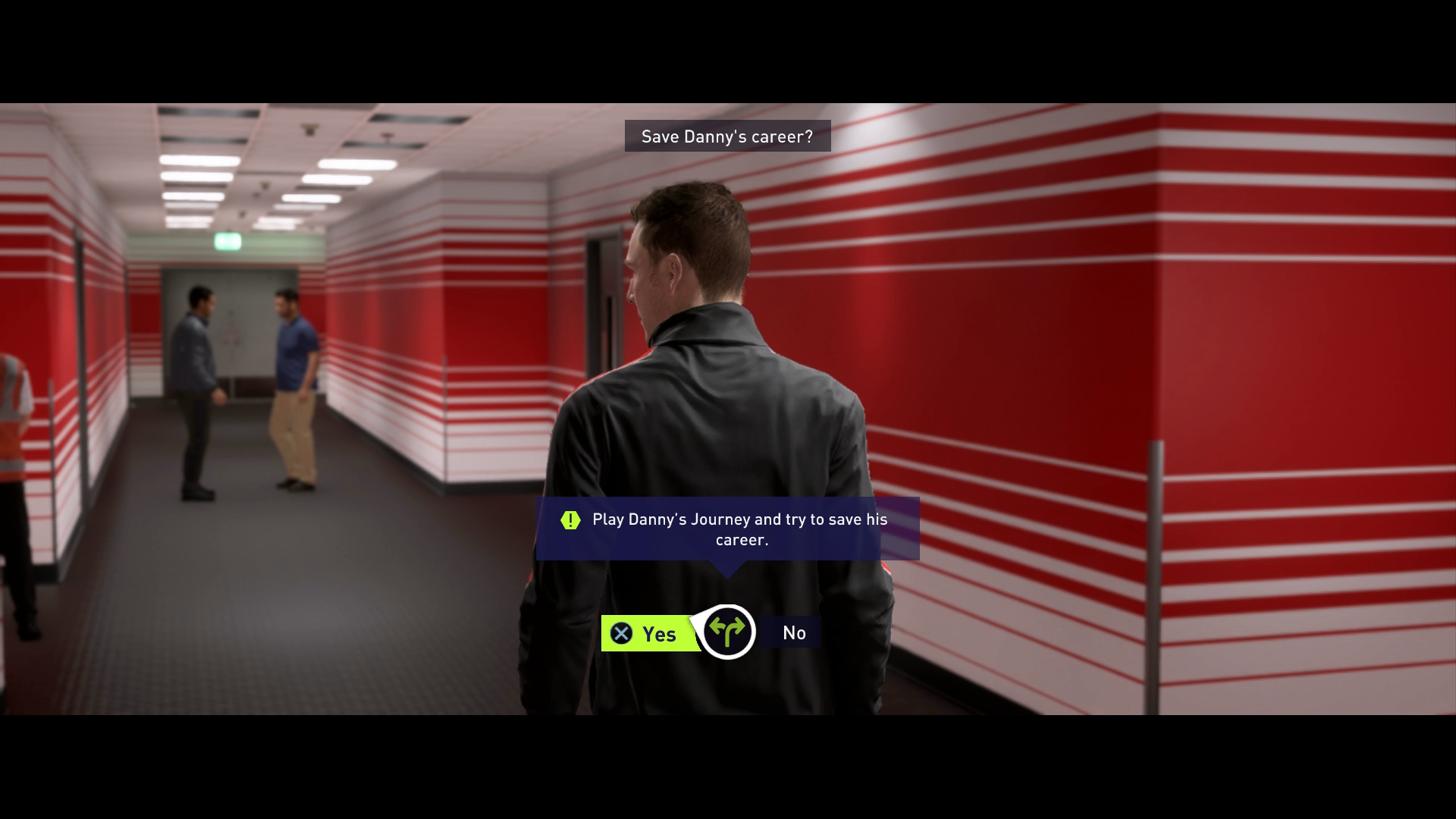 The Journey: Hunter Returns Chapter 5 - Knock-Back decisions:
Play Danny's Journey and try to save his career? - Early on you'll have the choice of playing Danny's Journey, which means several games and training sessions as him for your old club, or leaving his career to flounder and fail, but skipping ahead to the Alex Hunter section down the line.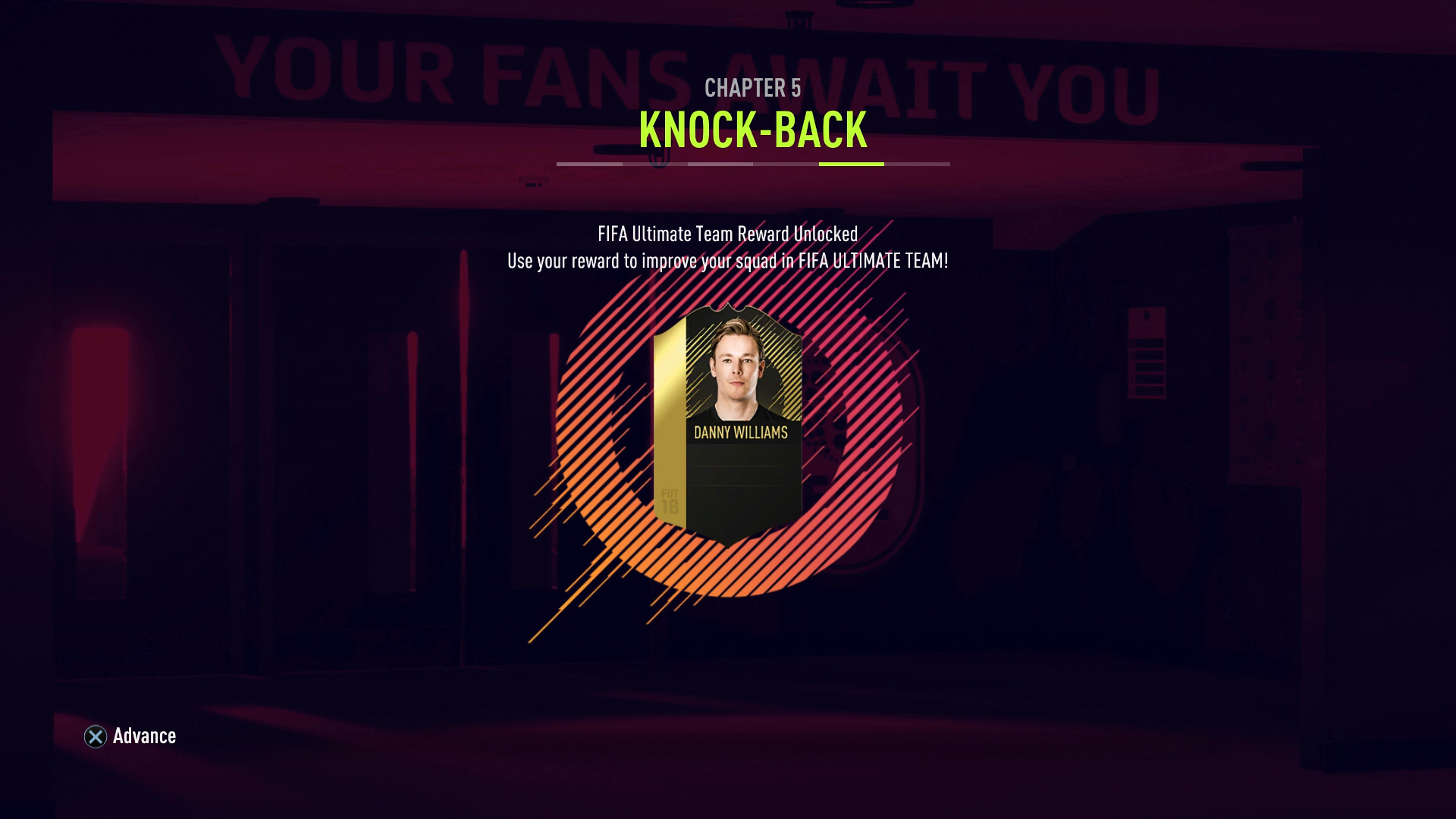 The Journey: Hunter Returns Chapter 5 - Knock-Back rewards:
Danny Williams FUT player card.
Things start off simple enough for you in Chapter 5 of Hunter Returns, opening with a press conference at your new club and a chance, as ever, to be either cool or feisty in your responses, before you get to dive into some training and matches.
There's also some pressure on your boss - Dino! Remember him? - but thankfully this is the type of club that spends rather than sacks when things are going wrong. What does that mean for you? Well, in an interesting twist you, for some reason, are given the choice of the player your club signs as a Strike Partner to join you at the club. The choices are Thomas Muller, Antoine Griezmann, and Dele Alli. It's a tough choice, but bear in mind your club, their formation and tactics, and your position when deciding. We chose Dele Alli to join us at Atletico, and even though he's listed as a CAM, he was played as one of the two deeper centre mids in Atletico's 4-4-2, which made is hard work at times to link up with him, with us playing up top.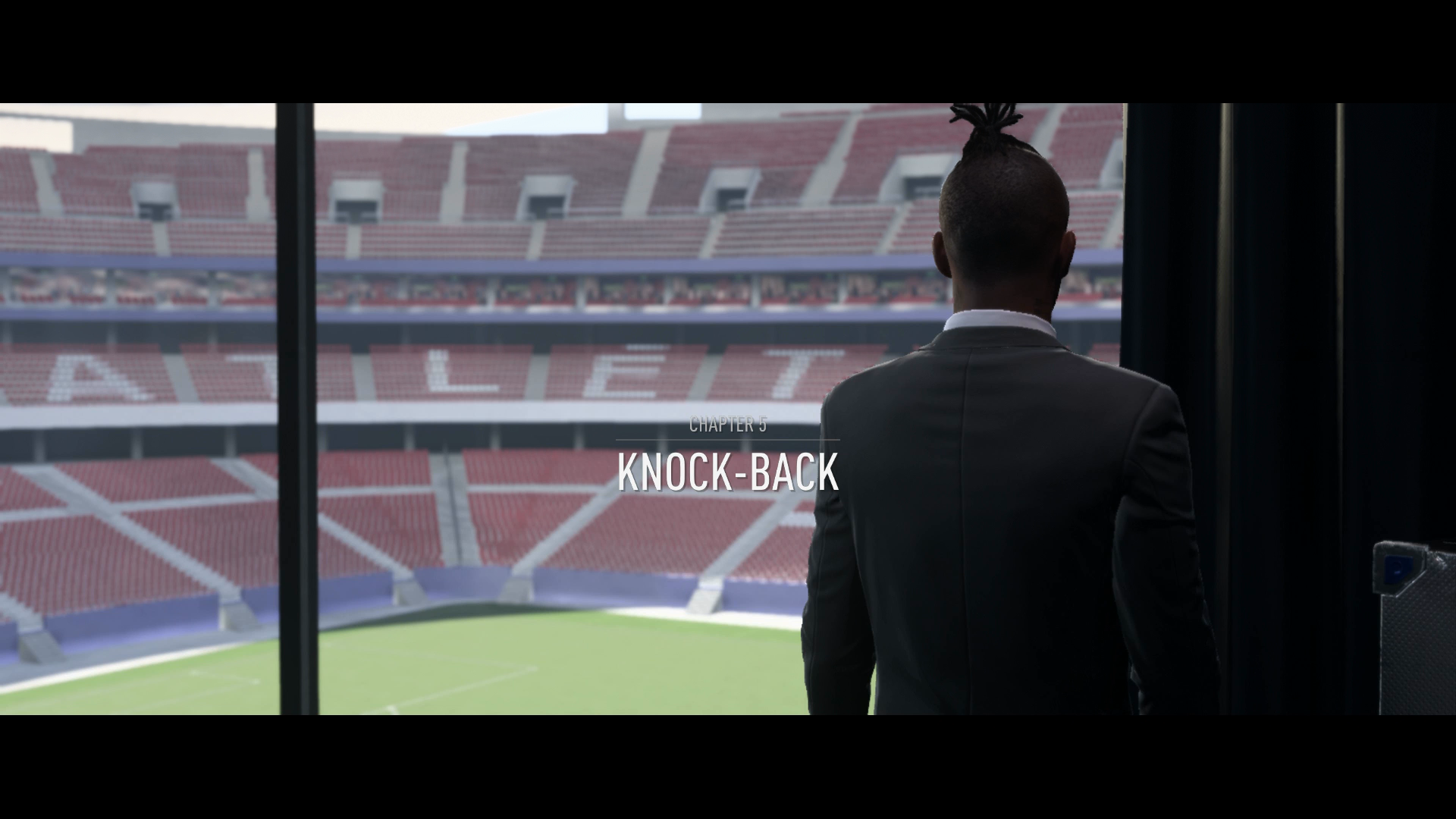 You'll receive various targets, like in-match objectives, based around your link-up play with the selected Strike Partner, and there's also a new metre measuring your relationship with them that increases or decreases over time depending on how well you link up (this is basically measured in assists and goals scored from partner assists, and it's not clear what benefits or costs there actually are to doing well or not-so-well).
Also, it's worth noting that Muller is already at Bayern and Griezmann already at Atletico - if you choose them, they'll simply become your strike partner, but you won't get another new player joining too, just them.
Anyway, just as things look to be ramping up for you, you'll suffer a setback - an unavoidable injury in a match which puts you out of action for a good chunk of the season. You only have one or two matches with your new Strike Partner to score a goal from their assist as one of this Chapter's objectives as a result, so try to do so as soon as possible!
Hunter, as a result of his injury, is sad. But he comes to terms with it through watching his old pal, Danny Williams, make his big break back at your old club in the Premier League… and suddenly you're playing as him!
Do what you can in the first match you take over Danny for, and then it's time for an important chat with your old club's gaffer. Danny's career is hanging in the balance - he's talented, but coasting, failing to put in the effort where it really counts. After that revelation in the meeting, you'll have a choice: play out Danny's next few games and save his career, or leave him to fail and skip ahead to Hunter's recovery in the next chapter.
---
For more help? Our FIFA 18 tips and guide gives you an overview of our many pointers, and if you're playing The Journey in particular, see our The Journey: Hunter Returns walkthrough. Meanwhile, we have lists of FIFA 18 wonderkids and the best young players, FIFA 18 player ratings, the best strikers, best wingers, best midfielders, best defenders and best goalkeepers. Elsewhere, we have details on five star skillers and skill moves listed, how to score free kicks, penalties and set pieces, and the FIFA 18 best players by position. Fan of Ultimate Team? We look at FIFA 18 Chemistry explained, the latest OTW Ones to Watch cards, along with best Chemistry Styles for each position, and finally how to earn FIFA Coins quickly and for free.
---
Opt to save Danny, and you'll have a fair few games and training sessions ahead, until you reach the League Cup Final against good old Gareth's team and your main rivals. Hopefully you'll put that little man with the big mouth in his place by the end of the game (not by kicking him to bits, but by winning, as tempting as that would be…)
That's near enough it for this chapter, with The Journey: Hunter Returns Chapter 6 - Win Together, Lose Alone up next to finish it off.
Put any remaining skill points into Danny's Traits tree, and then you're just about done, the legendary Williams' career is (hopefully) saved!