Football Manager 2007
The pre-match build up starts here.
Another year, another Football Manager. Or so you might think.
It's easy to roll your eyes at the prospect of another incremental update to the world's favourite footy management sim. As one respected journo remarked to me this morning, "it's just prettier fonts, innit?"
The PR fluff can often be counterproductive to the message, with exaggerated boasts about '100 new features' that 'add more to the game than ever before'. Scouring the vast amount of information on the blogs, most of these new features are little more than tweaks to existing ideas, so it's no wonder some of the old hands get a tad cynical during these annual update phases.
But once you wade through the quite torturously in-depth explanations of the nuances of each improvement, you discover more meaningful new additions than you might imagine. The key point isn't so much the quantity of subtle tweaks and enhancements, but how fundamental some of them could prove to be.
Warm up
Having been given the opportunity to take the game for a spin over the past few weeks, we thought we'd put some of the claims to the test.
Perhaps the key new feature this year is Player Interaction, which effectively extends last year's manager interaction process to all the players as well - and not just your own, but the those on rival teams too. Essentially, you can conduct your little 'chats' face to face with members of your squad or conduct your communication through the media, giving rave reviews of potential targets to unsettle, flatter, or just plain tap them up.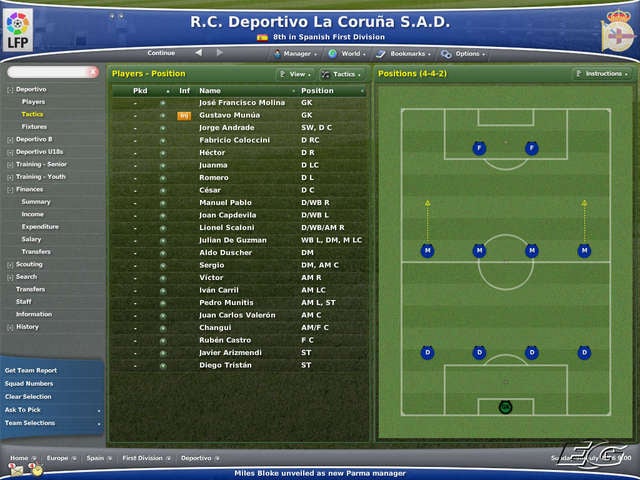 The really interesting side effect of these player interactions is how rival clubs respond to your meddling. Every action has a reaction, and not everything you say or do will be well received. For example, players may well come and join your club on loan or sign for you after some flattering comments, but the strategy could backfire if a disgruntled rival club decides to return the favour by raiding your own squad or refuses to have any dealings with you in the transfer market as a result.
Somewhat less controversially, you can simply choose to get advice from your players to get their opinion on the threats posed by your next opponents, discuss a contract situation or give your verdict on their current form as a means of motivating them. The senior players can be encouraged to help bring the youngsters up to standard, recommend future signings and sort out any morale issues within the team, and can even be coaxed into coaching or management as their playing career comes to an end, increasing the persistent nature of the game universe no end. The best thing about this extra layer of micromanagement is that you can quite easily choose to ignore it if it's not something you're interested in
Through ball
And now that we're onto the third revision of Football Manager, we're finally moving into that phase that SI always enters once it has managed to squash the bugs and minor issues that blight entirely new versions of its games. As a result we can expect more optimisation for creaking machines as well as the multi-core beasts at the top end. Despite encountering a silly bug that crashed our build when we dared to insert a mugshot into the profile set-up, the game ran solidly throughout, at a consistently high speed regardless of multiple programmes running in the background and numerous alt-tabbing interruptions. To really test the claims, we ran it on a relatively low spec laptop, so most desktop machines should have no problems whatsoever.
As they point out every year, FM 2007 will be "easier to use, navigate and control and all the options are more obvious to players". Most of the time this is definitely true, thanks to clearer icons, customisable bookmarks and a vidiprinter spewing forth tons of interesting snippets of information, as well as tweaks to the already clean layout. Rarely will you get stumped over how to find something - and even if you do the 300 hints and tips and the updated tutorial should help out in no time. Usefully, delegating the growing layers of micromanagement to your back-room team seems more obvious (and beneficial) than ever, giving the more old school players the chance to switch off a lot of the stuff you might otherwise consider unnecessary.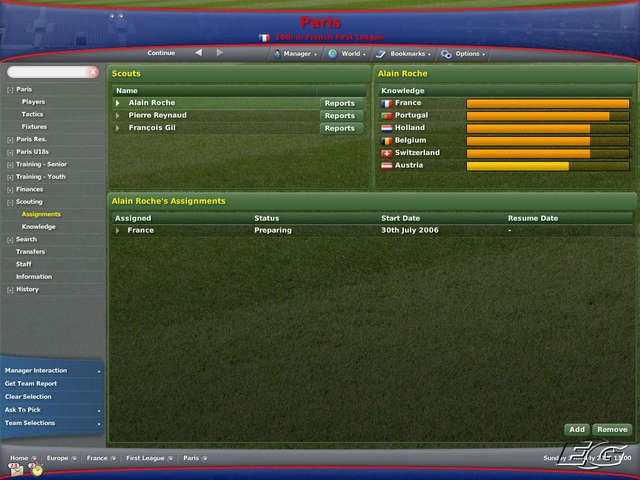 For those that really like to dig deep into what the game has to offer, you now get much better feedback from your entire backroom staff - but whether you listen to the opinions of your assistant manager is up to you. Scouts and agents, meanwhile, play an even bigger role. For example, the agents now offer advice on who might be the best players to use as makeweights in player-exchange deals, while scouts are great for giving you a decision on whether someone you're interested in is actually better than you've got.
It's abundantly clear that a player's personality can be just as crucial as their ability. No longer can you simply rely on scouring their stats when you're making a transfer decision - now you have to consider how much of a bad or good influence they may have on the team as a whole, or on certain individuals. It's when you start exploring these sides of Football Manager 2007 that the player interactions and listening to the scouts become much more useful, and the game forces you to start to think much more like a real life manager would. Sometimes, taking on a Craig Bellamy type character might be worth the risk of him spouting something to the press, or taking his frustrations out on members of your team.
Stadium of blight
Other improvements this year include being able to build a new stadium - particularly useful to those of you wanting to turn Gretna into a world footballing power, proving you've built up the required funds of course. Another vital improvement is how the board interact with you, and the kind of things that can happen as the game progresses. For instance, in the business of transfer wheeling and dealing, they might decide that an offer from a rival club is simply too good to turn down. This happened quite early on for us - albeit in reverse - when we decided (as Norwich) to poach Luton's promising attacking midfielder Rowan Vine. Despite Mike Newell issuing a hands-off warning, our 825k offer was more than enough for the Hatters' board to take the money and run.
As before, wage limits play a crucial part in deals, but you can now arrange pre-contracts (for example, with star youth players) to ensure you can secure their services. On the flip side, you might end up getting unexpected foreign investment and finding that your transfer budget has skyrocketed to allow you to go on a spending spree. But just as in real life, board reshuffles or takeovers might result in you having the rug pulled out from beneath you, and left looking for a new club.
Sports Interactive has also fleshed out other areas of the game; such as the way the youth teams regenerate. For example, poor youth facilities might limit the number of future stars coming through the ranks, while a new feeder club system allows you to set up an affiliate scheme with another club. On a basic level it could be an agreement to send a player out on loan, get first dibs on their best players, play friendlies, get around work permit laws or even as a means of increasing your marketing reach. Such are the evil ways of football these days.
This year's version also makes a bigger deal out of controversial decisions - just like real life. Refereeing errors are now something you can take issue with via the media, both for and against your team - but with the very real prospect of the FA coming down on you like a ton of bricks and banning you from the touchline. We didn't manage to see what affect that has on your ability to manage during a match, but we suspect it means having to place the decisions during the match to your assistant. In addition, you have to be mindful the consequence of your responses to the media on your team. For example, team members might feel let down if you allow the ref to get away with it, so it's a big balancing act.
Dug out
As with every version of Football Manager, it's a very personal experience, and no amount of previewing can possibly unearth all the cool new things there are to know about the game. So far, it looks very promising in that the core experience is just as good as it ever was, but with subtle tweaks improvements that make you think about your familiar day-to-day actions in a different way. Some might not particularly enjoy the amount of extra messages they now have to read and respond to, but on balance it's a fun addition to the core brilliance.
If you're still feeling cynical about whether you should shell out for yet another version, then try it for yourself. There are two versions of the demo being made available this weekend. The full game is released on October 20th on PC and Mac, with PSP and Xbox 360 versions to follow shortly afterwards.