Fahrenheit: Indigo Prophecy Remastered is coming to Steam
Amazon listing pegs it for this week.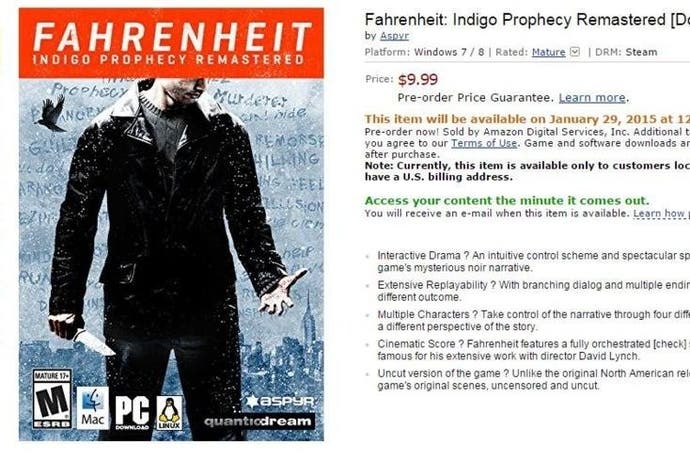 A remastered edition of David Cage's 2005 adventure Fahrenheit (or Indigo Prophecy as it's known in North America) is getting a remastered edition for PC and Mac.
Leaked on Amazon [since removed], this spruced up HD edition, dubbed Fahrenheit: Indigo Prophecy Remastered, is due on 29th January and will cost $9.99 (about £7) for a Steam key.
This remastered version will feature enhanced visuals that can be toggled on or off along with full controller support and a "fully orchestrated" soundtrack.
It's worth noting that this is an uncut version of the game (i.e. the European version) as the North American release censored a sex scene upon initially getting slapped with an AO [Adult's Only] rating. This version is rated the much more common M [Mature], suggesting that the US ratings board, ESRB, has became a little more lax over the years. Though this didn't stop it from giving Hatred an AO.
Former Eurogamer editor Kristan Reed loved Fahrenheit. Back in 2005 he called David Cage's mystery adventure "probably the most enjoyable, forward-looking and thoughtful piece of videogaming we've played in this or in any year" in his Fahrenheit review.