Ex-Lionhead devs' collectible card game Fable Fortune leaves Early Access this week
Going free-to-play on Xbox One and PC.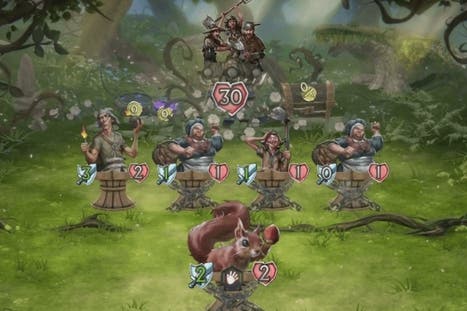 Fable Fortune, the collectible card game set in Lionhead's Fable universe, will leave Early Access and launch as a free-to-play Xbox One and PC title on Thursday February 22nd, developer Flaming Fowl Studios has announced.
Fable Fortune entered Early Access last July on Xbox One and PC, and the community feedback garnered since then has enabled Flaming Fowl to tweak and balanced the game, as well as add numerous new features ready for full release.
There's a single-player story mode, Heroic Tales, which lets players "experience the dramatic histories of the game's hardy Heroes". There's a new emote system for rudimentary communication between opponents - and yes, that includes the class Fable fart - plus a Deck Helper and Guildmaster-led tutorial, Daily Bounties, rare Fancy cards, and more.
Although the game will become free-to-play when it leaves Early Access, as was always the plan, Flaming Fowl notes that interested parties can still pick up the Fable Fortune Founder's Pack for £9.99 / $14.99 USD on Xbox One and Steam right now.
This includes 20 card packs, the exclusive Flaming Fowl Trophy Card, and the "very rare" Giant Egg card - amounting to around $40 USD of stuff, apparently.
Fable Fortune has an interesting history; it was in development at Lionhead Studios before Microsoft shut the company down in 2016. Unusually, Flaming Fowl - a new team consisting of former Lionhead staff who had previously worked on Fable Fortune - were then granted use of the Fable license to finish and release the game.