F-Zero fan cans his own ill-advised Kickstarter
For an F-Zero clone.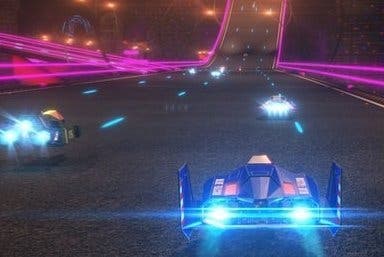 An F-Zero fan is removing his €115k Kickstarter campaign designed to fund a spiritual successor to Nintendo's futuristic racer, named Zero Gravity AX.
Dave Strauß published the Kickstarter over the weekend and included images and gameplay from a working build.
The project had lofty goals: 30-player racing, customisable vehicles, a track editor, a career mode, four-player split-screen, 1080p60 gameplay - and a release window of August 2016 on PC, PlayStation 4, Wii U and Xbox One.
But it also included assets taken from F-Zero such as the Blue Falcon vehicle, and included design and gameplay elements that were unmistakably Nintendo's.
Potential backers began to question whether the project could be seen by Nintendo as anything but a new version of the existing F-Zero series - and something which would no doubt fall foul of the company's lawyers.
24 hours later, Strauß has now announced he will cancel the project "due to the big amount of negativ[sic] feedback and the discussion about the Blue Falcon and the copyright".
The prototype shown in the Kickstarter videos - the product of four months' work - will now be retooled.
"I think we are going to relaunch it someday with a better presentation and different design," he concluded.
The last full F-Zero game was the Japan-exclusive Game Boy Advance title F-Zero Climax which launched more than a decade ago, back in 2004.
F-Zero has since made only cameo appearances, via a mini-game in Wii U party compilation Nintendo Land and in DLC tracks for Mario Kart 8.
Nintendo had asked Burnout developer Criterion to make an F-Zero Wii U launch title, it emerged recently, but the studio had to decline as it was already busy designing Need for Speed: Most Wanted.