Elite: Dangerous developer Frontier quietly announces Warhammer Age of Sigmar RTS
Strategy click.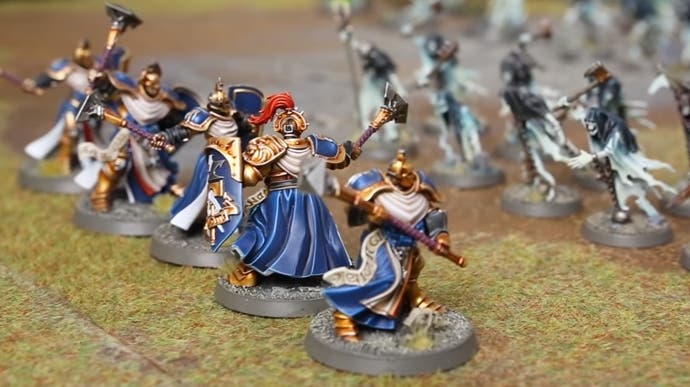 We all know about Creative Assembly's wonderful Total War: Warhammer strategy games. Now, Frontier Developments has quietly announced it's making a Warhammer Age of Sigmar real-time strategy game.
Buried within the investor relations portion of its website is a note that the Cambridge-based maker of Elite: Dangerous, Planet Coaster, Planet Zoo and Jurassic World Evolution has signed an intellectual property licence with Games Workshop to develop and publish an RTS for PC, consoles and streaming platforms for release in the financial year 2023 (the year ending 31st May 2023). This game is based on the popular fantasy tabletop Warhammer, specifically the popular Age of Sigmar era.
The Age of Sigmar tabletop game first released in 2015, and is the successor to the discontinued game Warhammer. Frontier's game will be the first RTS set in the Age of Sigmar. Creative Assembly's Total War: Warhammer games are based on the "Old World", which is now replaced by the Age of Sigmar.
Here's a quote from Frontier boss David Braben: "We are delighted to announce this licence with Games Workshop. I personally think it's great news that two such well-established and world-class creative UK companies with global reach are collaborating on a new project. We look forward to working closely with the team at Games Workshop to bring the rich world of Warhammer Age of Sigmar to a wide audience through an immersive and accessible real-time strategy game on both PC and console."
This means Frontier has two major releases from internal development teams for each of the financial year 2022, and the financial year 2023. What could those games be? Let's start with financial year 2022 (the year ending 31st May 2022). In March, Frontier announced it was now making F1 management games after signing a multi-year exclusive game licence with Formula 1. Four F1 games are planned, with the first launching in time for the 2022 F1 season on PC and consoles. So, we know one of those games is an F1 management title.
Frontier said FY22 "will benefit from the multi-platform release of a game based on an as-yet unrevealed major global IP". Just last week Universal City Studios LLC, aka Universal Pictures, filed for a project called Jurassic World Aftermath, a filing that sounded a lot like it related to a video game. Frontier is rumoured to be making a Jurassic World-themed survival game. Could this be it?
Moving on to FY23, Frontier said to expect the release of the 2023 Formula 1 management game and the release of the Warhammer Age of Sigmar RTS. So that's that one cleared up.
In the short-term, for the financial year ending 31st May 2021, aka FY21, two internally developed major releases are planned: Planet Coaster expanding onto PlayStation and Xbox, and a major new paid-for release for Elite Dangerous. Yesterday, Frontier delayed Elite Dangerous' still-mysterious Next Era update, which developer Frontier previously described as a "defining moment in the history of the game", from its anticipated December 2020 release date to Q1 2021.
Frontier said its FY21 and beyond will also benefit from releases from its third-party publishing initiative. Two games have been signed for release in FY21, with a further three already signed for FY22 and scope for more. Five or six third-party releases per year are expected from FY23 onwards. Busy times for Frontier indeed!
Frontier has over 500 staff, which are now of course working from home during the lockdown. The company said it had seen increased demand for its games during the coronavirus crisis, as many video game companies have. Because of this, it expects revenue to be "towards" the previously stated range of £65-73m for the current financial year ending 31st May 2020, aka FY20, with an operating profit of £11-13m.
"It is too early to judge the long-term effect of home working on efficiency, and there remains significant uncertainty regarding how long the lock-down may continue," Frontier said. "We are continually assessing any potential impact on development. A small number of days were disrupted due to the transition in March, and while we anticipate some level of ongoing disruption, and thus potential delays to production schedules for content releases, including for Elite Dangerous' next major update, we do not foresee a permanent loss of efficiency."
Frontier insisted it's in a strong position, with a debt-free balance sheet and cash of around £40m. As a result, it does not expect to use Government employment support or apply for grants during the coronavirus crisis.