EA apologises for giving Muslim fighter a Christian victory gesture in UFC 2
Will alter the celebratory animation in the next update.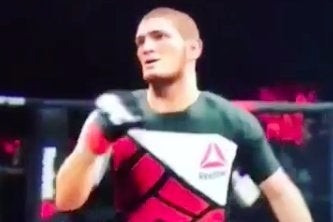 EA has apologised for an oversight in EA Sports UFC 2 in which it gave a practicing Muslim fighter a Christian victory celebration. UFC fighter Khabib Nurmagomedov is a practicing Muslim, yet his avatar in EA Sports UFC 2 caps off certain victories by making the sign of the cross over his chest. Whoops!
"I'm a MUSLIM and not Baptized. Please @EASPORTSUFC edit my after fight celebration. I have a lot of Muslim fans and you have to respect it," the fighter stated on Twitter.
The victory gesture in question is a canned animation that's randomly performed by all fighters in the game. Though it never occurred to EA that this is a religious gesture and one that goes against Nurmagomedov - and possibly other fighters' - faith.
To its credit, EA apologised for the error and has promised a fix in the next update. Nurmagomedov posted an Instagram photo of EA's response. It read:
"Hello Khabib. Just wanted to reach out and let you know that we've seen your concern in regards to your after fight celebration. We've informed our development team about this issue and will change the celebration in our next update. Apologies is this has offended you in any way."
Here's a video of the offending animation in question: