Dr Disrespect says he "still has no idea" why he was permabanned from Twitch
"No communication before. No reaching out. Nothing. Boom. Done."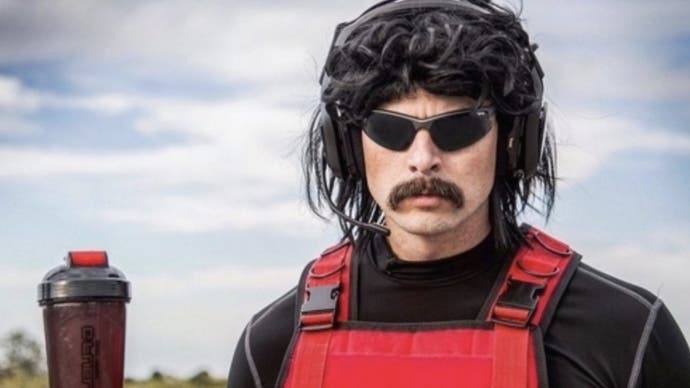 Dr Disrespect is streaming again, having transferred to YouTube after receiving a permaban from his partner platform, Twitch, a few weeks ago.
Twitch permanently banned Dr Disrespect - aka Guy Beahm - from its platform in June. At the time he was one of the most popular streamers on Twitch with more than four million followers, and had an exclusive deal with the company.
At the beginning of his return stream on YouTube - which is not thought to be a formal partnership yet - Beahm took time to tell his audience that he "still [has] no idea" why Twitch banned him.
"A lot of people wanna know... they wanna know what happened.' Why did you get banned?'" Beahm said at the beginning of his stream. "Guess what? I want you to look me in the fu*king eyes when I say this, okay? We still have no idea. "We have no idea. And I'm gonna tell you this right now - as far as I'm concerned, we didn't do anything to warrant a ban, let alone how they went about banning us. No communication before. No reaching out. Nothing. Boom. Done."
While he didn't expand any further on his next steps, Beahm did acknowledge that he "has to be intelligent about all this" as "we're talking about a heavy contract", so he was letting "the legal professionals do what they need to do".
Twitch has been taciturn on the reasons for Beahm's ban. At the time, the streaming platform told press: "As is our process, we take appropriate action when we have evidence that a streamer has acted in violation of our Community Guidelines or Terms of Service. These apply to all streamers regardless of status or prominence in the community."
As Wes summarised at the time of Beahm's ban, the streamer has been embroiled in controversy on a number of occasions. In December 2017, he took a two-month hiatus from streaming to focus on his relationship with his wife after admitting infidelity. At E3 2019, Beahm was suspended by Twitch after streaming from a public bathroom. He has been accused of racism on-stream, and has shared coronavirus conspiracy theories online.