Best VR headsets for PC gaming 2022
Our latest recommendations, including Oculus Quest 2.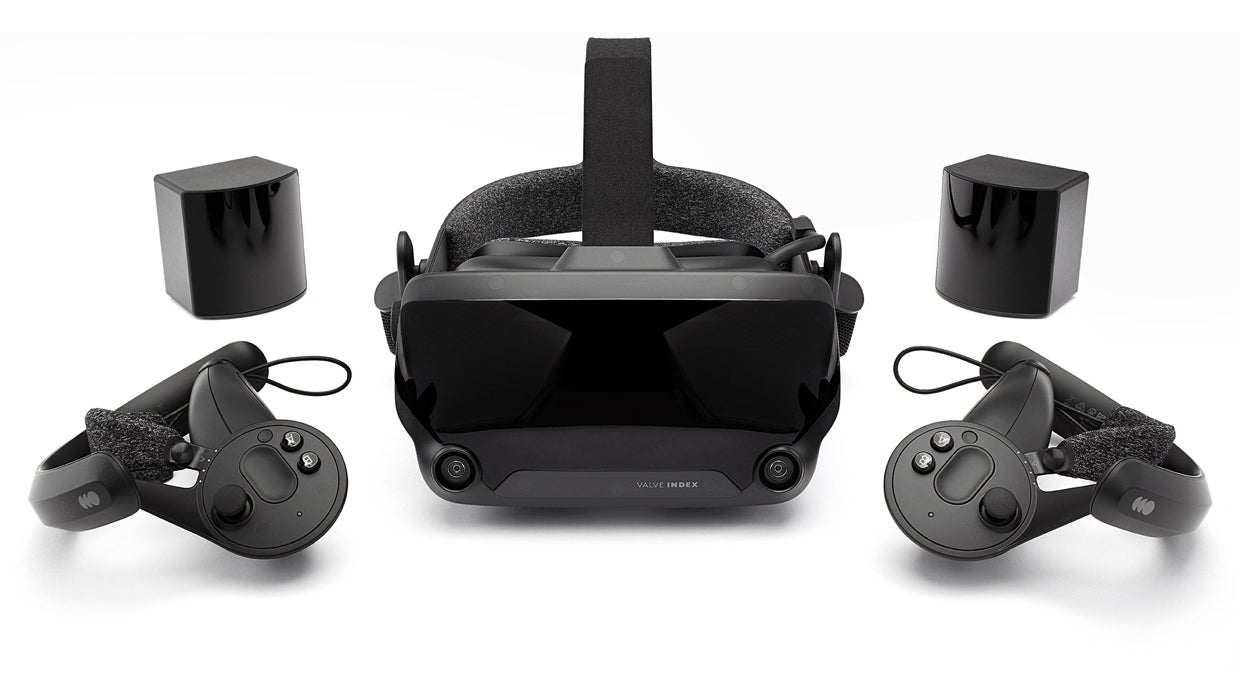 VR games have really hit their stride in 2022, with several big-budget options like Half-Life Alyx existing alongside popular indie titles like Beat Saber. This page is designed to make choosing the best VR headset for these PC games as simple as possible, giving you the information you need to find the headset that fits your needs, at a price you can afford.
Just looking at all of the options available can be daunting, especially if you're a newcomer to VR, with dozens of VR headsets recommended by various outlets - despite many now being out of active production. Here are the best headsets that are available to purchase right now:
Headset
Summary
Best Price
Valve Index
The best VR headset for PC gaming
£459/$499 (HMD only)
£689/$749 (w/ cons)
£919/$999 (full kit)
HP Reverb G2
A hi-res headset at a decent price
£542/$599
Oculus Quest 2
The best value option
£299/$299 (128GB)
£399/$399 (256GB)
HTC Vive Pro 2
A high-res HMD, but dated controllers
£719/$799 (HMD only)
£1299/$1399 (starter kit)
HTC Vive Cosmos
High fidelity, with some issues
£699/$699
£899/$899 (Elite)
With different physical designs, screens, tracking solutions and price points, there's plenty to discuss about each option. Thankfully, once you get to know a little about each of them you'll quickly be able to narrow in on the right one for you. That makes choosing the best VR headset for games like Half-Life Alyx and Beat Saber fairly straightforward - as long as you're equipped with our recommendations.
Of course, these recommendations will also be more widely applicable to other VR games, like Star Wars Squadrons, Tetris Effect, Superhot and so on. In general, fast-paced games will benefit from a higher refresh rate, while slower-paced games and VR experiences will benefit from a higher resolution and field of view.
If you're in a hurry, here are our rapid recommendations:
We think that the Valve Index is the best option on the market, thanks to its excellent display, great tracking and finger-accurate controllers. This is how at least one member of Digital Foundry played the game, and had an excellent time doing so. Unfortunately, the Index is the most expensive option out there, and availability can be sparse.
The HP Reverb G2 is a good mid-range option that offers excellent performance and no icky Facebook, but is a little hard to find in some regions.
If you're not interesting in investing nearly a grand on your VR habit, the Oculus Quest 2 stands out as the best value choice thanks to good controllers and excellent tracking with no base stations required, with both wired, wireless and standalone operation modes.
For the full details, click on the links below or scroll on!
---
Valve Index: Specs, Info and Best Deals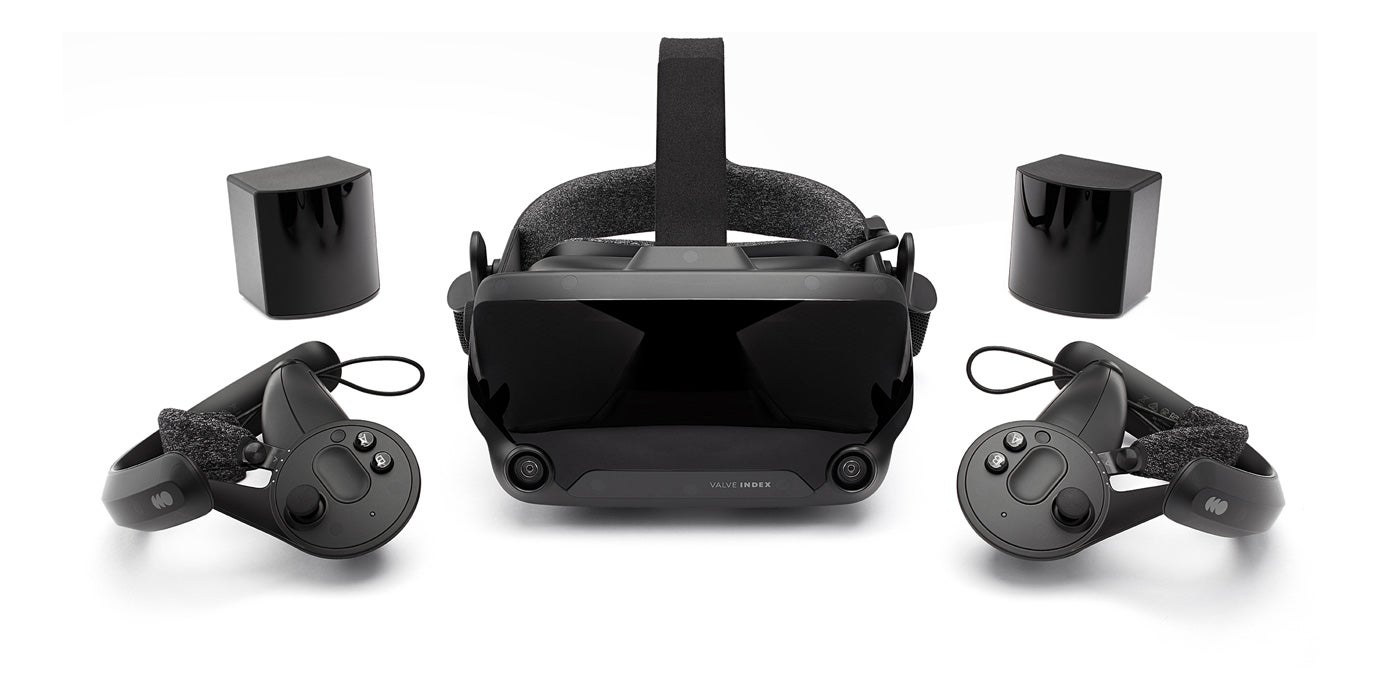 2880x1600 LCD screen ● 130° field of view ● 80/90/120/144Hz ● Base Station tracking
The Valve Index is the best way to play Half-Life Alyx, as the game has been developed to take full advantage of the Index's hardware. The 130-degree display has a combined resolution of 2880x1600, and uses a true RGB subpixel arrangement that makes for a sharper image than you'd find on the AMOLED Pentile screens commonly used for VR. The Index's screen is also capable of higher refresh rates than other headsets, topping out at 144Hz, making for a much smoother experience but requiring a more powerful PC to realise its potential. If you already have a powerful rig, then the Index is a natural choice.
The Index relies on base stations to operate, allowing for excellent tracking but requiring some setup, while the Knuckle controllers are the best available at the moment thanks to their per-digit tracking. Audio is a strong suit too, with the built-in speakers providing a convenient and immersive experience. All of that means the Valve Index is the VR headset to get for Half-Life Alyx. Expect stock of this headset to be hard to find, despite this being one of the most expensive options.
---
HP Reverb G2: Specs, Info and Best Deals
4320x2160 LCD screen ● 114° field of view ● 90Hz ● Inside-out tracking
The HP Reverb G2 is a Windows Mixed Reality VR headset that deserves its own section. It was produced in cooperation with Valve, who contributed lenses and Index-style near-field speakers to the design. The high resolution display (2160x2160 for each eye) should offer excellent clarity, although the 90Hz refresh rate here doesn't quite compare to the Index's 120Hz or 144Hz modes. The controllers have been redesigned from the previous generation WMD designs, removing the trackpad in favour of two extra face buttons to more closely resemble Oculus Rift controllers. These upgrades should make this the best Windows Mixed Reality headset ever.
For $599 the Reverb G2 look like a promising alternative to the Valve Index at a substantially lower price, although it hasn't had an official UK launch so you'll have to rely on resellers to get one here.
---
Oculus Quest 2: Specs, Info and Best Deals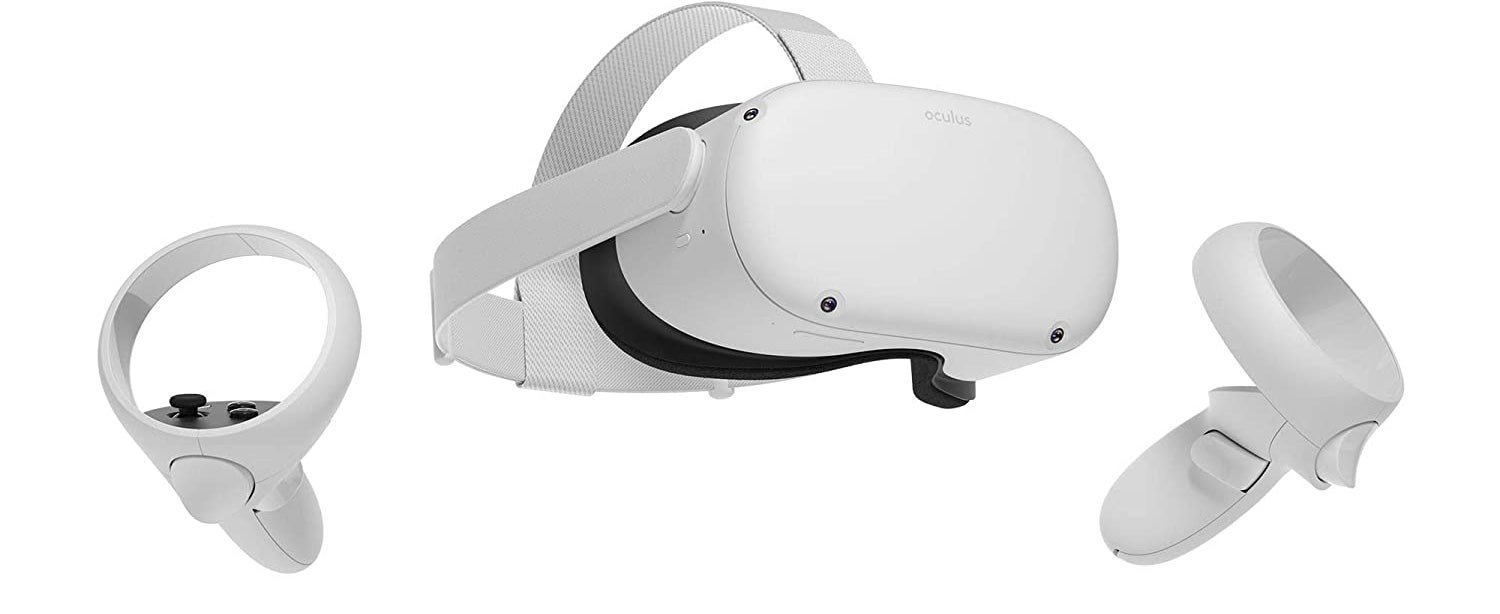 3664x1920 LCD screen ● 90° field of view ● 72Hz (90Hz TBA) ● Inside-out tracking
Interestingly, the Oculus Quest 2 replaces both the original Oculus Quest and the Oculus Rift S. By default, it's a standalone VR headset with a (fast) mobile phone processor inside, allowing it to connect to the internet and download apps or games. Playing VR untethered is a great experience, even though the graphical fidelity of mobile titles doesn't quite measure up to what you can produce with even a mid-range gaming PC. For wired PC play, you'll need to buy a high-spec USB-C cable - either the official fibre-optic Oculus Link cable (£89/$79) or one of several (much cheaper) traditional USB-C cables (eg £33/$26).
So: how does the Quest 2 compare to the original? Well, the screen is dramatically higher resolution (3664x1920 versus 2880x1600) and Oculus promise a 90Hz refresh rate will be possible soon (up from the Quest's default 72Hz). It's also more powerful, with a Snapdragon XR2 chipset paired with 6GB of RAM and either 64GB or 256GB of storage. More importantly, the comfort of the unit has improved substantially, solving the only major issue with the headset. That's accomplished through a lower weight and an improved optional head strap that make it much more comfortable for long play sessions. Another key differentiator is price - the Quest 2 is $100/£100 cheaper than its predecessor, making the cost of entry to premium VR lower than ever before.
Overall, if you can stomach signing in with a Facebook account, this is a great VR headset that opens the door to some truly exceptional experiences, whether in tether-free, standalone games running direct on the Quest 2 or when attached to a gaming PC with a Link cable.
---
HTC Vive Pro 2: Specs, Info and Best Deals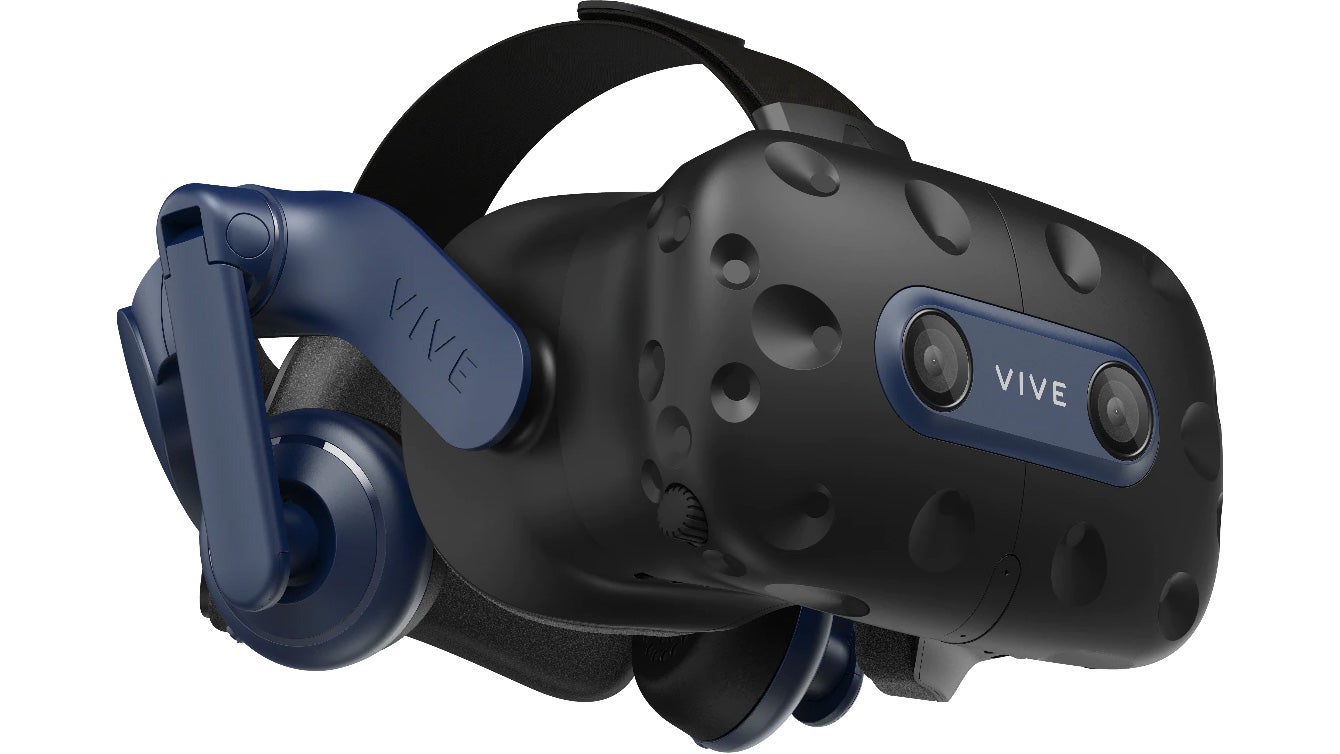 4896x2448 LCD screen ● 120° field of view ● 120Hz ● Base Station tracking
The Vive Pro 2 is another hi-fidelity option, and the full system can be easier to find online than Valve's Index. The high-res LCD display is a bright point, with a resolution of 4896x2448, and the refresh rate of 120Hz is great too.
Tracking is accomplished using base stations, which require setting up but can offer more accurate tracking. The Vive Pro 2's controllers aren't as advanced as that of the Valve Index, but it is possible to buy Valve's Valve Index controllers separately (£259/$279) to use with this system if you want that individual finger tracking. Overall, a strong option for most people, despite its high price.
HMD only: £599 on Vive (no longer available in US?)
---
HTC Vive Cosmos: Specs, Info and Best Deals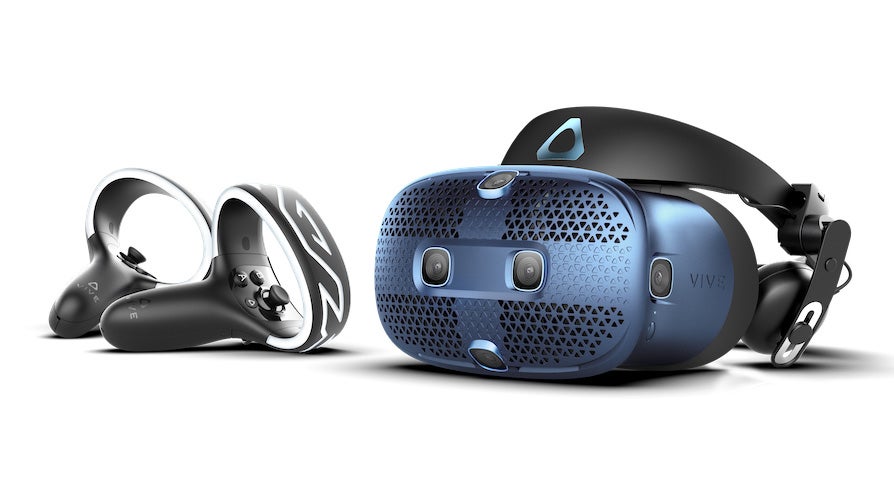 2880x1700 LCD screen ● 110° field of view ● 90Hz ● Inside-out tracking
The Vive Cosmos is another high-res headset, at 2880x1700, and hits the same 90Hz refresh rate as the Vive Pro. HTC opted to move from AMOLED to LCD with the Cosmos, so you get a full three subpixels per pixel, boosting clarity of fine details. Another big change is that the headset uses inside-out tracking rather than relying on external base stations. (Although some later variants work differently; see update below).
This is convenient, as you don't need to pay for or set up this additional equipment, but this has unfortunately reduced tracking accuracy compared to the Vive Pro. For example, the Cosmos can lose track of the controllers if they're too close to you - which can be irritating and immersion-breaking if you're trying to aim down the sights of a weapon to shoot an encroaching headcrab. The tracking is also more light-sensitive than other options, so expect to game in a well-lit living space for optimal results.
While the tracking is a step backwards in some respects, the physical design is demonstrably better than the earlier Vive Pro, with the option to flip up the goggles - handy if you want to drink some tea or make sure you aren't about to kick your cat. The controllers here are decent, despite a lack of top sticks, although sadly there's no easy option to upgrade to Valve Index controllers. If visual fidelity trumps hand tracking accuracy for you, then this could be a good choice.
Update: The Cosmos Elite is now available. It supports tracking via external base stations, solving the headset's biggest weakness, but comes at a higher price of £899/$899. If you already have a Cosmos, the external tracking faceplate is available separately for £199/$199.
---
With that, we reach the end of the PC VR headset deals and all-around best prices for the VR headsets for PC gaming. We'll keep this page up to date ensure we recommend the best deals for these headsets as they appear, so check back soon!
If you find a VR headset at a better price than we've listed here - or if you'd like to know how these headsets compare in another way - then please let us know in the comments below! Should we be covering other options too, like the Pimax 8K+? Get in touch. We'll also be checking tweets to @wsjudd or @digitalfoundry.
For more on VR headsets, we loved 2kliksphillip's take on VR headsets on YouTube here. There's also a handy comparison spreadsheet for specs and feature comparisons.
Finally, why not read more about Half-Life Alyx in articles by Eurogamer? So far, we've covered our first look at Half-Life Alyx and also why Half-Life Alyx is a VR exclusive. You can also hear Digital Foundry's John and Alex discuss the reveal in video form above.