Best PC gaming headset 2023
Wired or wireless, from cheap to ultra-premium.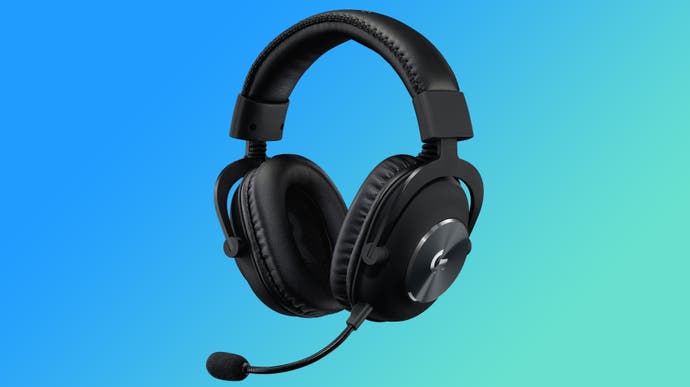 Here are some of the absolute best PC gaming headsets available, based on a full decade of testing. We've got wired and wireless options, cheap headsets that won't break the bank and premium options that justify their higher prices. As well as the big names like Turtle Beach, Razer and Logitech, we've also highlighted headsets from smaller firms like Epos and Audeze that are absolutely worth knowing about.
The idea here is to give you a few options to choose from without being overwhelming, so that you can pick up a new headset at the right time - whether that's when you want to start seriously trying to improve at CS:GO or when your Warzone buddies tell you off for missing those crucial footsteps. We're focusing on headsets for PC here, but many of these options will work on Xbox Series X/S, PS5 or both - and you can see our full gaming headset recommendations for a deeper list if you prefer.
Click the links below to jump to a headset you're interested in, or scroll on for the full list!
1. Razer Blackshark V2
Our top wired headset, comfy and accurate with cheap and wireless variants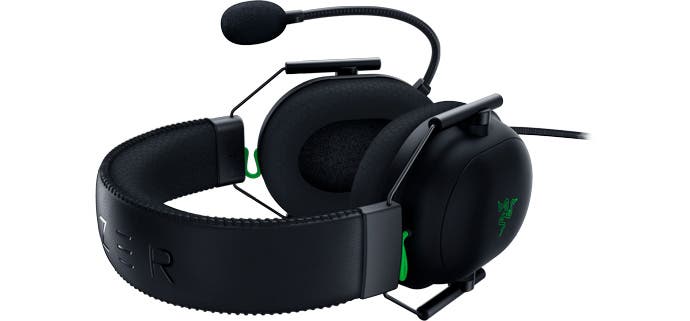 The £86/$95 Razer Blackshark V2 is the best wired headset for the money we've tested. First, these headphones are a treat to use for gaming or music, with a wide sound stage, accurate sound and good imaging provided by newly designed 50mm drivers. This is a stereo headset, which we recommend for competitive play, but a 7.1 surround sound mode with "THX Spatial Audio" is also available for games where you want maximum immersion. The BlackShark V2's mic is also quite reasonable, although we'd recommend a more professional-grade alternative for streaming.
The BlackShark V2's design is also worthy of some praise. For starters, the ears are well sealed to block out distracting background sounds - useful whether you're clutching in Valorant or trying to get some work done while working from home with your spouse. The athletic-knit-covered memory foam ear pads remained comfortable for hours, no doubt aided by the light weight of the headset - just 262 grams. There's a convenient volume knob on the left earcup, and the microphone is removable. The BlackShark V2 also lacks any kind of RGB lighting, with only a few green accents here and there.
In terms of connectivity, three options are provided: dual 3.5mm (for PCs), single 3.5mm (for PC, mobile, Switch, PS5 and Xbox) and USB-A (for PS5 and PC). That means you can use these headphones on the go just as easily as at home on your PC or console. USB comes via an included dongle which adds the simulated 7.1 capabilities, microphone settings (like a noise gate and side tone) and compatibility with Razer's Synapse software.
If you could do without the USB sound card, consider instead the £50/$40 BlackShark V2 X, which ditches it to hit a much more competitive price point; there's also a £140/$130 BlackShark V2 Pro that makes the headset gloriously wireless.
---
2. Logitech G Pro X Wireless
A sterling headset with low-latency wireless and multiple ear pads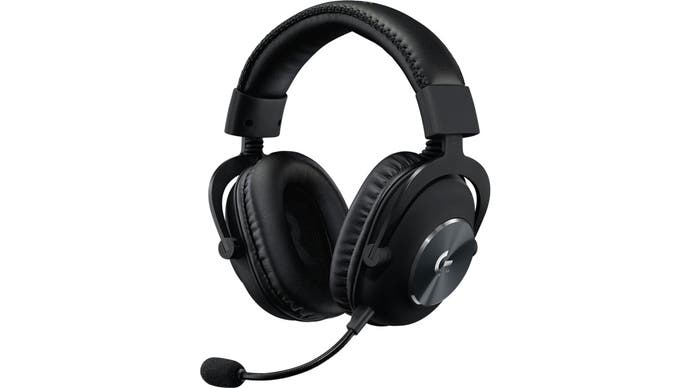 Logitech have made some great gaming headsets in their day, and their best yet is the Logitech G Pro X Wireless. This £145/$190 headset sports a low latency 2.4GHz cross-platform connection that feels just as immediate as a wired headset. It's also supremely comfortable, even for the glasses-wearers, with the option of velour or memory foam ear pads, and boasts impressive build quality with plenty of metal evident. The 50mm drivers inside provide a neutral sound, with a slight emphasis to mids that can help highlight footstep sounds. Surround sound is provided by 3D Audio on PS5 or DTS Headphone:X on PC; I much prefer this arrangement as it tends to provide more consistent results than each headphone maker rolling their own simulated surround solution on the headset itself.
Wireless headphones tend to suffer in mic quality, but the solid hardware here plus the addition of Blue Voice software on PC make this one of the best-sounding options in the category. Battery life is reasonable, at around 20 hours, with easy (if not rapid) USB-C recharging. One area I'd like to particularly highlight is usability; Logitech has done well to incorporate a large number of controls (power, volume, mic mute) onto a single earcup while ensuring each has a distinct feel. Overall, the G Pro X is a great pick for any competitively-minded PC gamer.
If you prefer a wired headset, the standard G Pro X is also great and costs much less.
---
3. Logitech G335 / G435 Lightspeed
Comfy and colourful mid-range headsets, available wired or wireless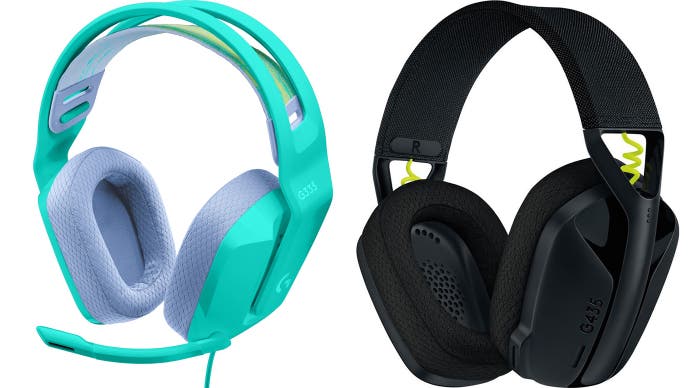 Logitech's lightweight gaming headsets were a pleasant surprise when they launched a few years back, and remain great options at their new lower prices. The wired Logitech G335 (£40/$50) and the wireless G435 Lightspeed (£62/$30).
The sound quality of these headsets are nothing special - I'd rate the Razer BlackShark V2 X or Turtle Beach Recon 500 as the better-sounding headsets for music and single-player games - but it's clear enough with a neutral signature that works well for multiplayer gaming. Instead, the G335 and G435 distinguish themselves from an aesthetic, comfort and usability standpoint, with a supremely comfortable fit for those with small to medium-size heads thanks to a lightweight design and ski-goggle-style fabric headband. And when I say lightweight, I'm talking 240g for the wired G335 and an ridiculous 160g for the wireless G435.
The headsets comes in three colours each, with the reversible headband offering a choice of two accent colours (there are also two mounting positions for the headband to accommodate smaller noggins). The flip-to-mute microphone on the wired G335 is easy to position and provides clear comms, while the G435 makes do with an integrated mic that doesn't sound quite as good. The G335's volume wheel on the left earcup is conveniently placed for mid-game adjustments, without being so prominent as to be adjusted accidentally while you're putting the headset on or taking it off. The G335 uses 3.5mm, so it works on a wide range of consoles and mobile devices as well as on PC, and I dig that it's coloured to match the headset. Meanwhile the G435 can be connected via Bluetooth or 2.4GHz wireless (via a USB dongle), but can't maintain both connections simultaneously and the USB port is for charging only.
If you want a convenient, comfortable and colourful headset there's nothing quite like these new Logitech headsets. The G335 is the more flexible option at a lower price, so that's our default recommendation. If you need or prefer wireless functionality, the G435 Lightspeed delivers the same design spec - super lightweight and comfy with great usability and good sound - with 2.4GHz wireless and Bluetooth at an even more competitive price for its category.
---
4. Drop x Sennheiser PC37X / PC38X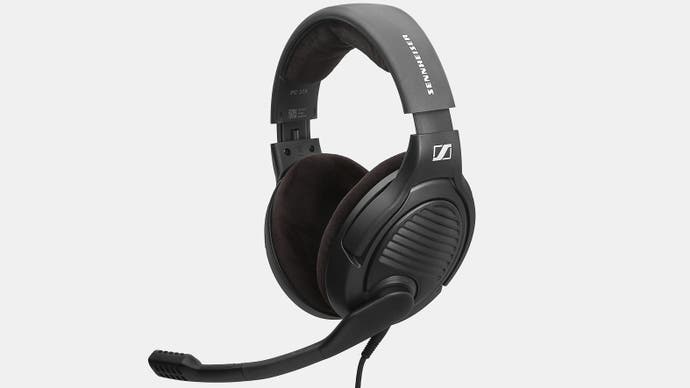 The $79 Drop x Sennheiser PC37X is a cheaper version of Sennheiser's Game One headset with a simpler colour scheme, but the same excellent drivers, microphone and 3.5mm wired connection. The thick velour ear cups are ideal for glasses-wearers, the fit is comfortably snug and the plastic build is lightweight without feeling flimsy. The open-back design lets in ambient sound and promotes a wider sound stage, which suits some environments but not others. These headphones benefit from a nice amp to drive them, but still deliver balanced sound from PC integrated audio. One minor inconvenience is that the cable terminates in two 3.5mm prongs, one each for audio out and mic in, with no four-pole to dual tri-pole adapter that's required for laptops and PC cases that only sport a single 3.5mm jack. These adapters cost less than £10/$10 though, so it's not a massive dealbreaker - and surely helps to keep the cost down to what is a very reasonable level. Overall, lovely light wired headphones for PC, and well worth looking at.
The $139 Drop x EPOS PC38X are similar headphones, with fancier drivers (also found in GSP 600) and more accessories in the box (a carry pouch and separate dual or single 3.5mm audio cables) for a higher price. The upgraded drivers are better overall, with better bass, albeit at the expense of some clarity. The comfort, build quality and overall design are quite similar to the PC37X, so I'd suggest choosing whichever best fits your budget - the premium here seems reasonably well justified, without either option becoming indefensible.
---
5. Epos H6Pro Open and H6 Pro Closed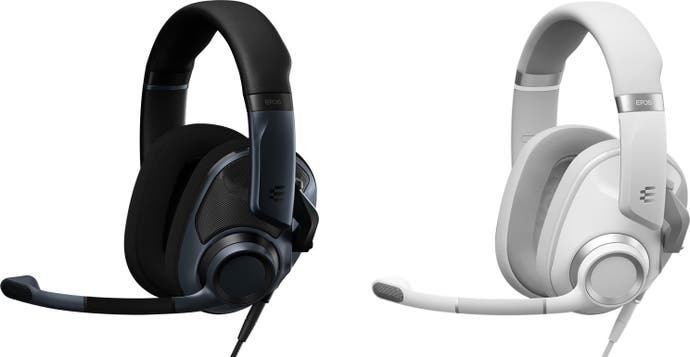 The £100/$179 Epos H6Pro is a well-built and great-sounding wired gaming headset uniquely available in both closed and open-back configurations. This allows you to choose between better bass and noise isolation (closed) or a wider sound stage and greater awareness (open). I tend to prefer open back headphones for playing competitive shooters in a quiet room, and closed back headphones for playing more cinematic affairs in noisy or mixed environments, so it's nice that to have the choice between the two styles. In terms of sound signature, the headset is well-suited for gaming and good for critical listening, with plenty of detail and a bit of a bump to the bass frequencies.
Both configurations offer a robust (and detachable) flip-up microphone that offers good recording quality, plush earcups and a slimmer, lighter design than the old Epos Sennheiser GSP 600. These are all sensible changes, and they appear to have been carried out without harming the headset's sound quality or build quality. The only real downside I identified during testing was the headsets' price, which is about £15 more than the older GSP 600 at the time of writing - which may be a bit more than you'd like to spend on a wired headset. Still, the quality is definitely here, and the 3.5mm connection allows it to be used on a wide range of consoles and other devices as well as just PC - nice.
---
6. VZR Model One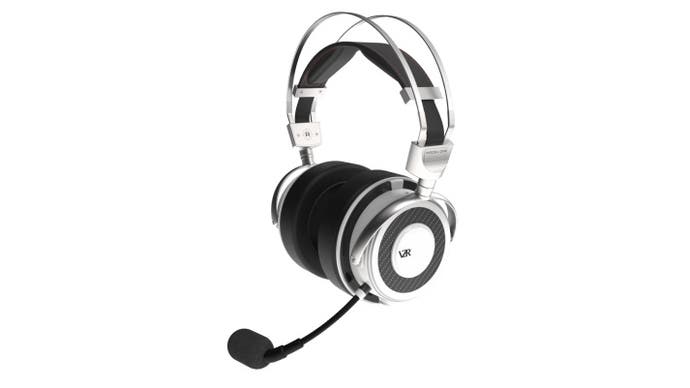 The $349 VZR Model One is one of the best PC gaming headsets I've tested as of late, offering stellar sound, impressive build quality and a look that leans much more towards 'audiophile' than 'gamer'. There's a suspension headband, held beneath a metal frame that terminates in metal yokes that allow each carbon fibre encircled earcup to spin freely - slightly annoying for cable tangle, but it also means you won't ever bend them too far. These are closed-back headphones, with synthetic leather used to provide good noise isolation - when I'm working in my small office with my wife, I can't hear her clicky keyboard with these on. The Model One does weigh quite a bit - 430g is almost double a lightweight wired headset like the G335 - but the headset is well balanced and the clamping force is well-considered, so I didn't find them uncomfortable for hours on end. The headphones use a 3.5mm connection, allowing a wired connection to a wide range of devices (apart from most recent smartphones), and includes both long and short cables with single or double 3.5mm tails. There's also a semi-hard carrying case to keep the headphones and its cables in, a nice touch and almost an expected one at this price point.
The included microphone is basic but outperforms most wireless alternatives; in terms of wired audio it's nothing special and can sound a bit distant if it's not right up against your mouth. Thankfully, the sound coming out of the headset makes up for this, with a smooth and detailed signature that works well for gaming without becoming too tiring. The sound stage is relatively wide for closed back headphones, so I found it relatively easy to locate my enemies by their footsteps in Counter-Strike, while the noise isolation ensured I wasn't distracted. This also extended to other use cases; it's rare to get a gaming headset that also holds up to more critical listening with music or film, but that's exactly what the Model One delivers. Altogether, I'm very impressed - and I hope we see wider retail availability, with the headset only available at VZR's web store at present.
---
7. Turtle Beach Recon 500
A 60mm headset with excellent passive noise isolation and great imaging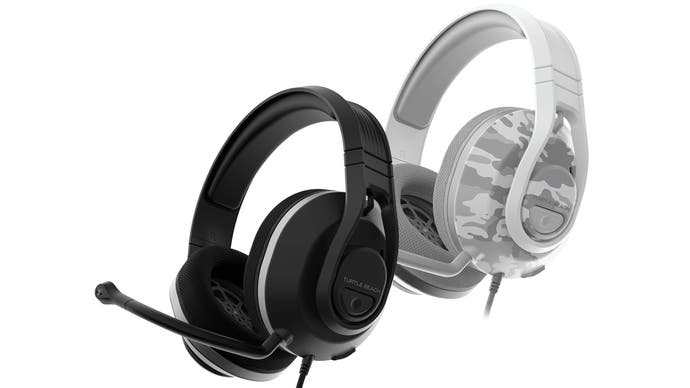 If you're looking for a simple wired headset that nails the essentials, the £55/$50 Turtle Beach Recon 500 is a great shout. In our testing, we found the lightweight headset comfortable to wear for long periods, even with glasses, with excellent passive noise isolation. The unusual 60mm dual drivers provide surprisingly detailed sound with good imaging, making them ideal for identifying the position of enemies in games like Apex Legends or CS:GO. The detachable microphone is only OK for a wired headset, but still beats out almost all wireless headsets we've tested. The Recon 500 also seems quite well built, although its no-nonsense appearance and mostly plastic construction aren't eye-catching in the black colourway we tested - although an arctic camo version is also available. The Recon 500 uses a 3.5mm connection, so it works with PCs as well as PS5, Series X/S, Switch, many phones and tablets, and so on. The Recon 500 was a real surprise for us, so we're happy to recommend it here.
---
8. Audeze Penrose
A high-end planar magnetic wireless headset for PC and PS5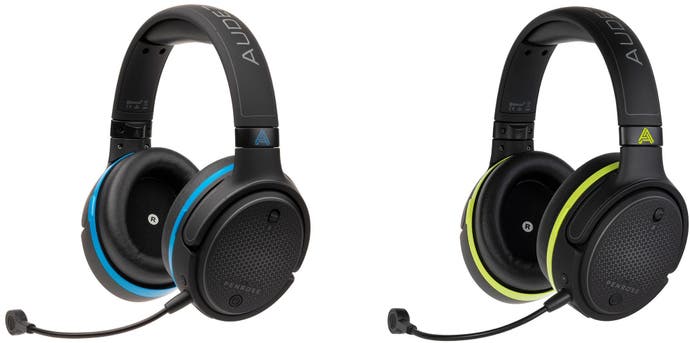 The £240/$209 Audeze Penrose is the best premium wireless headsets we've tested so far. The headset uses planar magnetic drivers rather than the traditional dynamic drivers, allowing for excellent sound quality at the expense of bulk. The Penrose is defined by excellent clarity and separation, making it easy to pick out details even in chaotic soundscapes, with a slightly warm sound overall. Combined with a good low latency audio connection via a 2.4GHz wireless dongle and a good microphone, and you get one of a terrific PC headset. The headset also offers Bluetooth and 3.5mm connectivity, allowing use with a wide range of other devices - including simultaneous wireless and Bluetooth playback.
I found the Penrose quite uncomfortable initially, but after a week of use its high clamping force eased up, and it now ranks among the most comfortable options I've tried despite its weight. Battery life is average, at around 15 hours, with USB-C charging taking a few hours; you get an audible low battery warning when you have an hour or less left. I also experienced a few quirks with the headset, like the device completely disappearing from the list of devices when it turned off to save power, but this wasn't a game-breaker for me. Overall, the Penrose's excellent audio and wide cross-compatibility means it's still easy to recommend.
---
9. Roccat Syn Max Air
A redesigned Roccat headset with athletic fabric and charging dock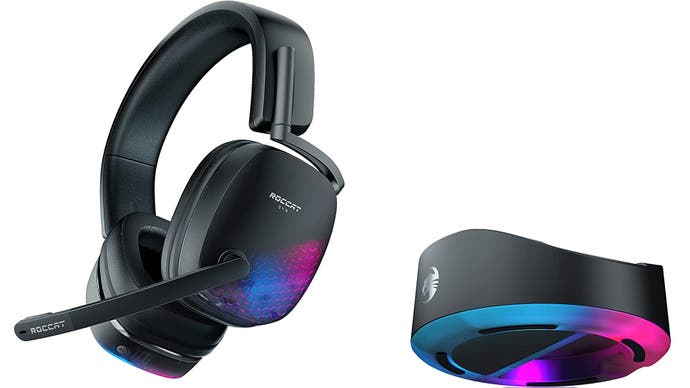 The £178/$183 Roccat Syn Max Air is a great headset with a few small issues that prevent it from reaching higher on our ranking. Its use of athletic fabric for the ear cushions and head band make it comfortable without getting sweaty in warm weather, but don't block out much outside noise. Elsewhere, RGB lighting peaks through a semi-transparent honeycomb on each ear, which looks neat and can be disabled to boost battery life. The controls are decent too, with infinitely-scrolling wheels on each ear cup for volume and chat/game mix, with buttons to turn the headset on and off and engage Bluetooth, which can be used simultaneously with the 2.4GHz connection.
It takes the headset some time to pair once it's turned on, and it produces three incredibly loud and piercing chimes while it's doing so - something we originally raised with the Syn Pro Air that hasn't been fixed for this model. You can at least lower the volume in the Roccat software, but why it has persisted is confusing given that no other headset does this.
The stereo sound the Syn Max Air produces is quite bass-heavy by default, with a bit of flab evident, but the neutral EQ setting improves things somewhat - or keep it on the standard setting for a more bombastic presentation. While USB-C charging returns, you're more likely to use the included (and RGB-enabled) docking station, which requires a lot of desk space but is easier than looking for a cable or swapping out a battery.
The Syn Max Air is a strong PC headset - comfy, aurally proficient and feature-rich - but its genuinely painful power on tone and high price keep it from ascending higher on this list.
---
10. Audeze LCD-GX
An ultra-premium planar magnetic headset that absolutely delivers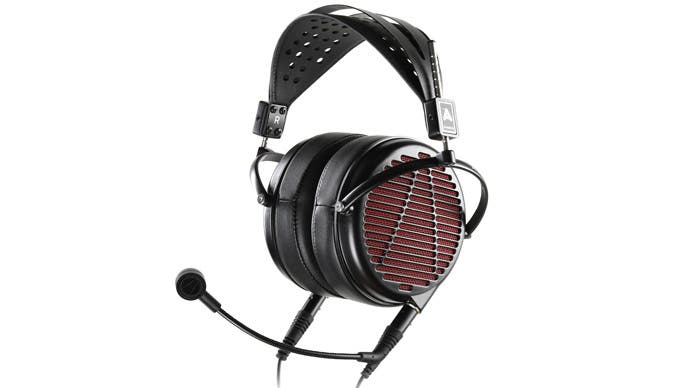 The £799/$899 Audeze LCD-GX is the most expensive gaming headset I've ever tested - so it's a good thing it's also the best-sounding. The LCD-GX uses massive open-back planar magnetic drivers to provide unparalleled sound quality, while a simple in-line microphone transforms it into a capable headset for gaming with friends. That's a powerful combination, and also one that feels more comfortable and convenient than adding a ModMic to the side of your favourite pair of audiophile headphones.
However, beyond the headset you don't get much in terms of gaming features - this is a wired 3.5mm headset with stereo sound, and there's nothing in the way of gaming-specific features like surround sound, equalisers, genre-specific modes, footstep highlighting or RGB lighting. That suits me just fine, especially as there are ways to add these features via software. Surround sound modes are built into Windows 10 and 11, with free Windows Sonic and paid-for Dolby Atmos, and third-party options exist too - including the Immerse Gaming Hive from audio firm Embody, who arranged for the LCD-GX to be sent out to us for testing.
The Hive software has you take a picture of your ear and select your headset to provide individualised surround sound, and the effect is pretty extraordinary on the LCD-GX. When combined with the GX's already incredible detail and wide sound stage, you get a much more immersive experience - and better audio clues about enemy positions in games that lack built-in HRTF audio. I tested it out in Call of Duty Vanguard, CS:GO and Forza Horizon 5, and in all but CS:GO having the surround sound enabled was a noticeable improvement over the default audio mix. I was also surprised by just how comfortable this headset is, despite a relatively high weight (454g) - perhaps down to the advanced materials used throughout, the suspension headband design and the thick memory foam ear cushions.
So if you're in the market for a high-end gaming headset and want the best of the best, the Audeze LCD-GX and a Hive subscription are a pretty solid combo, letting you enjoy exceedingly pure analogue audio for critical listening or a more processed, gaming-focused mix with the press of a button.
---
Best of the rest: more PC gaming headset recommendations
We're trying to limit our top recommendations here to just eight headsets, so all others that we test and recommend will live here, including products that have been supplanted by new recommendations. We'll share one paragraph about what this makes this headset worth considering based on our testing, and if it's available at a good price in your region then it should be worth considering alongside our top picks.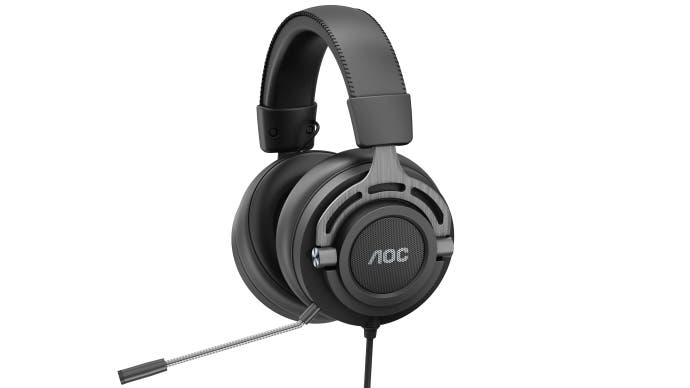 Beyerdynamic DT 900 Pro X: These open-back headphones lack a microphone, but if you have a USB or XLR mic they're a strong choice for anyone that prefers a neutral sound signature. These studio headphones are designed for professional use, with rugged and replaceable components including Mini XLR headphone cables, but also work well for gaming thanks to their wide sound stage, great imaging and bright nature. Of course, as with other open-back headphones, they leak sound in their environment and lack passive noise isolation, so they're not ideal for shared spaces.
Rode NTH-100: Another pair of strong studio headphones we tested recently are the Rode NTH-100s. These headphones offers a closed-back design, with a warmer sound profile, lighter design and more comfortable fit than the (more expensive) DT 900 Pro X. As before, these headphones don't include a microphone, so you'll need a microphone elsewhere for communicating with your team-mates in multiplayer games.
Corsair Virtuoso RGB Wireless XT: The VRWXT has 2.4GHz wireless for PC/PS5/PS4, hi-res audio via USB for PC and 3.5mm for everything else, making it a supremely flexible headset. It looks and feels expensive too, with a robust design replete with metal that ought to last for years inside its padded carrying case - a good thing considering an asking price of £240 in the UK and $263 in the US. Sound quality is excellent, with a focus on bass and mids, and the headset comes with Dolby Atmos on PC for cinematic surround sound. Noise isolation is pretty good too. Comfort has also improved compared to the Virtuoso SE as well with a much more moderate clamping force out of the box. This makes it nicer to wear with glasses, although not perfect. The microphone is good for a wireless headset, and other elements are solid too with convenient controls and 20 hours of battery life. If you're lucky enough to have a very high budget and you're in the market for a wireless and wired headset you can use with PC, PlayStation and mobiles alike, the Virtuoso RGB Wireless XT is definitely worth considering. It doesn't do anything absolutely novel or risky, it just delivers on the basics - audio quality, build quality, usability and connectivity - to a much higher degree than you'll find on cheaper alternatives.
Epos H3: This headset aims for a mid-range (£109/$120) price point, much lower than the firm's usual premium designs, but the most important qualities have all been preserved. The sound quality is great, with a neutral profile and plenty of detail, and the microphone is one of the best we've heard at this price point. The industrial design here is impressive too, proving light and comfortable even while wearing glasses, and despite a more plasticky construction the H3 still feels robust in the hand. Compatibility is wide too, with two finely braided 3.5mm cables in the box. The only weirdness is the earcup volume dial, which requires time and effort to turn from its highest to lowest settings. Regardless of this minor annoyance, the Epos H3 is an excellent translation of the company's traditional strengths - audio quality, build quality and comfort - down to a more mainstream price point, and for that it deserves a mention here if not a top placing.
SteelSeries Arctis Prime: essentially a leaner version of the Arctis 5, which swaps RGB lighting and a USB connection for a cleaner design, upgraded drivers and a 3.5mm connection. For £10 less (RRP vs RRP), I'd take this £99/$99 headset over the Arctis 5 every day of the week. SteelSeries' ski goggle style headband remains as comfortable as ever, the mic slides out of view whenever not needed (and sounds better than wireless alternatives), and usability remains great with a textured volume wheel and mic mute button. There's no chat mix dial here, so you lose out on a bit of functionality present on the Arctis 5 - but this wouldn't have been possible on a 3.5mm connection anyway, so its omission makes sense. Likewise, you can't control the headset's EQ in SteelSeries' GG software, although you can do so on an OS level with software provided by your motherboard / sound card manufacturer. In exchange though, you get better build quality and better audio quality, with a neutral sound profile that doesn't excite but offers decent imaging and noise isolation. SteelSeries also offer athletic fabric ('airweave') or velour ear cushions on their store for £12.99, which is great as velour is my go-to after falling in love with the Sennheiser HD 598 many years ago. Overall, the Arctis Prime is a good solid headset, with a streamlined features, good sound and great usability, but I haven't found a super compelling reason to choose them over the alternatives I've enumerated above at their current price.
Turtle Beach Recon 70: a great budget (£25/$40) headset for PC gaming that also works with a wide range of consoles via 3.5mm. The short microphone has a flip to mute function, something we normally only see on more expensive models, and actually sounds pretty good although it's not great at rejecting outside noise. The sound is quite neutral, with slightly flabby bass and only decent imaging, and it works fine for most gaming and music that isn't bass-heavy. We also liked the physical design; the light weight of the headset and reasonably plush earcups make for a headset that is comfortable enough to not be noticeable for an hour or two of gaming. However, the headset does feel a little creaky in the hands, and may not hold up to continued use as well as mid-range options like the Recon 500. The Recon 70 is available in a wide range of colour schemes too. For the price, especially in the UK where it's often available near the £20 mark, this is a very decent headset.
AOC GH200: this £39 stereo headset is comfortable and offers good build quality for its price, with a robust metal frame reminiscent of the HyperX Cloud series. Audio quality is slightly bass-heavy but with decent detail, thanks to reasonably tuned 50mm drivers, and the microphone is serviceable - it'll probably outperform most wireless alternatives, even those that are considerably more expensive. The 3.5mm connection (which comes with a y-splitter) means that you can also use this headset with laptops, consoles and mobile phones that retain the headphone jack. Altogether, it's a good value and considerably better than its USB cousin, the AOC GH300, which offers a USB connection and simulated surround sound at the expense of comfort and reliability. Given that you can add simulated surround sound for free on PC, I don't think there's any reason to spend more on the GH300 when the GH200 performed much better in our testing.
---
The best PC gaming audio accessories
Best 3.5mm amp: Helm DB12 AAAMP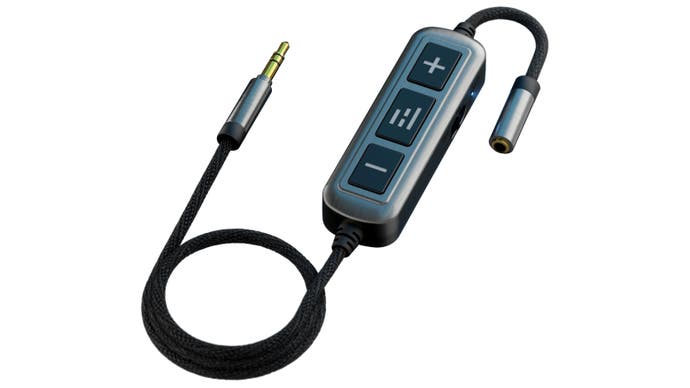 If you want to give our 3.5mm headphones a little more punch, you can combine them with the DB12 AAAMP. This tiny gadget boosts your headphones by up to 12dB, with an optional bass boost on top that provides a deeper sound ideal for cinematic games or electronic music. The amplifier adds no discernible distortion, even with the bass boost option enabled, and really impressed me when I paired it with Sennheiser HD 598 SE headphones. The unit's battery is charged via USB-C, and lasts for five or six hours of listening at an average volume. Once the battery is exhausted, you can simply switch the unit from 'bass boost' or 'on' to off, and the DB12 will pass on the audio sans amplification. The DB12 also includes large, easy-to-find buttons for adjusting the volume, summoning voice assistants and skipping tracks, which is great for headphones that don't have an in-line remote, especially when you're using them with a smartphone. The cost of entry here is substantial, but the results are pretty incredible too.
Best USB soundcard: Epos Sennheiser GSX 300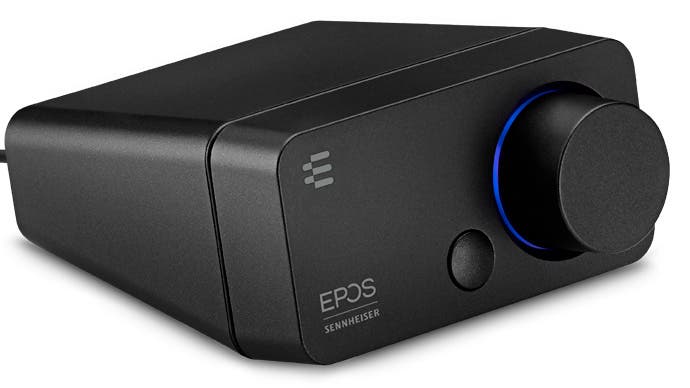 The GSX 300 sound card is compact and relatively inexpensive at around £70, but it produces a great expanded sound stage and offers an immersive simulation of 7.1 surround sound on stereo headsets. High resolution sound is supported, up to 24-bit 96kHz, and the GSX 300 can drive headphones up to 75 ohms. That meant my 50-ohm Sennheiser HD 598 SE worked fine, but the 300-ohm HD 600 is off the table. The small physical design means that there's no room for additional ports - you just have Micro USB and two 3.5mm inputs for your headphones and mic - but it does mean that the GSX 300 is something you can easily put in your bag to use with a laptop on the go. A single to dual 3.5mm adapter is required if your headset uses a single TRRS jack instead of separate TRS connections for headphones and mic, but this isn't a big issue as these adapters normally come standard with any headset that require them (not that they're expensive anyway). There's a volume dial on the front, which offers tactile steps, as well as a second button that can be set to switch between sound modes or different EQ profiles. The software works well, with convenient EQ settings and comprehensive mic controls. If you want a compact USB sound card at a reasonable price, the GSX 300 is worth considering.
---
Frequently asked questions
How did you make this list?
We had a lot of fun making this list, with some time testing in competitive games like Counter-Strike, Apex Legends and Valorant and the remainder in more cinematic fare like Horizon Zero Dawn, Wolfenstein Youngblood and Tetris Effect. We've been testing headphones for over a decade, but we've kept to relatively recent releases that are still easy to find in the shops. We hope you have fun checking out our recommendations, and remember that you can always get in touch via Twitter (@wsjudd) or in the comments below if you'd like a personalised pick or a question answered.
Is it worth using 5.1 or 7.1 surround sound?
It depends. If you want to immerse yourself in a game or movie, the virtual surround sound mode offered on many gaming headsets can be fun to play with. You can even add surround sound processing to headphones that don't come with it on PCs running Windows 10 using Windows Sonic, THX Spatial Audio or Dolby Atmos for Headphones. However, if you're looking at surround sound to gain a competitive advantage, my recommendation is to keep surround sound disabled - the processing that tries to fake surround sound often makes it harder to hear footsteps or other quiet audio cues, adds delay and tends to remove detail. Instead, look for headphones with a wider audio stage, eg many open-back headphones, as this will actually make it easier to place your enemies on the map based on the noises that they're making.
Should I get wireless headphones?
Wireless headphones give you a lot of freedom, so you can make yourself a sandwich in the kitchen or sit on the opposite side of the couch without worrying about taking off your headset or rerouting its cables. However, you will need to recharge your wireless headset every few days or weeks, and it's certainly annoying when your headphones go dead mid-cutscene. If you tend to sit in different positions while gaming or just hate being tethered to your desk, wireless is a sensible choice; otherwise, save the money and the hassle of recharging and get wired headphones instead.
What brands should I consider?
This is no by no means an exhaustive list, but we've tested and liked headphones from HyperX, SteelSeries and Epos. Razer, Logitech, Turtle Beach and Astro have also made some great headsets in their day, although they've also produced some less charitably described models as well. Ultimately, gaming headsets can vary massively from model to model, with companies capable of producing both good and terrible models, so it's best to look for reviews on the headset you're considering rather than shopping by brand alone.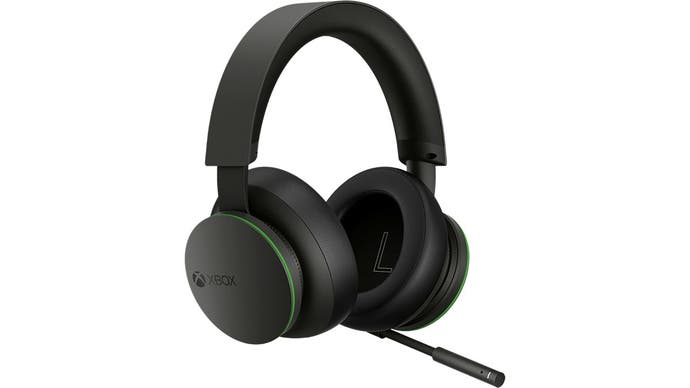 If I have the choice of Xbox or PlayStation headphones for PC, which should I choose?
In general, PlayStation headsets tend to work on PC and vice versa, so these can be a good choice if you don't have a horse in the console race. However, picking up the Xbox Wireless Adapter allows you to connect a few headsets that use a dongle-free connection to the Xbox, so these can be worth a look if you have an Xbox console.
How can I improve the sound of my existing headphones?
A lot of this comes down to personal preference, but we prefer to turn off audio "enhancements" like surround sound and aggressive equaliser settings; you want things to be as "bare metal" as possible if you trust in the intent of sound engineers and headphone designers alike. From there you can use a DAC, which takes audio processing duties off your PC or console and entrusts it instead to dedicated hardware which tends to do a better job, removing jitter and changing the characteristics of the sound for the better.
Desktop or portable DACs like the Audioengine D1, Fiio E10K or Cambridge Audio DacMagic XS cost around £100/$100 or less and can improve audio quality substantially. There are also the Epos GSX 300 and Helm Audio DB12 AAAMP we mentioned above. Of course, you can spend way more if you want to go even further into the audiophile realm.
What other outlets are worth reading?
As well as testing headsets ourselves, we like to look at trusted outlets like RTings and /r/headphones (summarised here). Some aspects of headphones can be quite subjective, so it's sensible to read widely, cross-reference where you can and try to find a few sites or reviewers that you generally agree with.
What about speakers?
Speakers are great for anyone that lives, works or games in their own space, but it's still worth having a good set of headphones for those inevitable times when you're sharing the place with someone else! If you're adamant on getting speakers too though, be sure to check out our round-up of the best computer speakers.