Best computer speakers 2023: great-sounding audio for PCs and laptops
A selection of excellent speakers from £50 to £600 - and a soundbar.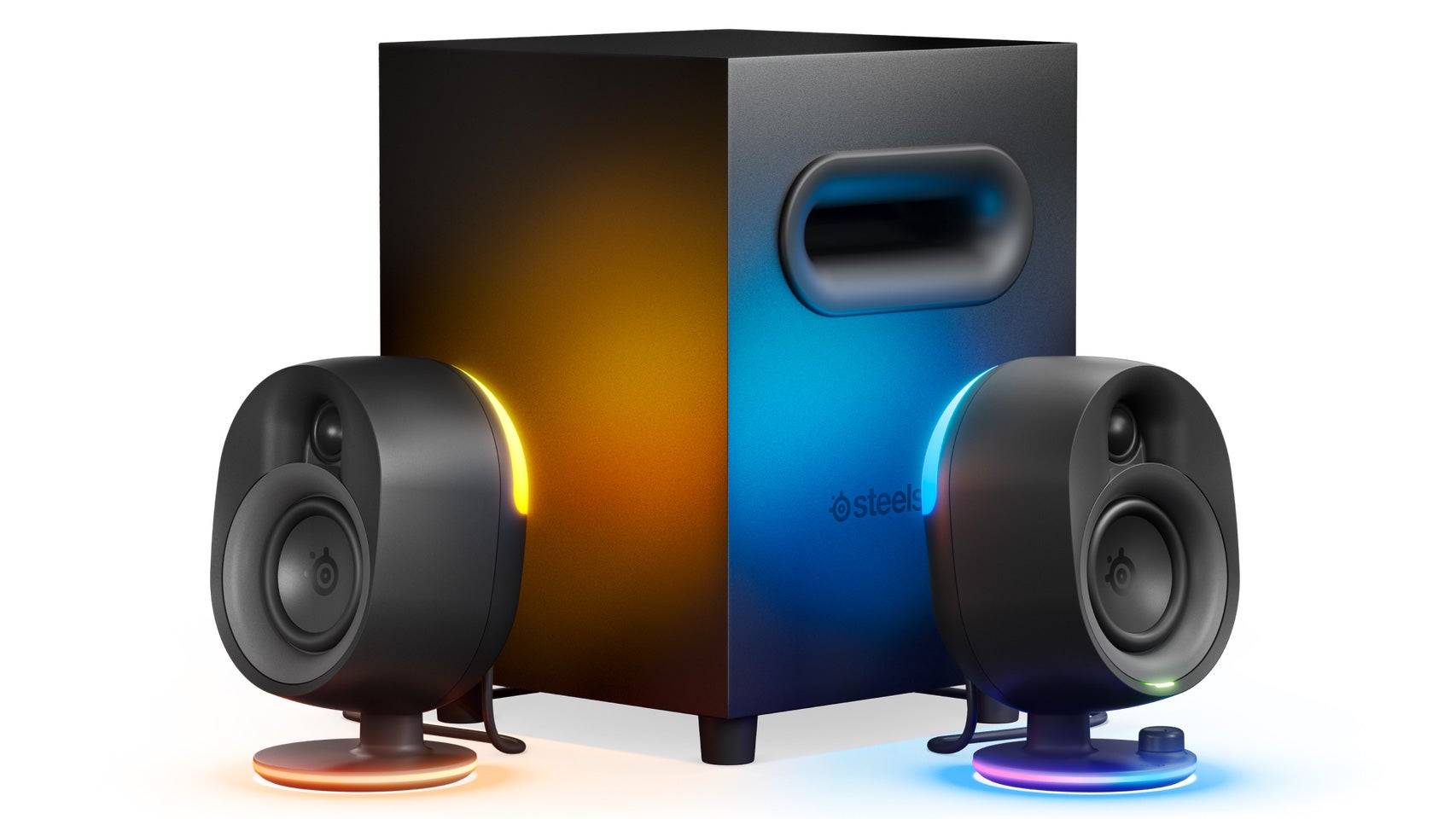 A good set of PC speakers can make a huge difference for gaming, listening to music and watching videos, so we've come up with a list of recommendations based on our in-house testing.
This article includes speaker recommendations for PCs, laptops and consoles across a range of price points, with higher-end options tending to offer more numerous and diverse connectivity options.
For reference, we're quantifying a budget speaker as being under £50/$50, while a mid-range option is £100/$100 and a high-end choice is underneath £250/$250. Beyond this, we do have further recommendations at the £500/$500+ mark, although as always diminishing returns make this kind of expenditure unnecessary for most people. It is possible to spend a lot more on speakers of course, with more audiophile-grade options pushing far beyond our current structure.
So here are our favourite computer speakers we've tested across a wide range of prices, designed to offer an upgrade to your PC's audio at a reasonable price.
---
Best budget computer speakers: Creative Pebble Plus
The best cheap computer speakers we've tried are the £37/$50 Creative Pebble Plus. These speakers are an affordable inclusion in any PC gaming setup, yet they provide surprisingly good audio with full bass thanks to their dedicated subwoofer. These aren't the loudest speakers in the world, or even at this price range, but they make up for it by keeping distortion to a minimum and providing a good level of clarity. The speakers are small too, ensuring there's more than enough desk space left over for your favourite mouse pad and one of the best gaming keyboards. Spending a little more will get you a substantially better experience, but if you're on a limited budget these are a great choice.
---
Best mid-range computer speakers: Creative T100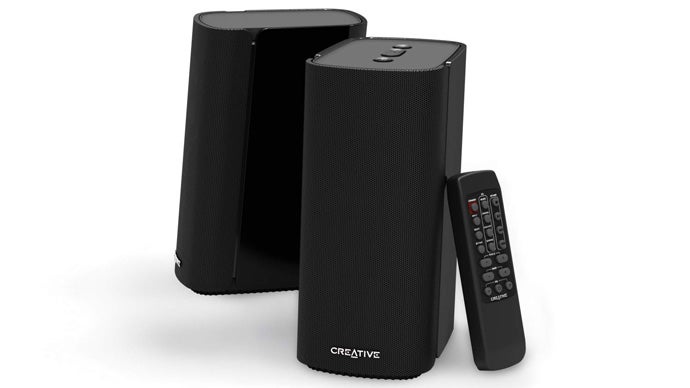 The £100/$100 Creative T100 are our second pick, dominating this category thanks to their long feature list, great audio quality and convenient remote. Connectivity is a strong point here, with options for optical (S/PDIF), 3.5mm and Bluetooth (aided by NFC pairing). We tested them with a smartphone connected via Bluetooth, a PC via optical and a record player via 3.5mm, all of which worked flawlessly. A USB input is also provided, if you want to play music directly on the speakers without need for a source device.
In terms of sound quality, the lack of a subwoofer does mean you're missing out on a bit of low-end oomph, even with the bass ports on the rear. However, this limited range is made up for by the excellent clarity provided by the T100s. Mids and highs are well reproduced with rich tones. Overall, a strong option at this price point if connectivity and convenience are important to you.
---
Best high-end computer speakers: Edifier R2000DB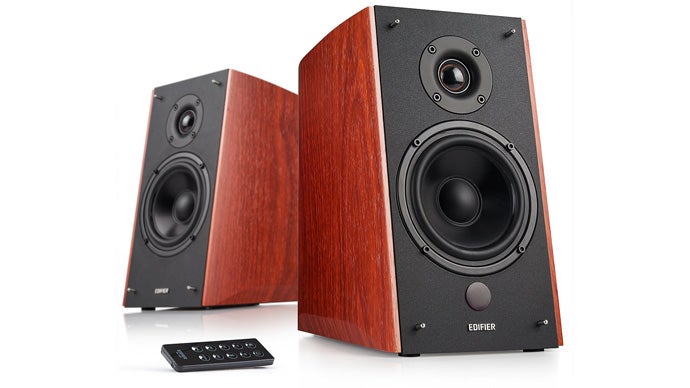 Next up we have a pair of powered bookshelf speakers that work very well as computer speakers too, although their larger stature (174×289×252mm) means they aren't suitable for smaller desks. The £250/$330 Edifier R2000DB are distinguished by their clean looks, wide stereo imaging and uniformly excellent audio reproduction from lows to mids and highs. Bass is tight and controlled, while high end tones are nice and crisp.
The Edifier R2000DB include Bluetooth, optical and two 3.5mm inputs, providing plenty of interfaces to keep all of your devices connected at once, plus a (fiddly) remote control to make sense of it all.
Altogether, it's a compelling package at a very reasonable price point. If you can't stretch to the R2000DB, check out the slightly cheaper £160/$175 Presonus E4.5.
---
Best mid-range 2.1 computer speakers: Klipsch ProMedia 2.1 Bluetooth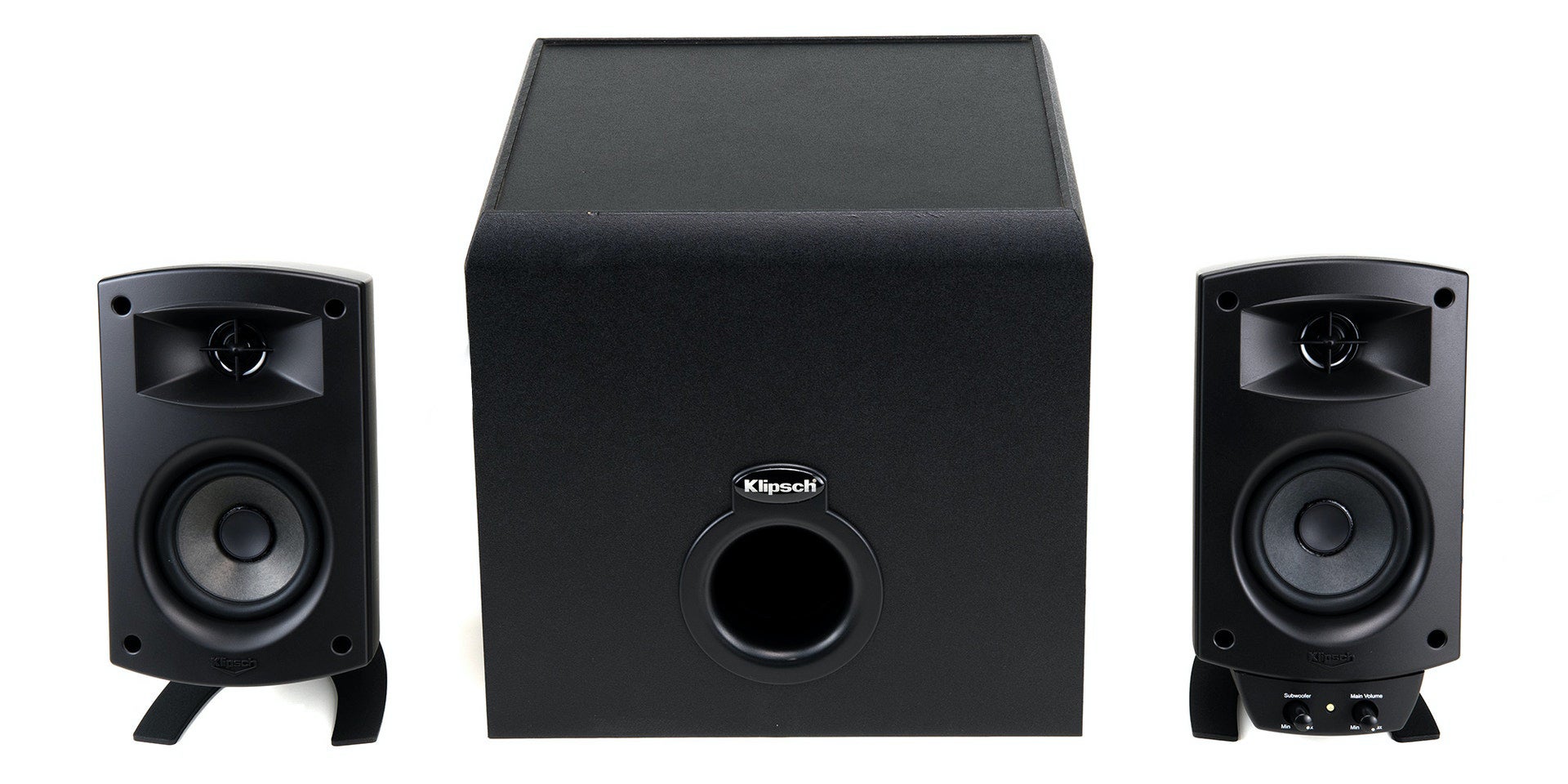 The £180/$180 Klipsch ProMedia 2.1 Bluetooth are a modern update to the company's classic 2.1 computer speakers, adding Bluetooth 2.0 support for easy compatibility with mobile phones for a small premium. (Note that Bluetooth audio does come with some delay, as aptX Low Latency isn't supported here, so this is best reserved for listening to music rather than playing games or watching movies, to avoid audio sync issues that may be noticeable to some users.) Bluetooth is a great addition here, as this is the most convenient way to play music out of the best speakers in the room without the need to find and plug in a 3.5mm cable each time.
The speakers sound great, producing rich sound across a wide frequency range with detailed highs and surprisingly tight bass from the subwoofer. With 200W of power on tap, you can easily fill even a large bedroom or living room with thunderous sound. There's a dedicated bass knob right next to the volume on the left speaker, so you can quickly turn up or down the bass as necessary, plus a 3.5mm aux input and a 3.5mm output for headphones. This 2.1 setup requires more wiring than the 2.0 options we've highlighted elsewhere on the page, but if you have the luxury of adding noticeable bass to your music without annoying your family, flatmates or neighbours, then the ProMedia 2.1 Bluetooth is an excellent argument for a dedicated sub. If you don't need the Bluetooth support, the original $130 ProMedia 2.1 is an even better value option.
---
Best high-end 2.1 computer speakers: SteelSeries Arena 7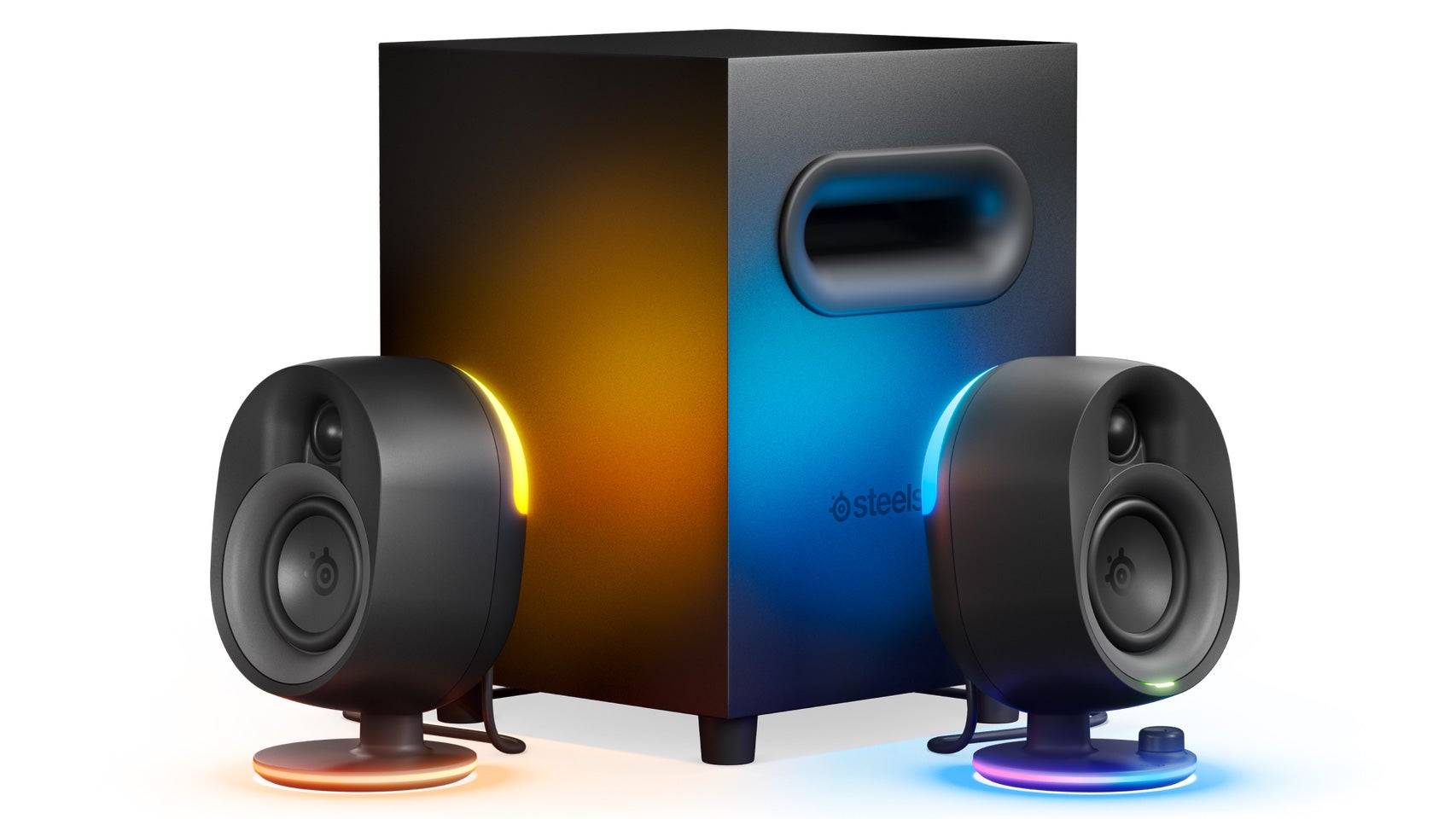 The SteelSeries Arena 7 are a $230/£290 2.1 speaker system that feature ambient (RGB) lighting, excellent connectivity (3.5mm, USB, Bluetooth, optical) and a 10-band parametric equaliser accessible via the SteelSeries Engine software. Of course, they also sound rather good, with the sub providing more low-end fidelity than a 2.0 setup and plenty of detail audible in the higher end of the spectrum. The speakers can get pretty loud too - I rarely needed that much volume for computer use, but they did work for being an antisocial neighbour pumping out the F1 to all and sundry.
There is a feeling here that you are paying for these gaming-oriented features - RGB don't come cheap - but there are plenty of thoughtful touches that make these speakers feel worthwhile. Being able to fine-tune their orientation with proper tilt options, lighting that properly illuminates your wall but also turns off with your computer or a double-tap of the multi-function button, and an easily accessible, glanceable volume wheel all count for a lot here. The speakers also look nice, with a pleasantly rounded design and a band of lighting around the base to complement what's shooting out of the back.
As well as the Arena 7, SteelSeries has also produced the better value £129/$100 Arena 3 (a 2.0 system sans RGB) and the $549 Arena 9 (a 5.1 surround sound system).For the Arena 7 though, there's plenty here to suggest this new take on the traditional 2.1 setup eclipses trendier PC gaming soundbars - although the Klipsch 2.1 system above is a better value choice overall.
---
Best gaming soundbar: Creative Katana V2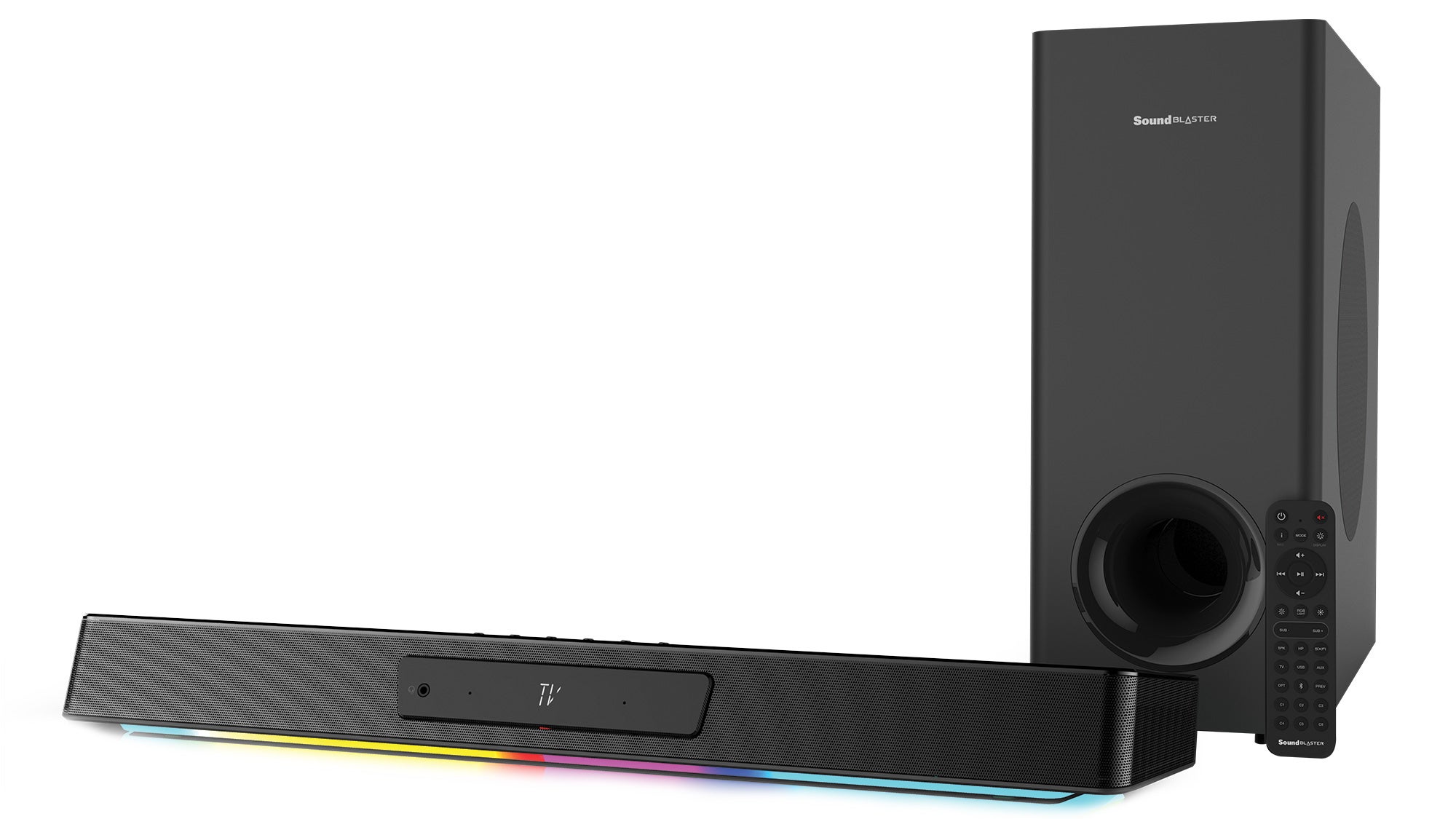 The £280/$280 Creative Katana V2 is the best gaming soundbar I've tested thus far, offering great sound quality for its size, a convenient interface accessed via remote (or buttons) and support for a wide range of connectivity options, including Bluetooth 5.0, HDMI ARC, USB-C, Optical and 3.5mm inputs. Of course, plenty of soundbars manage the same - so what sets a 'gaming' soundbar apart?
The answer, for Creative, is RGB - but thankfully, it doesn't stop there. They've made the soundbar less wide than most, in order to fit neatly under a 27-inch gaming monitor, although this decision has left the soundbar taller than most too.
Perhaps more importantly, there are 'scout' and 'battle' modes that are designed to make sounds from distant enemies louder and aid directionality, respectively. Beyond this, you're free to tweak the EQ to your liking in the app. These modes, and the general SXFI surround sound simulation, work well enough but I ultimately preferred the standard setting with these modes disabled. I am a habitual 'default/flat' settings user though, so if you prefer surround sound modes then you'll still appreciate their inclusion here.
Modes aside, sound quality here is on par with other soundbar-plus-sub combos in a similar price range, with impressive levels of power, a warm sound signature and just a bit of missing detail dragging things downward. This sort of setup is something that you can adjust with EQ alterations and feels more acceptable in a soundbar than in speakers, given the more TV-focused use case.
The only true complaint I have regards usability with a PC; the sound bar disappears completely from Windows when it automatically turns off, so it tends to surprisingly alter which device is being used. This can be worked around by using a different output method than USB, but then you lose out on app controls, so it's not ideal. However, if you're the type to often be listening to music, this is less likely to bother.
---
Best premium computer speakers: Edifier S3000PRO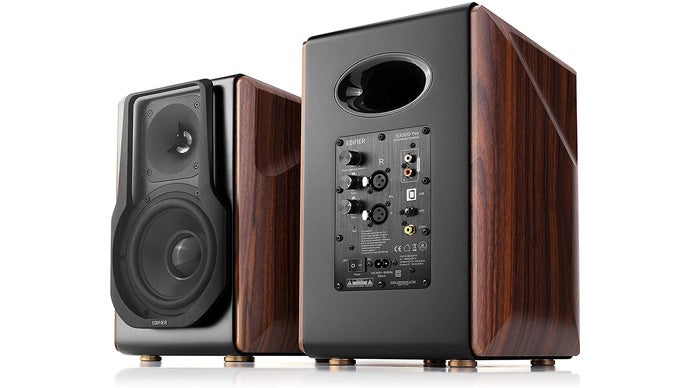 If you're looking to spend even more, another set of Edifier speakers could be a good choice. The £699/$899 Edifier S3000PRO are larger (232x356x268mm), relegating them to use on large desks, TV consoles or robust stands, but the increase to the amount of air these speakers can move is substantial. That particularly manifests itself in terms of bass, where the speakers provide thundering yet controlled low-frequency tones which makes cinematic moments in games (or indeed, in film) enrapturing. The use of a well-tuned planar tweeter ensures higher frequency notes also sound great, while mid-range tones are also well represented with good amounts of detail. Overall, these speakers deliver exceptional audio quality, which is what you'd hope given their premium price point.
Despite the increase in (physical) volume, these active speakers retain the easy usability of the R2000DB, with convenient coaxial, balance, USB (up to 24/192kHz), Bluetooth 5.0 (w/ aptX) and optical inputs. All of these inputs can be selected using the provided remote control. Rather than being joined by a cable, the left speaker connects to the right one wirelessly, which makes it easy to position them - although both still need plugging into mains power. I didn't run into any issues with the wireless connection, but it would have been nice to have this an option regardless.
Overall, we were incredible impressed with the S3000PRO in our testing. Given their sound and their versatility, that makes them very easy to recommend if your budget does stretch this high.
---
Frequently asked questions
What about more expensive speakers?
There are many resources online for speaker recommendations at all price ranges; we particularly recommend Head-Fi and BudgetAudiophile. Of course, we're open to reviewing more expensive options too; stay tuned!
What are the best speakers for competitive gaming?
For competitive gaming, we recommend sticking with headphones as these provide better clarity, imaging and noise isolation. We have a selection of the best gaming headphones in 2023 right here.
What are the best RGB speakers?
The SteelSeries Arena speakers above are great, but otherwise you could take a look at the Razer Nommo Pro.